It may have been chilly outside the evening of Dec. 12, but inside Parkdale-Cromdale Community League it was warm and bright with fashion, food, and a clothing drive.
Heart of the City Festival Society of Edmonton, an organization dedicated to promoting local and emerging artists, held their first fashion show in collaboration with Nék̓em, a local NGO that focuses on Indigenous teachings and creating a resilient community. The goal was to promote Indigenous designers and to collect cold weather clothing for those who make Edmonton's streets their home.
Three designers were featured throughout the night, which began with a blessing and smudge by Vee Cee Duncan, creator of Nék̓em. Duncan, from the Secwepemc tribe in B.C., spoke emotionally of his being homeless and what led him to create Nék̓em, which means "to change something." Nék̓em supplied the food for the traditional Indigenous meal of stew, bannock, and salad, along with a berries and bannock dessert. Duncan hunted an elk to make the stew for this event. It was an intimate night, with 40 – 45 people in attendance, including Mayor Amarjeet Sohi and his wife, Sarbjeet, and Ward Métis Coun. Ashley Salvador.
The show began with emerging designer Aunty Erin (Erin Meetoos). This was Meetoos' first fashion show, but she has been creating powwow regalia for over 14 years. Her collection heavily featured regalia designs and patterns, including ribbon skirts in modern, everyday wear styles.
"I wanted to embrace regalia and create pieces that are wearable," said Meetoos about her collection. "… embracing Indigeneity while being a modern woman."
The second designer of the night was Acahkos ( A-cha-kos ) Designs. Rhonda Johnson, from Collin Lake, Alberta in Treaty 8 territory, has been designing since 2006 and said her most recent collection was inspired by both traditional and contemporary designs. The collection melds traditional Indigenous attire with a mid-century modern shape and aesthetic. Bright and contrasting colours make this collection impossible to ignore.
Ending the evening was Heather Bouchier Design. Bouchier said she has many influences for this collection, including '90s grunge and upcycling clothing.
"I wanted to honour my kokum, who was a seamstress," Bouchier said about her designs. Bouchier explained that her family grew up on a low income and upcycling clothing (taking older or unwanted clothing and remaking it into something different) was very important.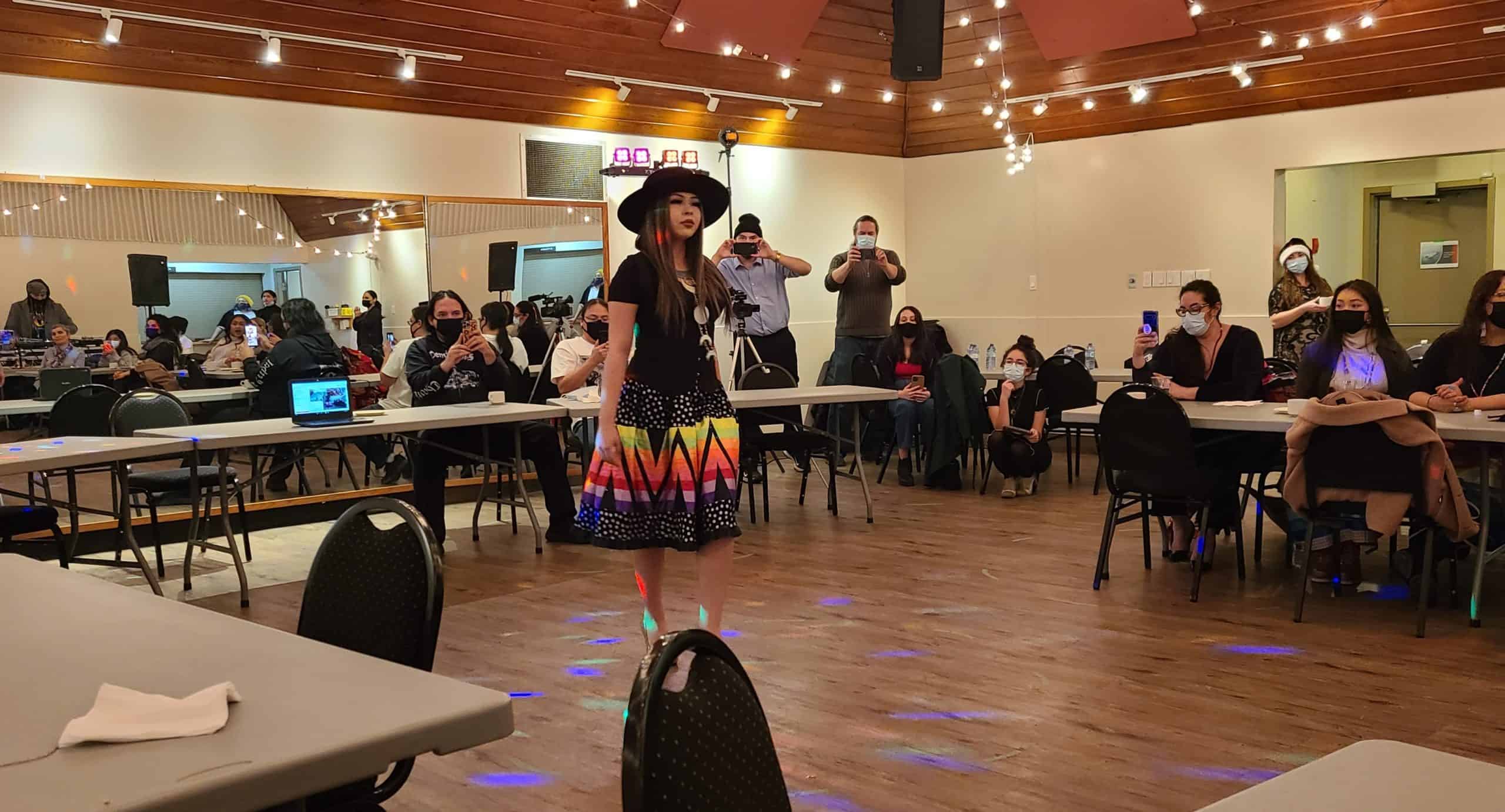 Bouchier's runway collection featured black and earthy tones with sudden pops of bright colour and lots of embroidery and prints. Most of the pieces are wearable and simple in design, allowing them to be mixed and matched. Included were designs honouring Indigenous warriors and a red dress honouring Missing and Murdered Indigenous Women and Girls.
Between sets, the crowd was entertained by the outrageously funny Cindy Rivers, a local transgender Inuit comedian, who had the crowd laughing out loud at her poignant, timely, and relatable comedy.
Music for the night was provided by DJ Louis Bouchier. Jacqueline Buffalo provided the makeup services for the models. Bags of cold weather clothing were collected through the night and Nék̓em will give the clothing to those in need in the coming days. 
INFORMATION

Nék̓em
www.nekem.org/

Heart of the City
www.heartcityfest.com/

Aunty Erin ( Erin Meetoos )
FB: Aunty Erin's Custom Powwow Orders
[email protected]

Acahkos Designs
Fb & Instagram: Acahkos Designs
Heather Bouchier Designs
FB & Instagram