Before I ventured to Golden Fork Restaurant, I didn't know where Tunisia was located. A search online revealed that this fascinating North African country boasts a coastline along the Mediterranean Sea. The Sahara Desert, the largest desert in the world, covers the lower half of the country.
Golden Fork Restaurant, across from Delton Elementary School, opened two years ago. It has been an uphill battle to survive, says owner Salah Marzouki, with COVID-19 closures and restrictions. Recently, repaving on 90 Street blocked access to the restaurant. Because of that, Salah and Hela (his wife and the chef) closed the restaurant for several weeks.
Inside the airy and comfortable restaurant, the couple have created a welcoming space with ample room for date nights as well as family groups. Upstairs is an Arabic-style seating room that can be booked for private gatherings. Parking is plentiful out front.
My first impression was of simple cuisine that was satisfying to eat. Overall, the dishes had a spicy tang without blowing my tastebuds.
Couscous is a basic Tunisian dish that complements everything. Made with semolina wheat, couscous begs to be smothered in Golden Fork sauces from its chicken, fish, beef, or lamb dishes, nicely enhanced with peppers and vegetables.
Start your day with a breakfast omelette with tuna, parsley, onion, and cheese for $6.95. Chakchouka, a combo of eggs, green pepper, tomato, and onion is $10.99. Splurge with the Golden Breakfast, including homemade bread, at $13.99.
The kids' menu offers a choice of fish fingers, chicken nuggets, chicken strips, or pasta, and all are priced at $8.95.
Sandwiches, ranging from $9.99 to $12.99, allow the diner to try Mediterranean and North African favourites in an affordable manner. Kafta kabab wrap with hummus ($9.95) is served in pita bread. Shawarmas, falafels, and donairs range from $9.99 to $11.75. The ingredients are subtly blended and satisfyingly tasty. Because the restaurant is family-run and personable, you could ask Hela to add more or less spices to the order.
The Mediterranean Sea borders Tunisia, so it's not surprising that seafood is big on the Golden Fork Restaurant menu. I enjoyed sauteed shrimp with garlic and butter, and smacked my lips with pleasure. The $24.99 meal, which includes salad and rice, is enough to share. Grilled sea bream, sea bass, red mullet, and sardines (both fried and breaded offerings) all range from $22.99 to $26.99. I can't wait to try more.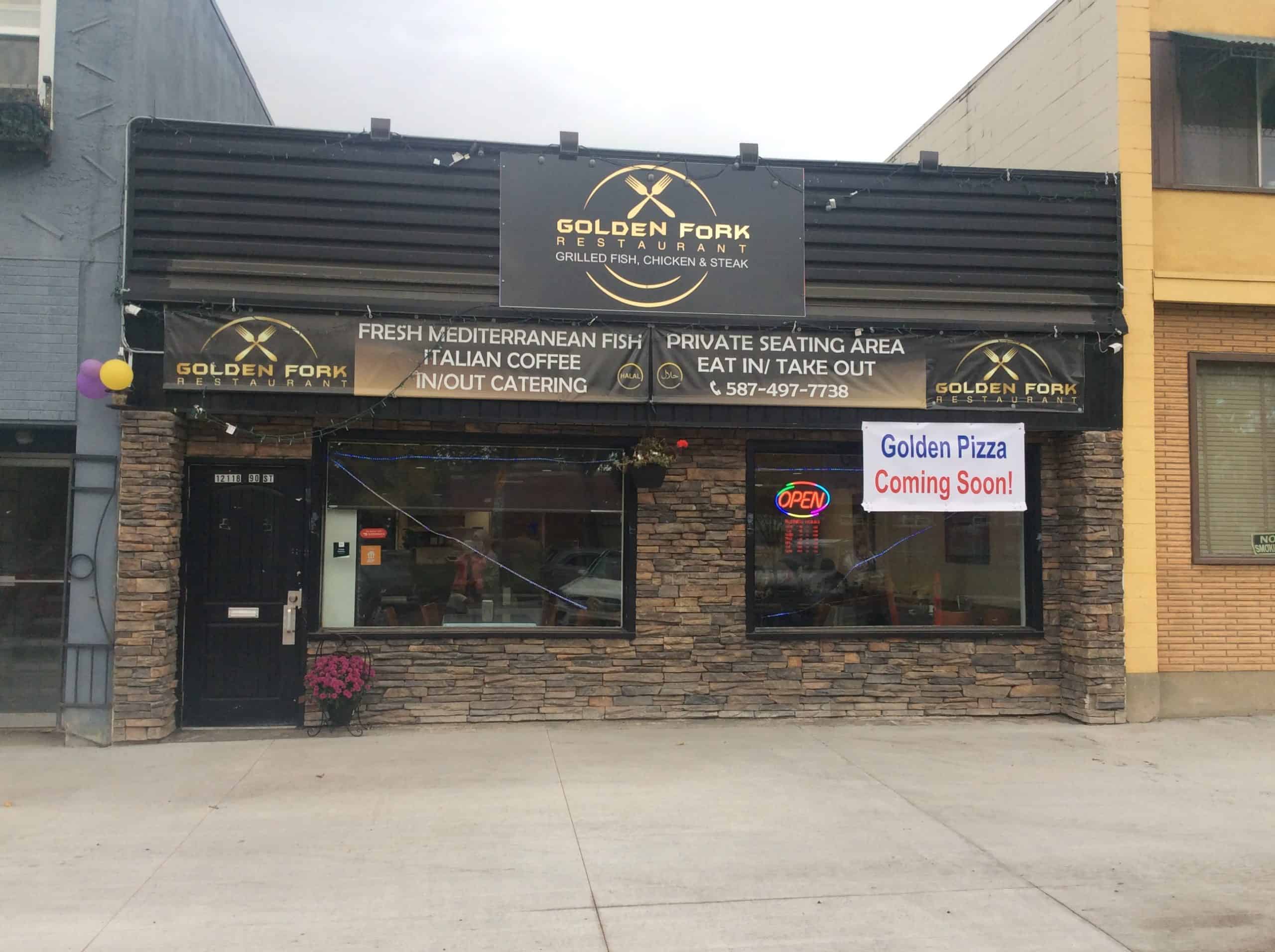 Working my way into the North African dishes, I recommend shish taouk (marinated chicken kabab, $18.95), ojja sausages (spicy, garlicky, with baked eggs, $18.95), or kammounia (beef stew with cumin powder, $19.95). My next big splash will be lamb ribs ($22.95).
Finally, there are "plates" on the menu, priced from $16.95 to $25.95. Spaghetti shrimp and spaghetti chicken are accessible for diners of all ages, with no startling taste sensations for kids or adults.
Top your visit off with a sweet pastry dessert (kanafa, $4.95), a fresh juice ($7.99), or mint tea ($1.75).
If you are into the delights of international coffee, try the Arabic coffee ($3.00) in an espresso cup. Freshly ground, thick, and boasting a range of flavours, it's a must-try for coffee lovers.
Rating: 5 out of 5 forks
---
GOLDEN FORK RESTAURANT

12118 90 St.
Open every day, 11 a.m. to 10 p.m.
587.497.7738