Green Alleys is an ongoing pilot project in Eastwood and Alberta Avenue that is beautifying neighbourhood alleyways and improving safety in those spaces.
It is an Arts on the Ave (AOTA) initiative with input from many different community partners.
The goal was to create an initiative that would encompass education and beautification, rebuild streets, and focus on placemaking, says Christy Morin, the executive director of AOTA.
With safety concerns mounting in Alberta Avenue, especially for women, it became important to start the initiative.
"I had experienced some aggressive john activity, which was really frightening," says Maggie Glasgow, an Alberta Avenue resident and one of Green Alleys' project leads. "And then a number of other women in the neighbourhood had started to talk about the same thing, so it wasn't just an isolated event. [We started] thinking of ways to make our space, our community, safer for women particularly, and girls."
The first initiative of the project was called "Make That Call," a fridge magnet that AOTA distributed to community members. The magnet listed phone numbers residents could call when they had a specific safety concern. The goal was to increase efficiency when residents contacted emergency services, so more crime could be reported.
"Everything in the world of safety is driven by stats," says Morin. "So often, people wouldn't make the call because they're like, 'Ah, that was just a guy screaming at me while I was walking home.' But it is actually really important that they do call and that we have that recorded as a concern and a need for support."
As Green Alleys continued to expand, Glasgow suggested modeling the project after a similar initiative she had seen in Montreal, to make back alley spaces more useable for community members — places where performances could take place and children could play.
"Right now, the back alleys are… kind of neglected spaces and they're used for more nefarious kinds of activities," says Glasgow. "There's a lot of johns, sex work, drug activity back there, and [the alleys are] otherwise just neglected."
"Nobody felt really safe," adds Glasgow.
To make back alleys more accessible for community members, Green Alleys organized some garbage clean-ups and shrub and tree trimming in those spaces. Additionally, a number of garages have been painted with murals. AJA Louden, a local Edmonton artist, created a mural on Gaetan Benoit and Katrine Deniset's garage door.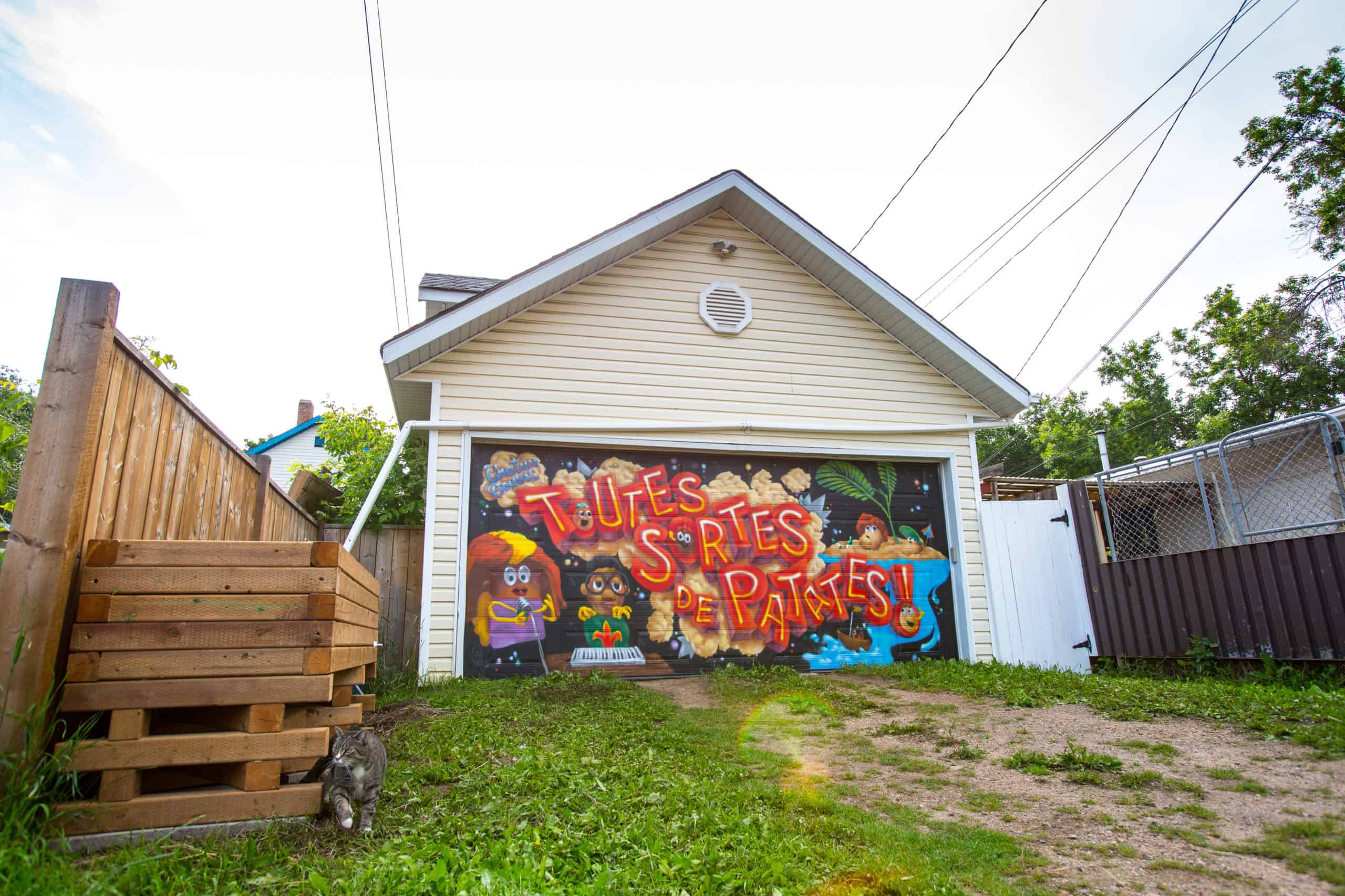 AOTA and several community partners installed self-watering raised flower beds designed by Jonathan Luckhurst in several of the alleys, and Glasgow says that organizers hope to plant native plants that attract pollinators in the flowerbeds. Project organizers also plan to install other raised and ground flower beds in alley spaces.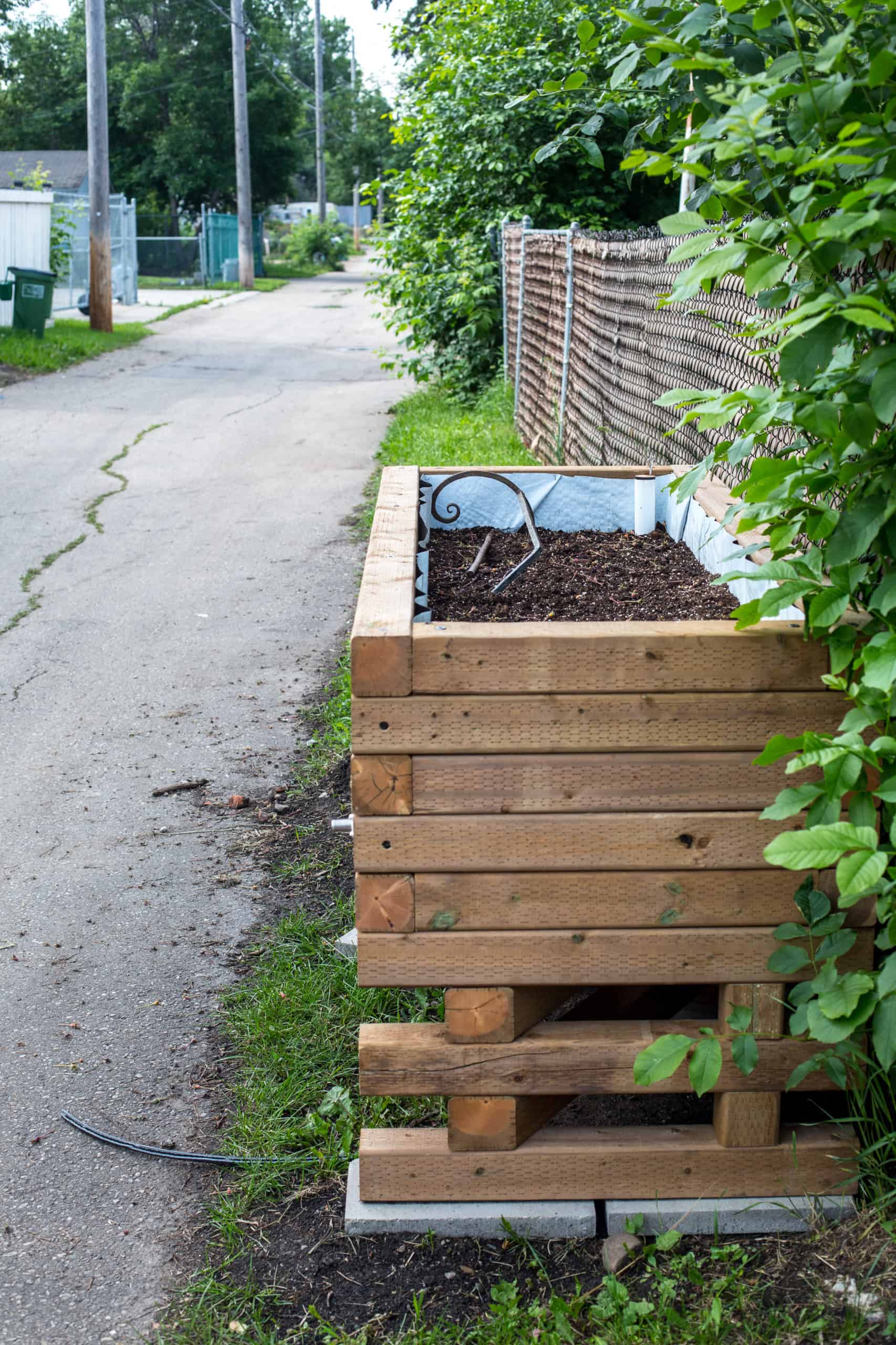 "It's been a real labour of love from the neighbours, from the organizations, to come together and find ways to fight crime and grime and do it in an unconventional way," says Morin.
The initiative is currently focused on five residential alleys in Eastwood and Alberta Avenue, but organizers hope that the project can act as a template for other neighbourhoods interested in starting their own green alleys.
"We're hoping that [Green Alleys] will… eventually be all across the city, but we really want to focus on central neighbourhoods to begin with, [like] central McDougall and McCauley and Chinatown and other areas," says Glasgow. She also hopes that the project will revitalize several commercial alleys as part of the initiative soon.
Green Alleys is partnering with different organizations to make the initiative a reality. Many organizations, including the TULA Project, Green Violin, the University of Alberta, DIALOG, several departments at the City of Edmonton, Otto Food & Drink, and REACH Edmonton are also involved.
"I definitely think we're just at the cusp of what the Green Alleys initiative is going to continue doing, and bringing awareness, education, and then action to our communities," says Morin.
"There's been so much interest from people across the district and it's so exciting to hear that interest," adds Glasgow. "We're really trying our hardest to really get this program going and to make it work because we know that there is the need for it and excitement for it."
If you're interested in volunteering with Green Alleys or looking for more information about the initiative, contact organizers at [email protected].