In a mobilized community like Alberta Avenue, change brings impassioned discussion from a diverse pool of committed residents, particularly about the city's bike lane proposal for Alberta Avenue's upcoming neighbourhood renewal.
Many residents opposed to bike lane proposals feel they have not been heard or properly consulted. Residents Howard Kowalchuk and Margherita Gosselin are not opposed in principle to bike lanes, but they argue that the proposed initiatives create problems and do not serve the community well.
Kowalchuk said, "[The proposal] shows no concern for the liveliness of the neighbourhood. I'm not opposed to bike lanes, but change has to be done respectfully, and it has to make sense." He said he envisions changes that are "feasible, sensible, and maintain the integrity of the neighbourhood." He said the neighbourhood is seeing a period of "increased concentration without accommodation." Kowalchuk explained street parking is a necessity because of limited parking and bike lanes will restrict the already scarce parking.
One contentious proposal involves creating one-way, single-lane streets with limited parking to accommodate a bike lane. The project is proposing to make 114 Avenue from 89 to 97 Street a one-way going west bound and 119 Avenue from 93 to 97 Street a one-way going east bound.
On 92 Street between 111 Avenue and 122 Avenue the proposal is to maintain two-way traffic but with parking only on the west side and a new bike lane on the east side. South of 118 Avenue is already one-sided parking; however, the blocks north of 118 Avenue currently have parking on both sides.
Gosselin is opposed to the plan to limit parking. The city denied her family a double garage permit and limited space in the alley requires them to park their second vehicle on 92 Street. Parking in front of her home is critical to Gosselin due to her mobility issues. Parking on the west side would decrease accessibility for her, especially with windrows in the winter. Further, she wonders if the bike lanes will end up being seasonal because of snow removal issues.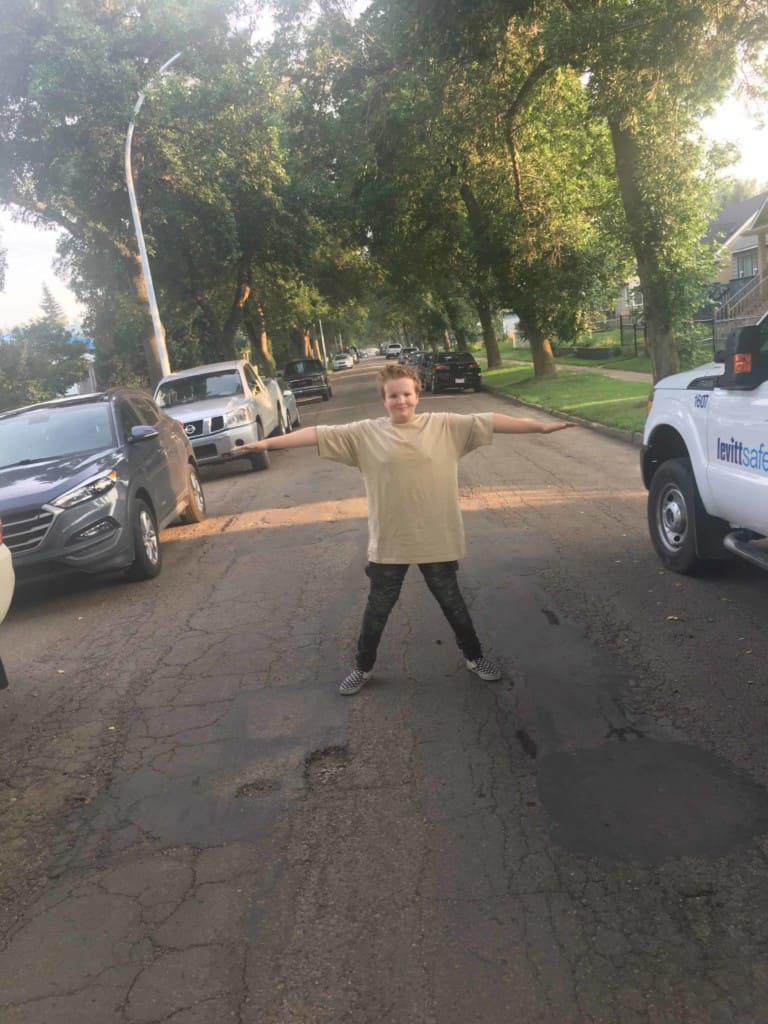 Sean MacQueen, a resident who is pro-bike lane, said he and his wife are "dedicated to seeing the neighbourhood flourish… and are especially interested in [the] Neighbourhood Renewal and making the community more accessible." He explained that safe bicycle infrastructure would increase safety, build community, connect to the downtown grid, and encourage more visits to community events and businesses.
Brendan Van Alstine, community activist, avid cyclist, and Alberta Avenue Community League president, is excited about bike lanes but said plans must accommodate residents' needs. "The league's position has always been to back the neighbours. So let us know your concerns. If you see something [in the renewal proposals] that you like or don't like, say something. This is a once-in-a-generation opportunity to share your input."
Building Great Neighbourhoods aims to present finalized plans in early 2019, after a community meeting this September or October. Visit edmonton.ca/buildingAlbertaAvenue to see the draft concepts of the proposed renewal.
Jen Rutledge, supervisor of Building Great Neighbourhoods, said, "We want to build something the community will use and that will function for them."
Rutledge encourages residents to review the proposal, and to sign up for a revitalization newsletter on the Building Great Neighbourhoods web page. She said, "So keep your eyes on your mailbox for an invitation to contribute."
---
Building Great Neighbourhoods
edmonton.ca/buildingAlbertaAvenue
Emily Zukowski – project manager
---
Featured Image: Margherita Gosselin and her son, Richard are concerned about accessibility and safety on 92 Street. | Tekla Luchenski