For two years, we've been waiting to dive into Borden Park's natural swimming pool. On July 6, it finally opened for a test run for local community league members. They came, they saw, they swam, and they raved.
The impressive new pool is 43 metres long and 16.8 metres wide. Sand on one side, with lounge chairs and umbrellas scattered around creates a beachy feel. Spacious individual change rooms have lockable doors.
While popular in Europe, only two natural swimming pools exist in North America. The second is in Minneapolis, Minnesota.
The water is 23 degrees, "like swimming in a lake," according to Shauna Graham, site coordinator and operations supervisor for the city's leisure centres. The pool is Canada's first naturally treated swimming pool, with aquatic plants, plankton, and filters taking care of filtration.
Environmentally unique, the $14.4-million pool suffered growing pains. Looking back, Graham said, "I call it a journey. We had to make changes to the original concept, we replaced the original builder, we did a risk assessment, and we couldn't build in the winter."
As families poured in, the most commonly heard word was "awesome." Renee Beaulac brought her two young children from Highlands for a swim. "I love it," Beaulac said in appreciation.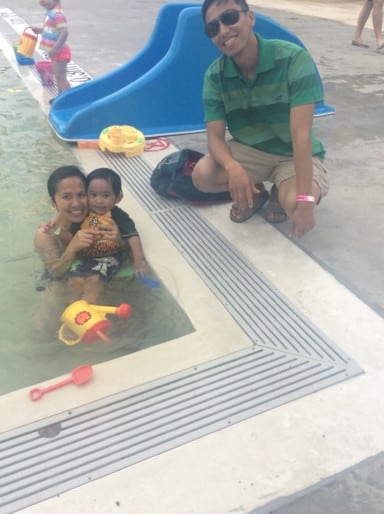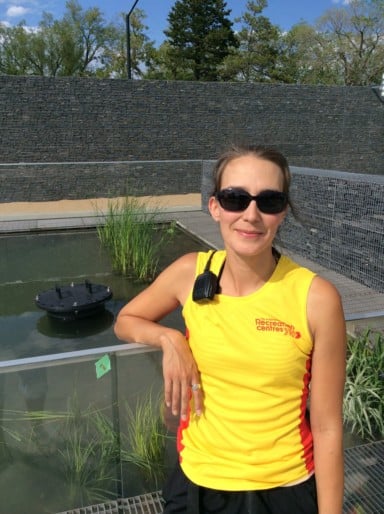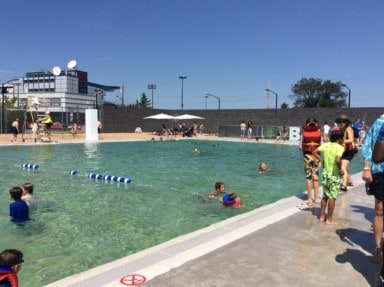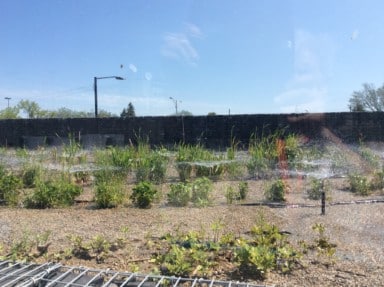 Small children had no problem with the water temperature. Two-year-old JC played happily with mom Maribeth Nebril in the tot pool. Dad Nicole Nebril sat nearby with family friend (and southside resident) Dianne Cariaga.
Nebril was an environmental planner in the Philippines and this was his first visit to an outdoor pool. "I think it's great. Instead of chlorine or artificial chemicals, the pool uses plants to disinfect the water. Maybe it's an idea that could be tried in the Philippines."
One of the most enthusiastic visitors has been coming to Borden pool for more than 75 years.  Joan MacGregor, a lifelong Highlands resident, attended the pool's grand opening on July 11 with 18-year-old grandson Spencer Acheson.
MacGregor shared her childhood memories of the pool. "We would stay all day at the pool, and the water was really cold. Our teeth would be chattering," said MacGregor. "This water is pleasant."
Was the pool worth the wait? Undeniably, yes. It's an oasis in a beautiful park.
The last words should come from MacGregor: "It's forward-reaching, it's built to last, and it's lovely."
---
POOL TIPS
The pool is sensitive to phosphate (sunscreens, lotions, hair products, soaps, detergents, etc). Swimmers must take a head-to-toe shower before using the pool.
Free lockers can fit small possessions. Paid lockers ($.50) can fit a small backpack.
Bring only unopened bottles of water.
Borden Park natural swimming pool
7615 Borden Park Road NW
edmonton.ca/bordennaturalswimmingpool
Open noon to 8 pm daily until September long weekend (weather permitting).
Free admission.
---