Tessa Raye Stamp has always been many things: an entrepreneur, an upcycler, a set designer. And while some would describe her as a jack of all trades, she sees herself as a tesserae instead, which, along with her name, inspired the name for her business: The Tesserae – Creative Construction + Design.
Tesserae are the pieces of stone, glass, or ceramics that make up a mosaic. "My skills come together like unique little parts that make a mosaic… like a work of art that is [made of] all unique skills and trades," explains Stamp.
She sells products that have been upcycled, or ones that are low waste or no waste.
"My muse has always been garbage," says Stamp with a laugh. "I'm really passionate about not buying new things [and] using what's already there."
The store primarily stocks Annie Sloan chalk paint, a versatile and easy-to-use paint — perfect for upcycling — that can be used on almost any surface without needing to strip and sand the material first. Her store also sells plants (herbs, annuals, and perennials) grown right in her home in Highlands. Acquired Taste Tea, Simpatico Makers beeswax wrap products, and upcycled materials made into art by local artists including Deanne Underwood and Kailene Dillon are also given a home in her store.
"The store in Highlands is sort of a collection of all the things I love, and it's really lovely to see other people love them," says Stamp. "Finding that [your passions] connect with the community… it's super heartwarming," says Stamp. "You just feel like you're finding your kindreds."
Stamp started her business in March 2020, after Edmonton's chalk paint stockist retired earlier that year. Because of her love of Annie Sloan paint and upcycling in general, she knew it was the perfect opportunity for her.
This past March, The Tesserae relocated from the Old Strathcona Arts Emporium to Highlands. Stamp lives in Highlands herself, just two blocks away from her store, and the strong community was an important factor in her decision to move locations.
Stamp also hosts workshops out of The Tesserae, including classes on how to make Mason jar centrepieces, how to paint on wood, Annie Sloan painting 101 classes, and Yard Yahtzee — where you make your own giant version of the game.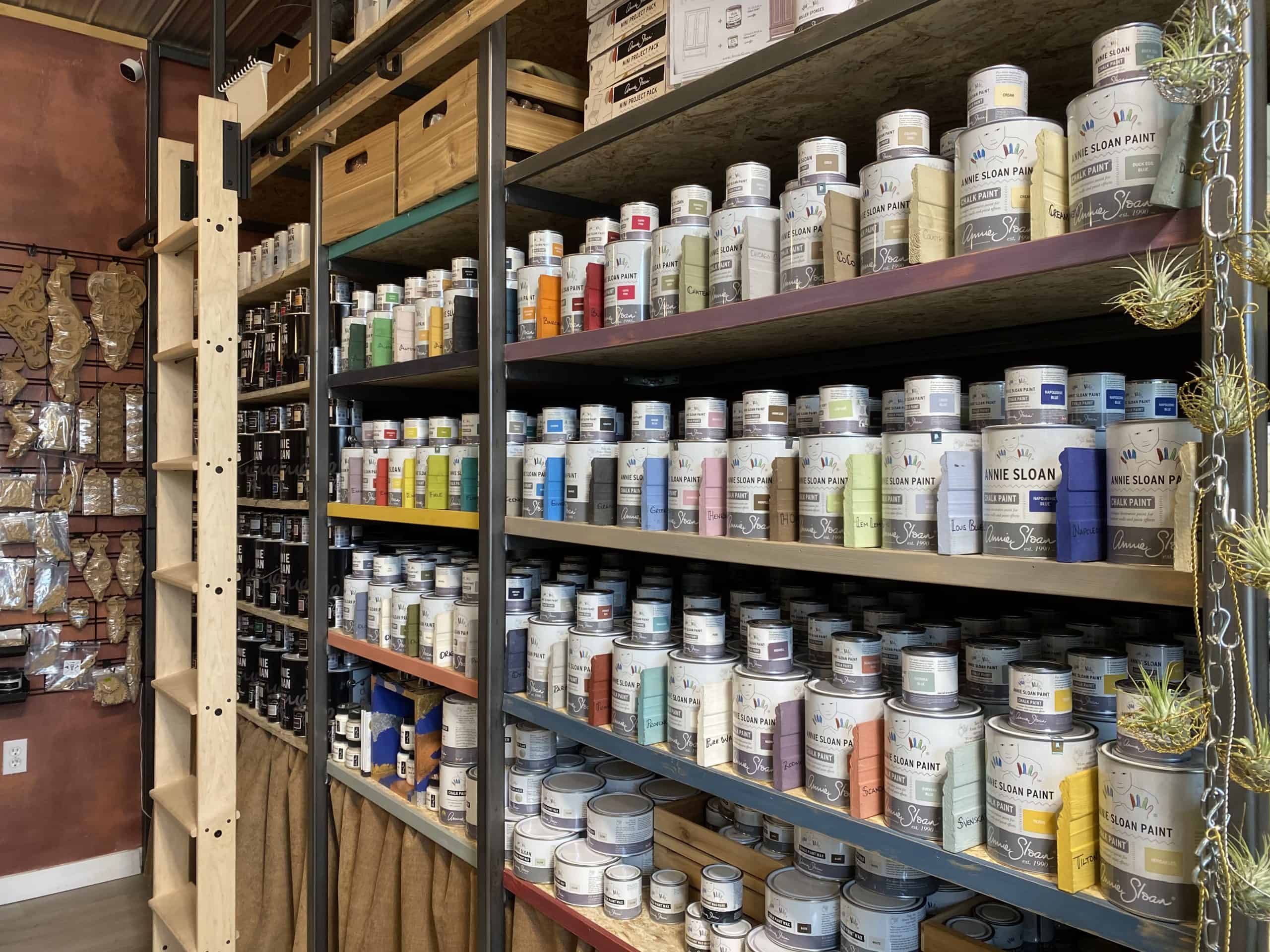 Her goal is to inspire others to upcycle and to try a no-waste lifestyle. "It's nice to inspire people with things that inspire you," says Stamp. One of her favourite parts about owning The Tesserae is answering questions about upcycling, DIY projects, and of course, Annie Sloan paint.
The Tesserae is located at 6421 112 Ave. The store's grand opening runs from May 13 to 15 and will feature a plant sale that will continue during the May long weekend. Visit thetesserae.ca for more information.