Sept. 30 is the National Day for Truth and Reconciliation. It's a day for all to think deeply on the meaning of these two words and show solidarity by wearing an orange shirt.
This special day was established in response to the Truth and Reconciliation Commission's Call to Action #80: "We call upon the federal government, in collaboration with Aboriginal peoples, to establish, as a statutory holiday, a National Day for Truth and Reconciliation to honour Survivors, their families, and communities, and ensure that public commemoration of the history and legacy of residential schools remains a vital component of the reconciliation process."
For my partner, Cree author Larry Loyie (1933-2016), sharing truth wasn't natural at first. He was a survivor of St. Bernard Mission residential school in Grouard, Alberta, one of the more than 140 such schools in Canada.
In the late 1980s, Loyie started writing about his six school years. He recalled the funny moments and read them in a creative writing class at Carnegie Learning Centre in Vancouver.
A student commented, "Larry, it must have been good in that school." It was then that Loyie knew he wasn't telling the whole truth. He made a vow. He would always tell the truth, no matter how painful it was.
Honouring survivors like Loyie on National Truth and Reconciliation Day recognizes what they went through, and what they relive again and again.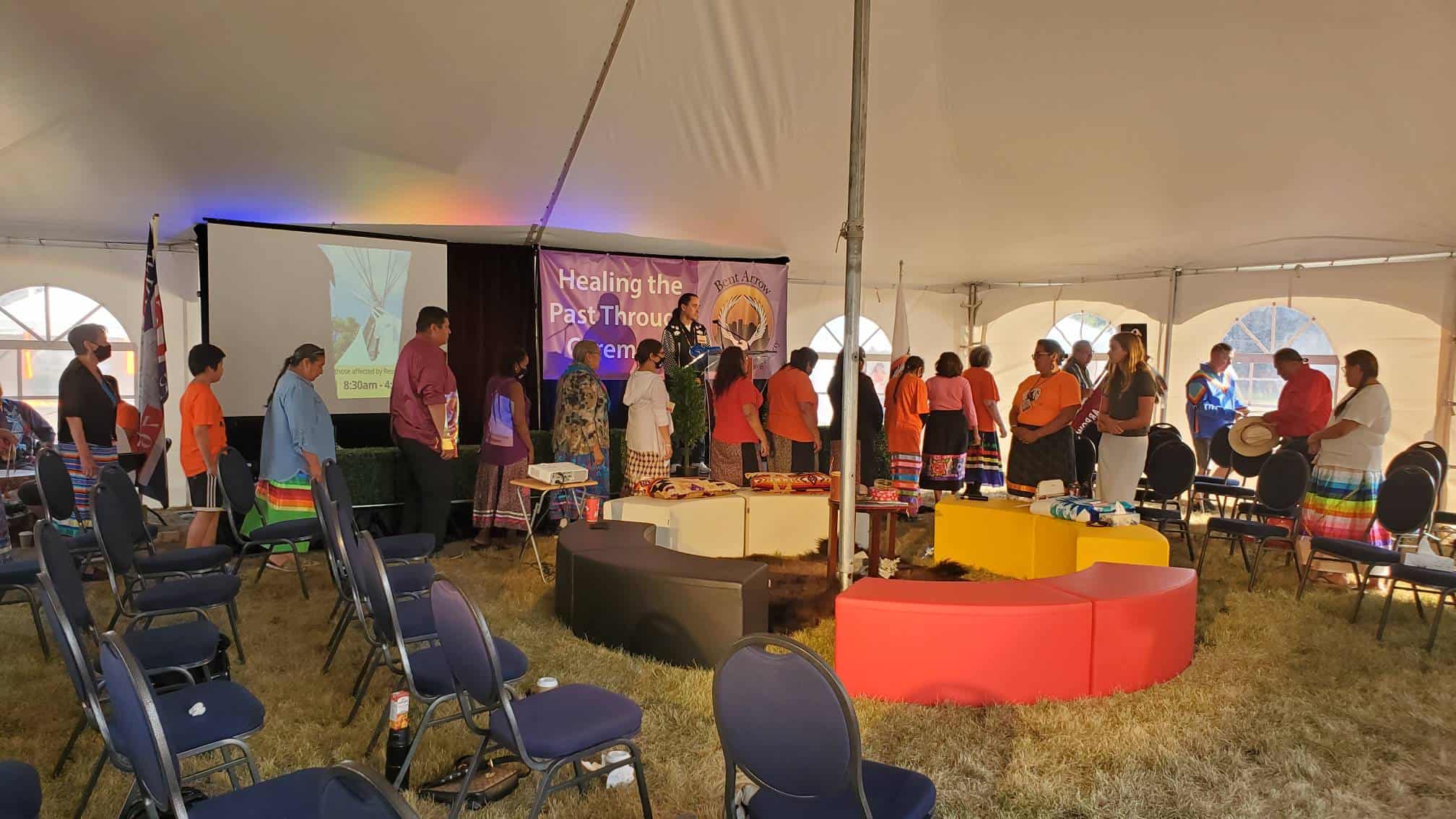 In July, thousands of survivors listened to what Pope Francis had to say. Many saw him in person. They carried their school experiences within, never to be forgotten. Some found healing; others did not. Some were later criticized for their words or actions. Either way, the week of the Pope's visit was draining for all.
The Pope, at 86 years old, appeared to make a breakthrough on the plane as he returned to Rome. He talked of genocide and admitted that it did happen here in Canada.
In the Principles of Reconciliation, Section 1 of the Calls to Action, reconciliation is described as "a process of healing relationships that require public truth sharing, apology, and commemoration that acknowledge and redress past harms."
Loyie wrestled with the word "reconciliation." He never understood what was expected of him, as Indigenous and as a survivor. How could he reconcile with the people who hurt him and more than 150,000 other children? Instead, he chose to heal from his anger through his writing.
He believed that education was the pathway to understanding what Indigenous people have gone through. An organization like Bent Arrow Traditional Healing Society, based in our community, gave him hope.
Senior manager Lloyd Yellowbird of Bent Arrow Traditional Healing Society says he understands the conflict that survivors like Loyie share over truth and reconciliation. He understands their emotional pain. His grandmother and mother both attended residential school. "They never cried in front of us," he shares. "They did their crying in private."
Bent Arrow, says Yellowbird, is happy to participate in the National Day for Truth and Reconciliation. "It's an opportunity for us to educate and move forward, educating others about our past, our present, and our future goals," he says.
Orange Shirt Day is celebrated at the same time, in recognition of all the children who attended residential school. "The Elders try to find common ground for healing," says Yellowbird. "They recognize that it's not just for our generation, but for our children and future generations."
On Sept. 30, everyone is invited to tune in and enjoy Bent Arrow's perceptive response and exuberant celebration of Indigenous culture on Facebook. Visit facebook.com/BentArrowYEG to stay updated.