On May 11, Coffee with Cops travelled to Eastwood Community League.
The event, which has been a mainstay at The Carrot Coffeehouse for 14 years, is an opportunity for community members in the area to connect with their local beat officers and other organizations, including Edmonton Fire Rescue Services, Alberta Health Services, Capital City Clean Up, and more.
On Thursdays, the beat officers stop by the Alberta Avenue Community Drop-In Night, sometimes just to chat with community leaders and attendees, other times to do a presentation or question and answer.
In the past, Coffee with Cops has also met at a few different Edmonton locations, including vacant lots and the Spruce Avenue Community League skating rink.
Christy Morin, executive director of Arts on the Ave (AOTA), says the event started as a mutually symbiotic relationship between AOTA and Edmonton Police Service (EPS), especially since several police constables lived in the Alberta Ave neighbourhood.
"[The event is an opportunity] for us as residents to be able to feel empowered, understand how things work, be educated into crime prevention, and [learn] how to keep your home and back alley safe," continues Morin.
A relationship between residents and police is necessary on both sides; police use crucial information provided by residents to improve safety in the Alberta Ave District, and residents can build strong relationships with their beat teams, even going so far to exchange phone numbers and addresses so that their beat teams can check up on them.
At Eastwood Community League, residents got a chance to hear from police and fire services about how to protect their property from arson and other criminal activity this spring. Police also provided an overview of SCAN (alberta.ca/report-suspicious-property.aspx), which is a tool residents can use to report problem properties, talked briefly about derelict properties, and addressed issues that come with living in a former drug house.
After the presentation and question and answer session, residents got a chance to talk to their beat officers and inform them of any concerns they have in their neighbourhood.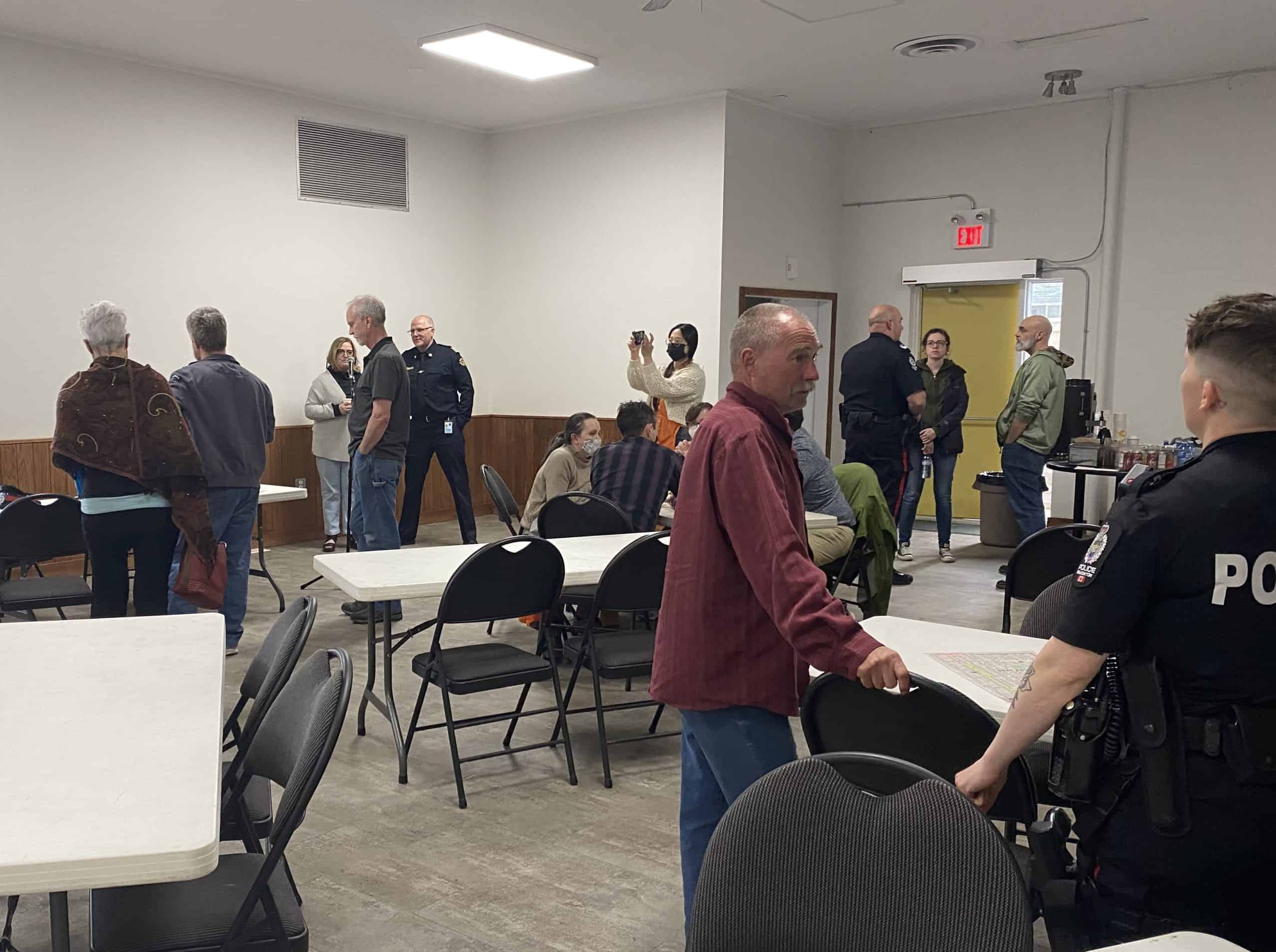 Valerie Parr has been attending Coffee with Cops since the event started and has lived in the community for 20 years. She says, "I'm here because I love my community…. I'm seeing some changes that are not really positive, and I want to be as proactive as I can to see if we can, as a community, change."
Coffee with Cops goes a long way to build community, says Parr, especially since it helps neighbours get to know each other. "That's the important thing, that you know your neighbours… so when you see them on the street, you'll acknowledge them and [feel] a sense of strength."
"You've got to have a feeling that you can reach out and talk to others about [your concerns] rather than be isolated in your home and fearful," continues Parr.
Staff Sgt. Brad Jones also attended the event on Wednesday with EPS. He says the main goal of the event is "reaching out to the community and getting that interaction between the public and the police."
Another crucial element is "letting the people that live in the area know their beat officers and know that they can go to them for assistance." Having more communication between police and residents can only be beneficial, continues Jones.
"Many folks in our community have a traumatic history with law enforcement, and may fear or resent our beat cops as a result," says Ali Hammington, president of Alberta Avenue Community League.
"Having police attend our community drop-ins resulted in confusion at first. I was repeatedly asked, 'Why are they here? Are they looking for someone?' I always responded with, 'Because they're OUR cops, and they work with us to keep our community safe.' Now, beat cops and community members are on a first-name basis. The officers bring balls and Frisbees, engage with kids at the park, and everyone feels safe sharing their observations and concerns. I truly believe that the relationships between police and neighbours is making our community safer for everyone."
Follow community Facebook pages or subscribe to eNewsletters for regular updates on Coffee with Cops.