On a hot day in Edmonton, a dip in an outdoor pool or a run through a spray park is enticing. In addition to award-winning Borden Natural Swimming Pool, opening July 1, 73 spray parks dot the city, with several conveniently located in our area.
Three other outdoor pools will operate this summer: Oliver Outdoor Pool, Queen Elizabeth Pool, and Fred Broadstock Pool. Mill Creek Outdoor Pool is closed for rehabilitation work.
The best recommendation is to reserve your time slot at the City of Edmonton's website MoveLearnPlay (movelearnplay.edmonton.ca/). Access to outdoor pools is free for children 12 years old and under.
"We encourage Edmontonians to reserve a time to visit outdoor pools this season to guarantee they can access the pool at the time they prefer. However, we are also accepting walk-ins and people can pay at the door," says Christopher Webster, communications advisor for the City's community services, communications and engagement. "After introducing time booking as an option during the pandemic, we heard from many that they liked the option, and so we have kept it in place for the 2022 season."
While Queen Elizabeth Pool opened June 22, Borden Pool and others were delayed to July 1. The culprit was a reduced season approved as part of city council's 2021 budget deliberations.
"The budget reflected a new fiscal reality given the pressures everyone faced as a result of the pandemic," said Shauna Graham, supervisor of operations at the City of Edmonton. "While we understand this will disappoint some residents who look forward to hitting the outdoor pools each year, we are looking forward to opening our doors on July 1."
Pool hours will be 10 am to 7:45 pm from July 1 to Aug 6, and 10 am to 5:45 pm from Aug 7 to 31.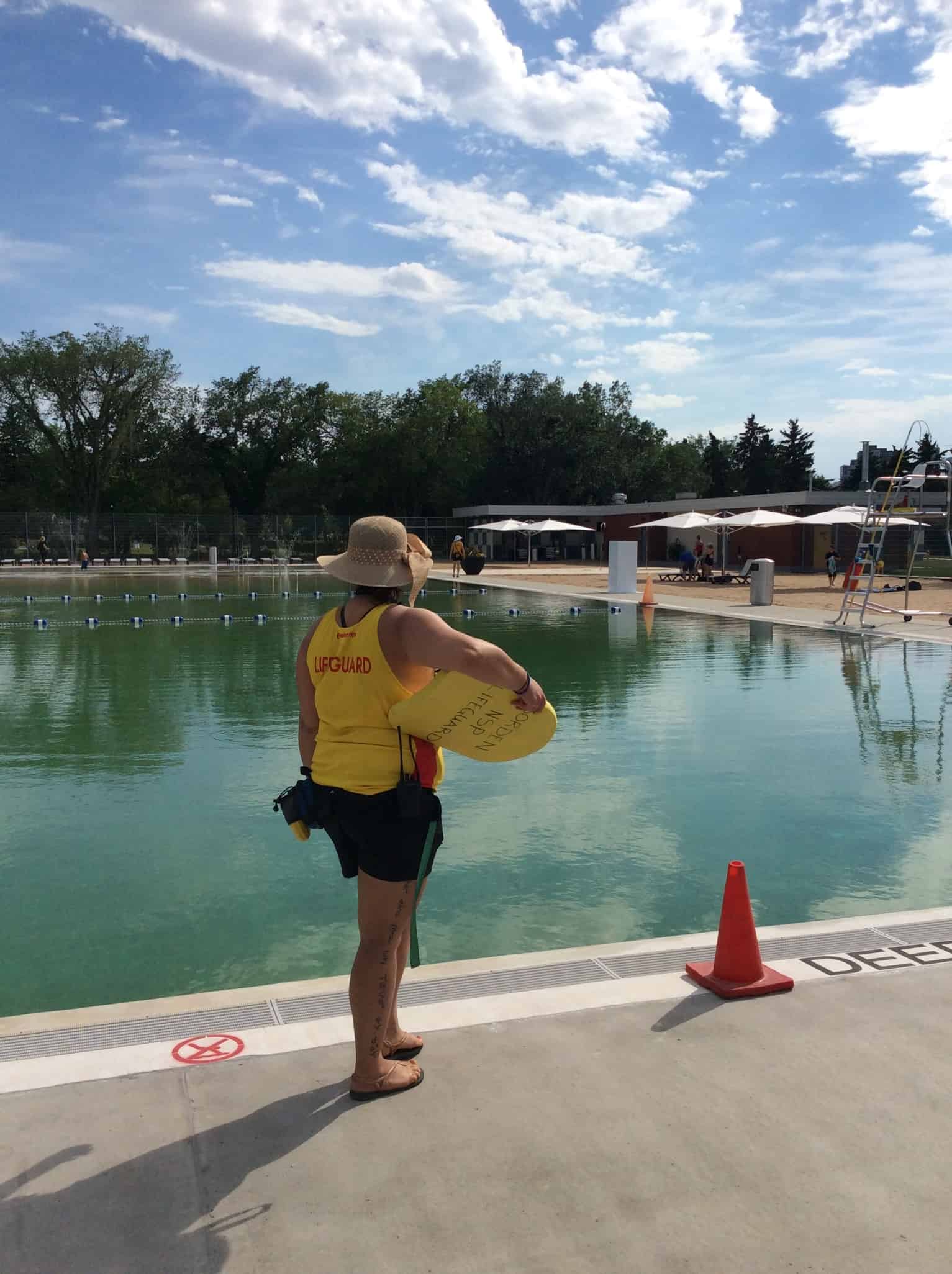 Located in a beautiful park, Borden Natural Swimming Pool, which opened in 2018, is Canada's first public, man-made, natural swimming pool. While this type of pool is popular in Europe, there are only two in North America. The other is in Minneapolis, Minnesota.
In 2019, the pool won the prestigious Innovation in Architecture award that "honours its integration of chemical-free technology into a beautifully designed public recreation facility." The design process involved developing a pool technology that cleanses water through stone, gravel, sand, and botanic filtering processes.
The Royal Architectural Institute of Canada gave the award and assesses factors such as research and development, new and adapted technologies, construction methods, and fresh approaches to details and materials.
Take a mini-vacation at Borden Pool, while relaxing on lounge chairs with umbrellas and with sand on one side. Individual change rooms have lockable doors and free lockers are available. The beautiful complex cost $14.4 million to build and every penny was worth it.
What could be better, and cheaper? Goodbye Hawaii, hello Borden Park!
On a hot day, the 23C degree water is a pleasure. Because the pool is partially filtered by aquatic plants and plankton, the temperature stays cool and refreshing.
"It's like swimming in a lake," said Graham at the opening event.
Guidelines for Borden Pool are different from other outdoor pools because no chemicals are used to disinfect the water. The pool depends on rock filters and natural processes such as plants instead of using chemicals to replicate naturally occurring filtration. Layers of granite rock, known as the Neptune Filter, remove big articles such as leaves, dissolved solids, and larger organic materials. A biofilm on top of the rock is used to filter out smaller micro-organisms.
Two other methods enhance the pool: hydrobotanical beds are constructed wetlands using plants to filter phosphates, nitrogen, carbon dioxide, and other contaminants from the water. Intense ultraviolet from the sun controls bacteria levels before water is recirculated into the public basins.
Edmonton's spray parks are another delightful, and free, choice for family fun.
Recirculating spray parks have a large underground storage tank that is filled with water pumped to the treatment equipment. The equipment filters and disinfects the water, which is then sprayed onto the play area.
Spray parks are open for the season from 9 am to 9 pm. Conveniently located spray parks include Alberta Avenue (9210 118 Ave), Eastwood (11803 86 St), Elmwood Park (12505 75 St), Highlands (112 Ave and 62 St), and Spruce Avenue (10240 115 Ave).
---
CONTACTS
Outdoor pool time slot bookings: movelearnplay.edmonton.ca
To find your closest spray park, call 311 or online at edmonton.ca/activities_parks_recreation/spray-parks-water-play