Bike lanes are a topic of hot debate in Edmonton; some love them, while others hate them. In the Alberta Avenue area, bike lanes are a welcome option to a new resident, Sarah F. A dedicated cyclist, Sarah uses the easy, low-traffic bike lane on 96 Street daily. "My route is really straight-forward to get to work downtown."
She adds, "The lighting is great along the bike lanes." Sarah mentions only one way to improve the lanes. "Fix the potholes." While motorists complain about those, a pothole can be disastrous for cyclists.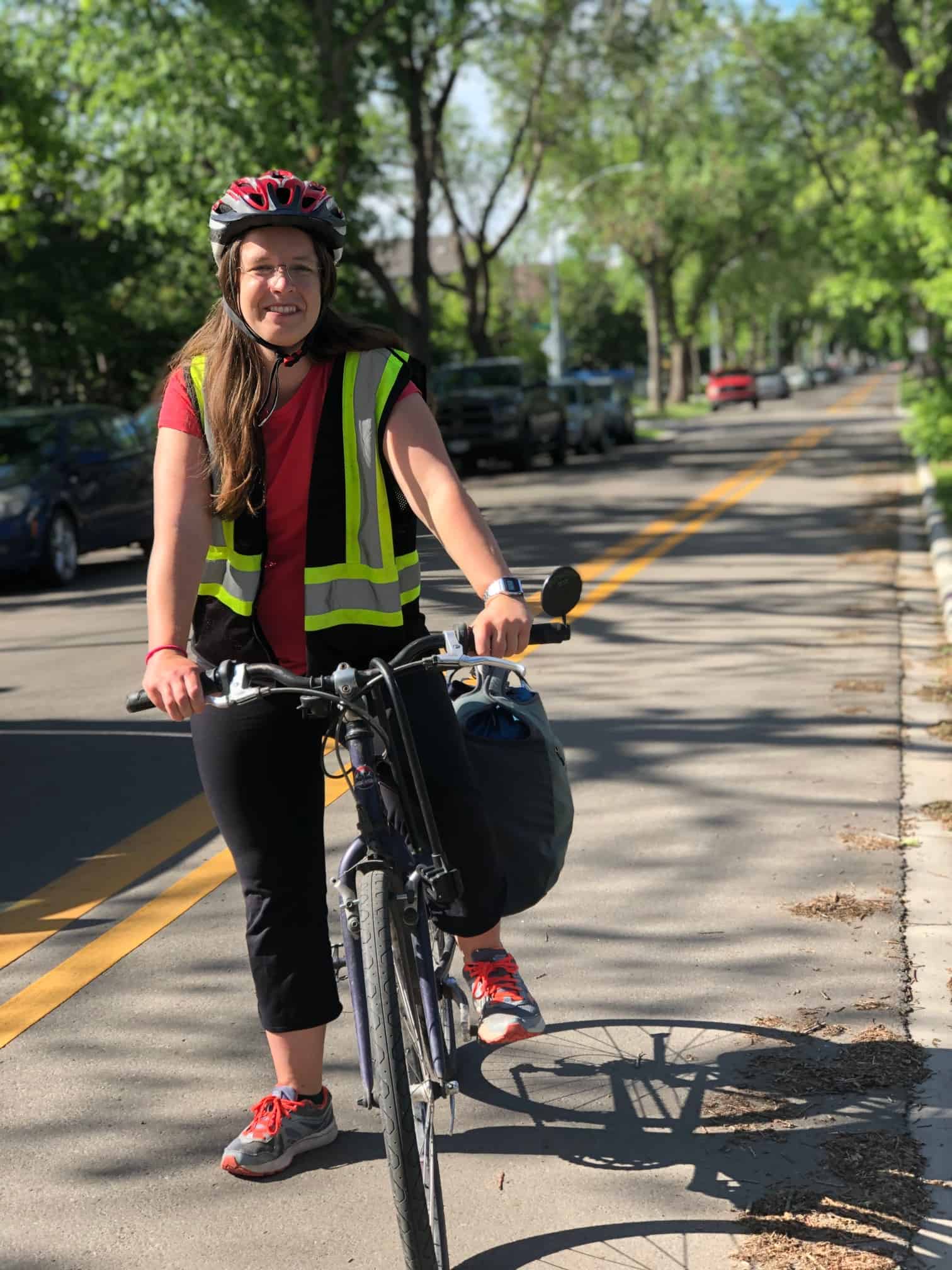 Maggie Glasgow, an area resident and an avid cyclist commuter, offers an additional valid critique. "I would rather see [the bike lanes on] 96 Street and 114 Avenue on main streets such as 95 Street and 115 Avenue, though. I think those routes are faster with fewer stop signs." There is enough room for parking and bicycle lanes on both 95 Street and 115 Avenue. Bike lanes there might make it challenging "for non-residents to turn onto the residential streets to shortcut, which is a big problem in our neighbourhoods."
Signage does need to erase all room for doubt, especially on the one-ways. Glasgow says, "I constantly get confused as to which way you can travel along 114 Avenue. They should have one-way arrows for vehicles at each intersection, especially at 114 Avenue and 95 Street!"
The bike lanes are painted clearly on 96 Street. The diamond and bicycle images are a traffic marking that signals the lane is designated for bicycles only. Cars may not enter this lane except at intersections for turning when the lane's outside solid lines become dashes.
Despite signage, collisions do happen. Edmonton can learn from Seattle's Department of Transportation. Not only did they do a bike and pedestrian safety assessment examining all the variables over seven years of cyclist and pedestrian crash data, but they also studied the intersections where no crashes ever occurred. They are using algorithms from their studies to build smarter, safer roads.
Sarah adds, "Drivers do need to pay more attention when they are turning right. For both pedestrians and cyclists."
Glasgow sees cyclists, particularly families and kids, using the lanes. "Kids in our district don't have many safe spaces to ride their bikes because of the design of the neighbourhood (no cul-de-sacs and bays). At least they can ride their bikes along the bike paths and get to friends' houses safely."
Regardless of bike lanes, all cyclists on motor vehicle roads need to adhere to the rules of motor vehicle traffic and practice defensive driving. Cyclists using a crosswalk must dismount, and then walk their bike across. It's important for cyclists to remember they're not a pedestrian when on a bicycle. Bicycles are deemed a vehicle and therefore subject to traffic laws. Cyclists can be at fault even if a driver hits them. Wait for a break in traffic to cross uncontrolled intersections.
Everyone (pedestrians, cyclists, and motorists) needs to be aware and know the laws. And if everyone adhered to the rules, one might ponder if bike lanes are even necessary. For enjoyment and health and being kinder to the environment, they are very essential. Enjoy riding this summer!
The best bike lanes in the Alberta Avenue area run north and south on 96 Street, east and west on 114 Avenue, 119 Avenue (two lanes for the bikes); 92 Street is also designated as a bike route but not painted. Painted bike lanes will be added to 92 Street once Neighbourhood Renewal is complete.
Visit edmonton.ca/bike for more information.