Much like last year's touring Kaleido, this year's event will also be mobile from Sept. 10-12, but will stay at different locations for longer periods of time.
"Kaleido is another hybrid from 2020," says Christy Morin, artistic director of Kaleido. "It's a hybrid from the established festival and from last year's tour. It will be a menagerie experience with music, theatre, and some dance. The menageries are the stages we'll be bringing through."
Performers will tour on floats, but they will stop for three hours at different locations, making it easier for people to catch performances.
"Bring your own lawn chair and blanket," Morin advises. "Dress for the weather. There won't be as many fire pits as previous years."
Plus, there will be "satellite locations", meaning permanent locations for people to stop. Jazz Alley will offer jazz performances in the alley of 118 Avenue and 93-94 Street.
"The Carrot will be running its usual singer/songwriter performances throughout the day during the weekend," says Morin, and adds The Carrot Coffeehouse will also have a visual art gallery.
Or, stop by the Zen Garden in the park by St. Faith's Anglican Church on 117 Ave and 93 St. Do some yoga or listen to orchestral music. "It's more relaxed and a place for people to stop and enjoy themselves," says Morin.
The weekend will start with the Aurora Lantern Parade, which will make its way to Delton Community League. Artists and community members make the lanterns. "We encourage people to bring their lanterns," says Morin, explaining there will be food trucks at the event, and fireworks at 120 Ave and 89 St.
Some mainstays are being brought back, but are now spread out more due to the pandemic. For example, the Aboriginal Takwakin Village will be at Bent Arrow Healing Society at 11648 85 Street. Another visual art gallery will be at Borden Park. "The art will be large pieces in large easels," says Morin. "It's a transitory art gallery. It starts Sept. 1 and goes until the end of Kaleido."
Be prepared for music, art, and dancing. Some artists include William Prince, DJ Kwake, Beth Levia, Captain Tractor, and performances from Kore Dance Studio.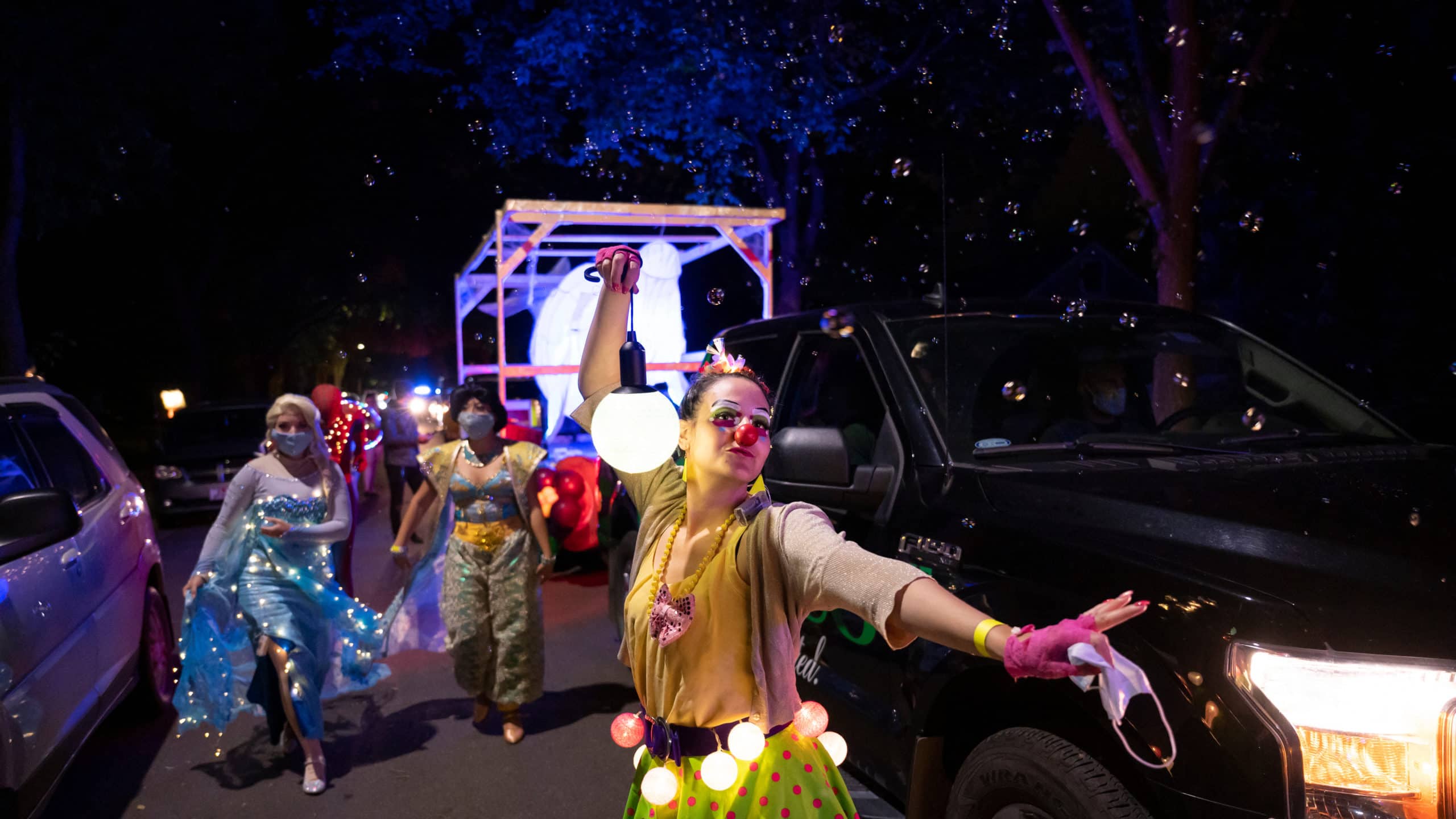 And pancake breakfasts are back. On Saturday, Spruce Avenue Community League is hosting a breakfast, plus bluegrass music. Alberta Avenue Community League is hosting Sunday's breakfast, accompanied by soul music.
Because the mask mandate for events has been lifted, some people will wear masks and others won't. "We just really want people to respect each other's space," says Morin.
And keep an eye out for the puppets. Arts on the Ave suffered a loss from the death of Dick Au, an active volunteer and friend. "We're creating a giant puppet in his image."
Organizers still need volunteers such as drivers, carpenters, food preparation workers, cleanup crew, and bartenders.
Morin says organizing an event like Kaleido is challenging at the best of times, but the pandemic makes it "really tough, really challenging." She adds, "Our community has a soul in the arts and we feel like we can start expressing ourselves again. We encourage people to come out and enjoy the festival, enjoy the Avenue."
Look at the schedule on kaleidofest.ca, or stop at The Carrot Coffeehouse to pick up a program. The schedule will be available the first week of September.
---
DANCING IN THE STREET, KALEIDO ON TOUR 2021

Sept. 10-12, various locations
www.kaleidofest.ca