Have you never darkened the doorway of a thrift shop? When I moved into the area, I was a thrift shop virgin, but boy, was I missing out. Since my first experience at Bissell Thrift Shop four years ago, I've become a convert.
You just never know what treasure you'll find. Or what household item you couldn't live without. Your coffee maker gurgled its last gulp? Your slow cooker is cooked? Your iron has pressed its last pant leg? Wander through your local thrift shop. You'll find that replacement KitchenAid you've been looking for. Staff ensure that all electrical items work. If they don't work, they're not on the shelves.
You'll also find a few treasures. A friend found a full-length Canada Goose winter coat with the fur collar and real goose down. It was clean, neat, and new, for less than $25. This was a $1,500 coat brand new. For myself, I've found two fall jackets and a winter coat. Two jackets still had their store tags on them.
I frequent both the Bissell Thrift Shop on 118 Avenue and 88 Street and The Mustard Seed Thrift Store on 118 Avenue and 65 Street, in person and online. My partner and I donate to both stores and, happily, frequently buy from both. So far, I think we've bought far more than we have donated. It's a good feeling to know that the money raised by these stores goes to reducing poverty in our communities.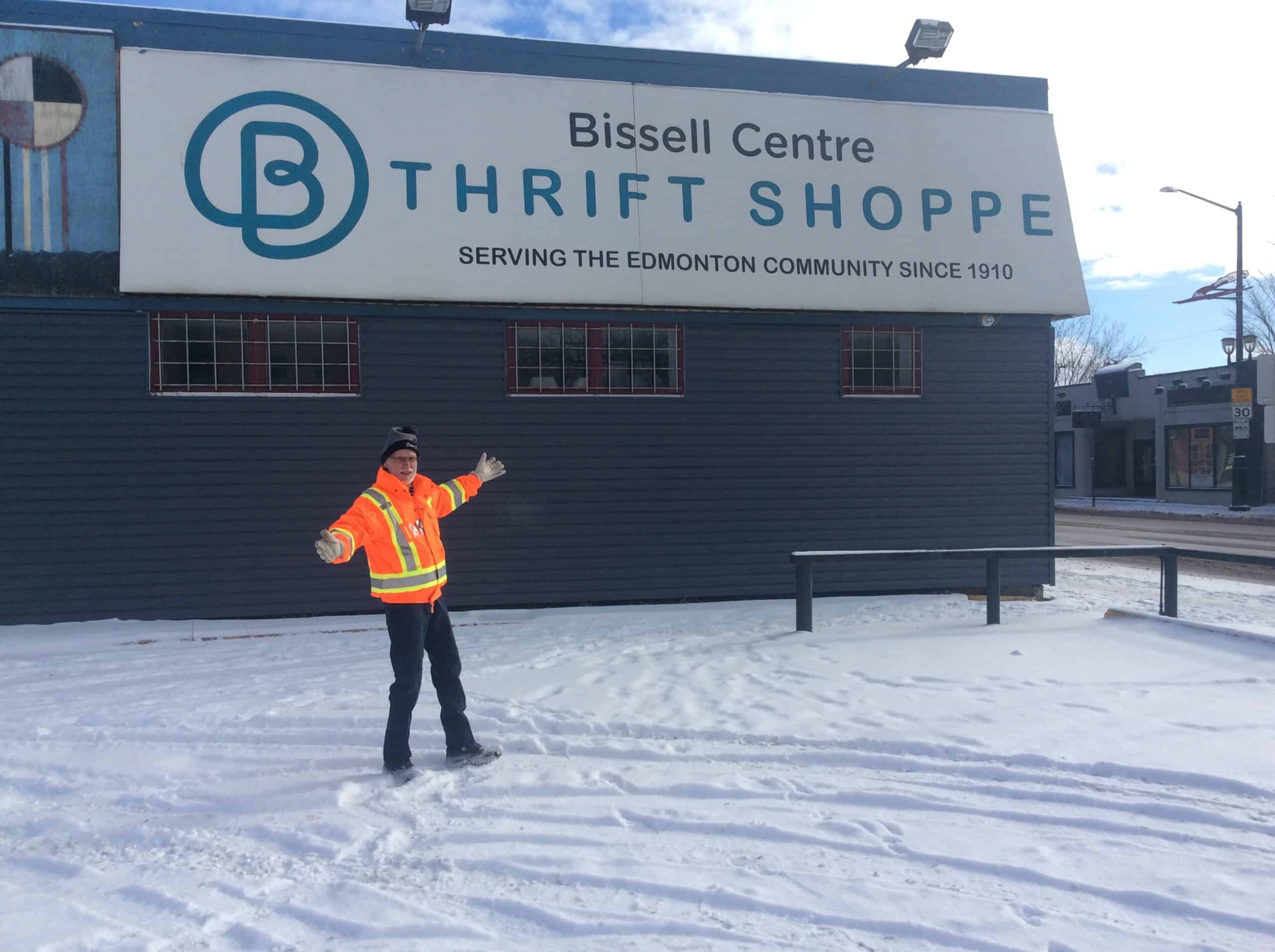 The money you save! We needed to replace our shower head and hand sprayer, valued at $140 at Home Depot. We went to Habitat for Humanity's ReStore at Yellowhead Trail and 82 Street. For $30, we bought a brand new (still in original packaging), high-end magnetic shower head with a movable hand shower. I also picked up an expensive flashlight, normally available on TV for just three easy payments of $23 a month. Cash price at the till was $15, still in original packaging.
Don't be afraid to shop these stores for presents. You may find a wonderful gift in brand new condition for a fraction of the original cost.
Mother-in-law coming for a visit, and you want to upgrade your kitchenware? You could find brand new or nearly new stuff for pennies on the dollar.
You never know when you'll find that item that thrills you to the core. I do a lot of camping and I had a badly worn wet bag that needed repairing or replacing. New bags, the size I needed, go for $125 or more. At Mustard Seed's online sales, wow! Exactly perfect: a bright yellow, heavy vinyl wet bag for $60. Wet bags are designed to get wet on the outside, but keep the inside dry. These bags can sit all day in the rain on the canoe or on the back of a motorcycle and arrive at the end of day with the contents dry.
For the adventurous, there's the Treasure Hunt Store at 135 Avenue and Fort Road. This store features returns from Amazon and others. New returns, abandoned orders, and misplaced orders arrive here weekly.
Four long rows of tables are heaped with new but unwanted groovy and just plain weird items. Saturday is the priciest day at $25 per item, dipping down daily to $1 on Friday. They also have a large selection of new clothes on hangers, all $7 each. Best of all, books are $1 any day of the week.
Get out of the big box stores, live a little! It's an adventure!