Laura Grant has been cycling her whole life, but it hasn't always been spokes and roses. Buying and selling bikes was more unsafe than it had to be.
Years ago, Grant's husband, Chris, who is also a cycling enthusiast, was selling a bike out of their garage. The person who stopped by to look at the bike ended up scoping out their garage, and they were robbed soon after. Another time, Grant went to help her friend look at a bike, and they ended up in a dark, unfinished basement.
"I didn't feel safe," says Grant.
That's when inspiration hit. "I looked over at Chris and said, 'You know what we need to do? We need to create a safe place to buy and sell bikes and return that money to other groups so that we can fund safe cycling in the province,'" says Grant. "And that's why we did it."
Today, Laura and Chris Grant run the hugely successful Alberta Bike Swap that takes place across Alberta. They designed their own software to use for the bike swap and designed and patented their own bike racks as well.
"Our first event was April 1 in 2011," says Grant. "The roads were closed, there was a huge winter storm… and every bike sold in 20 minutes." People even drove from Lethbridge and Grand Prairie to attend. 
"It was amazing. We knew we were onto something, so we put the next swap on six weeks later… and we just have never looked back."
At the bike swap, participants can buy, donate, or sell a bike in a safe and controlled atmosphere. All the bikes undergo a tech check to ensure that they are safe and immediately rideable, says Grant, and the bike serial numbers are recorded and checked to prevent stolen bikes from being sold.
"The police have actually seized bikes in online sales and pawn shops based on our paperwork," says Grant. "They trust what we do."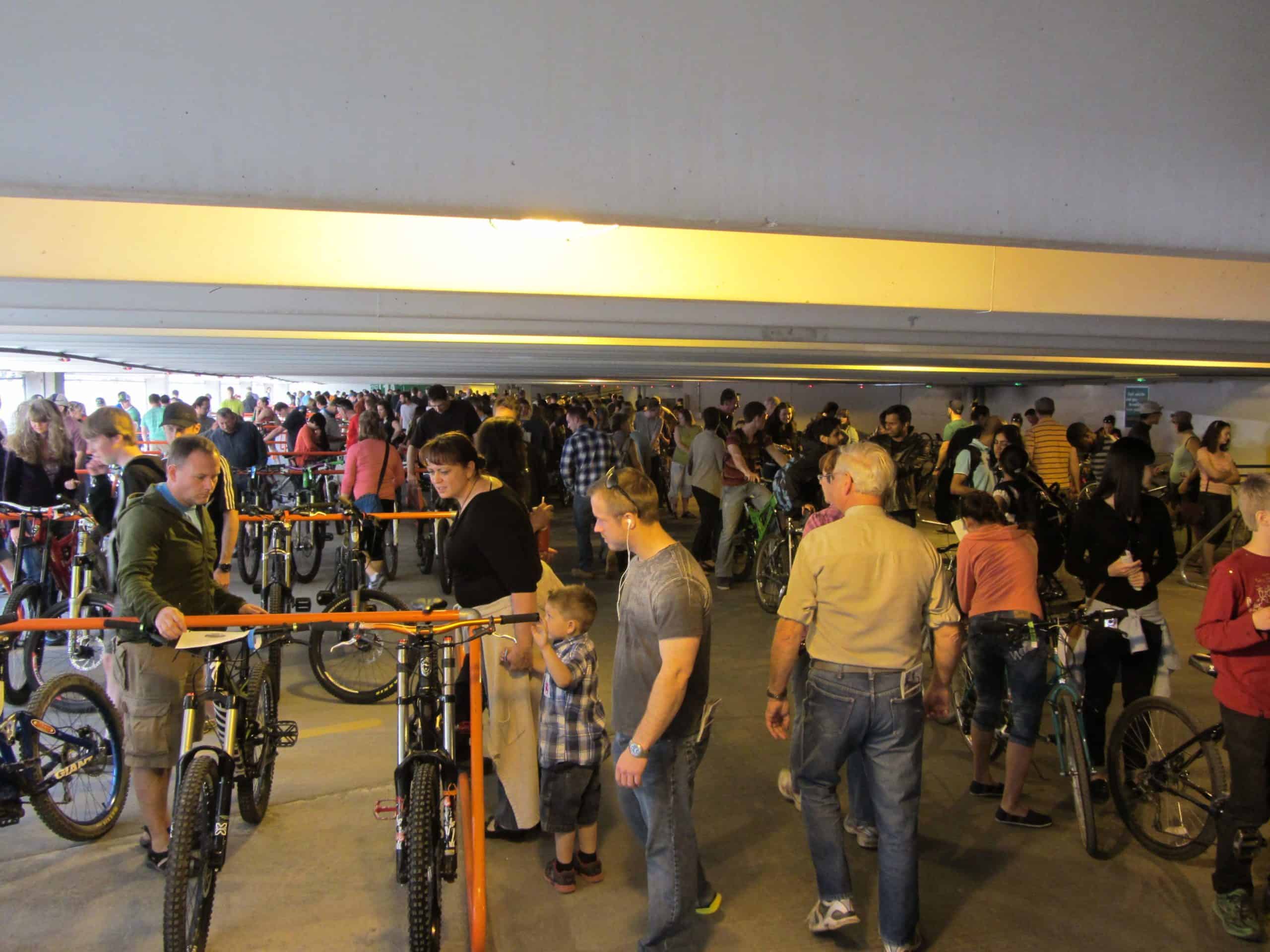 The event is completely volunteer run, and the volunteers intake bikes from 8 a.m. to 2 p.m. from those who want to sell or donate their bikes. At 2:30 p.m. "we let the floodgates open," says Grant, and she really means it. So far, over 4,000 people are signed up to attend the event this year, and in past years, they have had close to 15,000 people attend.
There is a small fee for those who want to sell their bike through the bike swap: $10 for AMA members and $15 for non-members. If a bike is sold, the organizers will send the seller the money, minus 15 per cent. This deduction helps cover event costs like bank fees, gas costs, tech purchases, and more. There is a $2 entrance fee for those looking to buy a bike at the swap.
Bikes sell for $280 on average, and all bikes sell for at least $50, but Grant says that they have also sold bikes worth $5,000 at the swap.
But what's really exciting about the Alberta Bike Swap is that they donate about five times the profit back into the community through 40 strategic partners. They donate bikes, work to rebuild bikes and source parts, and pledge money to those raising funds for organizations like Enbridge Ride to Conquer Cancer, The Branch Out Neurological Foundation, Life Cycle, and more, if participants bring in a bike to sell.
The Edmonton Bike Swap event takes place on May 14 at the MacEwan University 107 Street underground parkade. Visit albertabikeswap.ca/locations/edmonton/ for more info. Check it out, bike enthusiasts!