Alberta Ave resident has a commitment to local issues and community
It's a story as old as Canada. People around the world hear of opportunities for work and a better life in Canada, so they pack up their family and take a risk, often moving with little money or without even understanding the language. It is people like this who help Canada grow and become a better place.
Liz John-West's story begins in much the same way. She was born and raised in India, but eventually immigrated with her family to Kamloops, B.C.
Although her father had an engineering certificate, he couldn't use it in Canada, so he decided to work odd jobs instead. Eventually, he started a house building business.
"Meanwhile, my mom came to Canada with no English but with a strong work ethic. She went to school to learn English and then got her health care aide certificate and went to work as a health care aide worker," says John-West.
During her 10 years in Kamloops, John-West was surrounded by her extended family. "In Kamloops, I grew up [with] my parents and my siblings but also with my aunties and uncles and cousins. This was my community when I was at home."
She adds: "My strong sense of belonging and being part of a community and my ability to walk in two worlds [Indian and Canadian] is what I walk in on a regular and consistent basis."
After graduating high school, she moved to Edmonton to attend university. She studied sociology and then completed grad studies in Indigenous community development.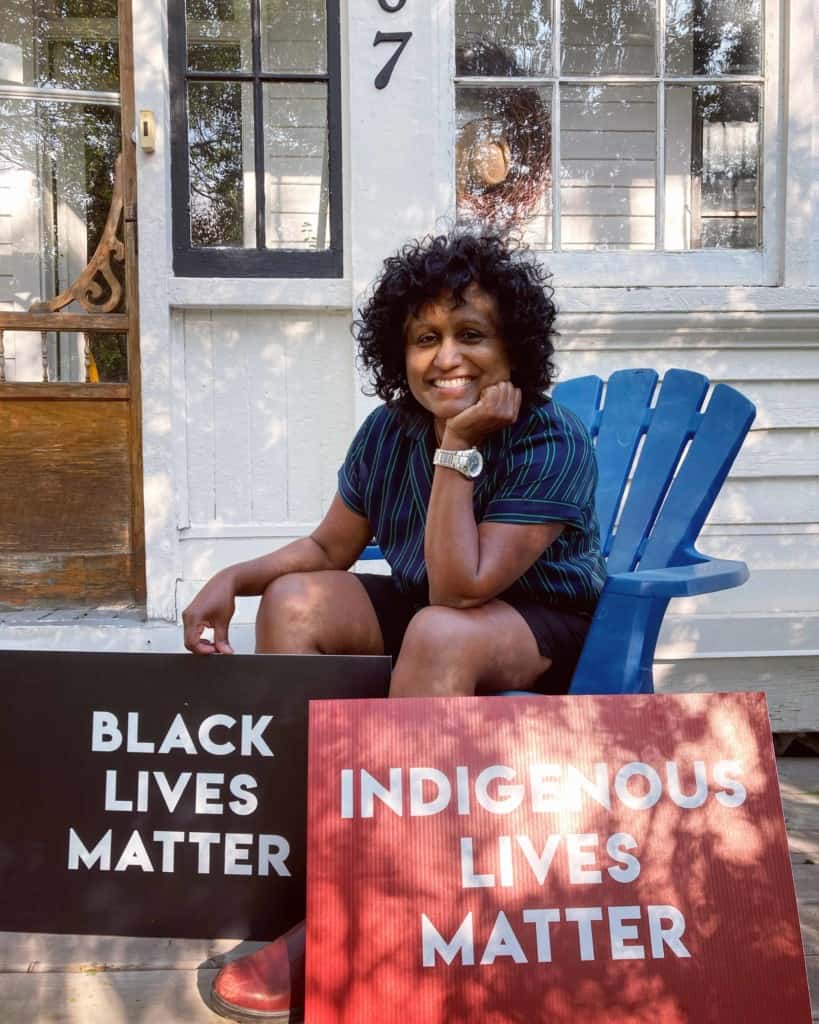 Now, John-West works in the social services field at WJS Canada, where she oversees the children's service sector. "We provide support to hundreds of families who are struggling with parenting, and trying to, at the same time, cope with their own addiction and mental illness plus poverty and homelessness and so on."
Community involvement is important to John-West. Through the years, she has volunteered in different communities in different roles. John-West and her husband Geoff raised their three daughters in the McCauley and Alberta Avenue neighbourhoods, where she has been involved with the community as long as they have lived there. She delivered newspapers with her kids, helped with soccer teams, and was involved with developing Giovanni Caboto Park.
She currently is a board member with Alberta Avenue Community League, where she is part of the Park Committee. She explains, "We are hoping to dedicate a park to honour the murdered and missing women who have been taken from our neighbourhood. We are working closely with the Indigenous community and City of Edmonton to make sure the process is done well."
John-West also volunteered with the Edmonton Federation of Community Leagues, where she represented neighbourhoods bordering 118 Avenue (including Delton and Elmwood Park).
"Community leaguers are full of people who are community builders. They want to create space for neighbours to get to know each other. We have amazing individuals who have volunteered so much of their time to organize events which will bring neighbours together. As a representative of District G for all 13 community leagues in our area, I met amazing people who were dedicated, some for many years, to building their neighbourhood."
Politics is another interest of hers. Even with all of her commitments, she found time to run for Edmonton City Council in 2017. "I will be running again. The first time, I was very naïve, but I loved it. I loved meeting with people, door knocking," she says. "You get to hear what people are struggling with and you become an advocate for the issues people are raising."
Having been so involved with the community, John-West knows the issues it faces, along with the beauty it possesses.
---
Featured Image: Liz John-West (middle) with her husband and daughters. | Supplied