There was no shortage of plaid or smiles at NDP MLA Janis Irwin's nomination event on Sunday, Sept. 25.
Residents and provincial and federal politicians gathered at the Bellevue Community League hall to nominate Irwin as the NDP candidate for the Edmonton-Highlands-Norwood riding. Irwin, who was first elected to the Alberta legislative assembly in 2019, was unopposed during the nomination process.
Irwin said she is "honoured" to represent Edmonton-Highlands-Norwood again for the NDP.
"The diversity, the community spirit that I see every single day, that's my community as well, where I live, where I make my home. It's just a beautiful area to represent and I'm just so grateful every day," she said.
"Right now, we're really focused on just listening to folks. And, you know, I've been doing a lot of work in the community, connecting with people and hearing their stories. And obviously, our goal is to form government in the next election, whenever that should happen. So we're building towards that goal."
A number of speakers took the stage during the event to talk about Irwin's impact on her community and the province as a whole, including Rakhi Pancholi, MLA for Edmonton-Whitemud; Blake Desjarlais, federal NDP MP for Edmonton Griesbach; and Chris Galloway, Electoral District Association president for Edmonton-Highlands-Norwood.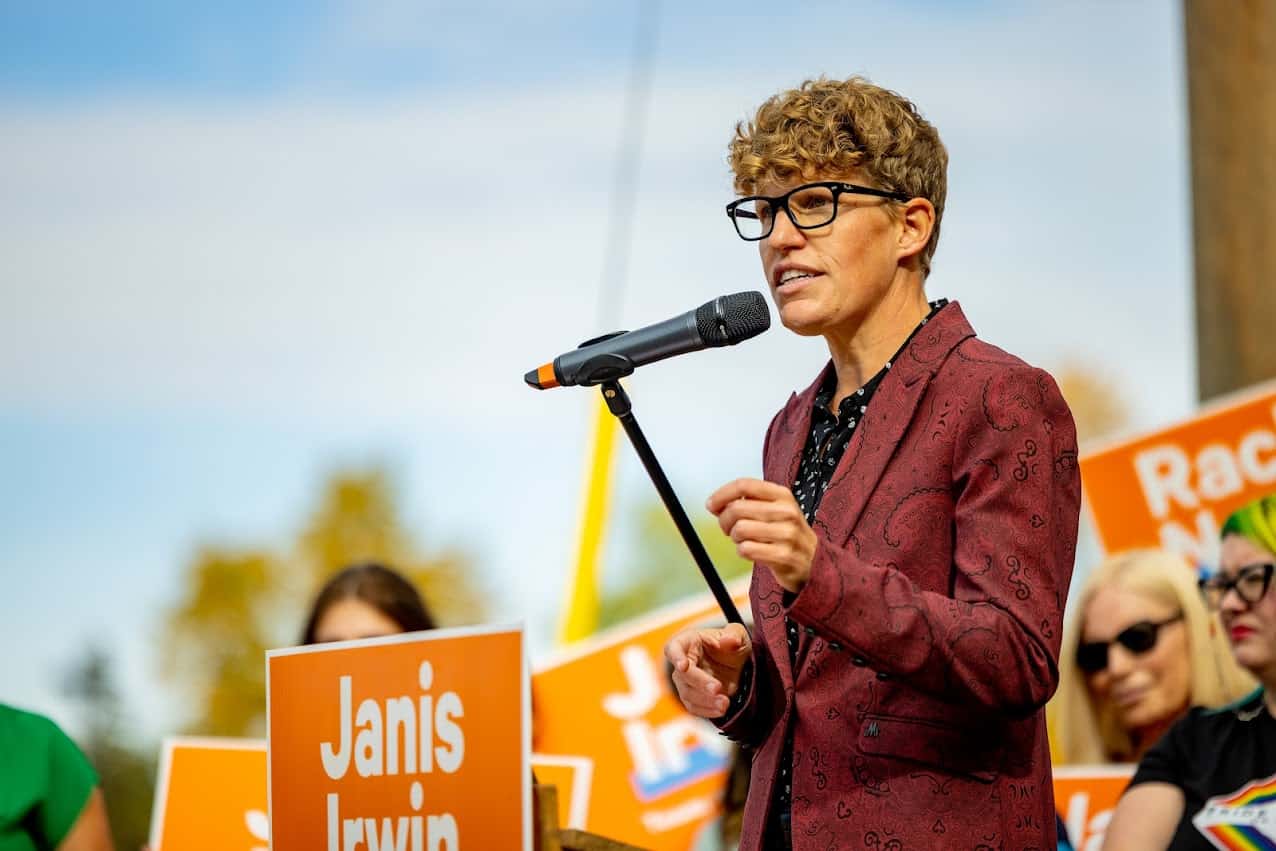 Pancholi, Irwin's legislature seatmate and "work wife", as she joked, discussed Irwin's determined work to prevent the provincial government from enacting legislation that would harm LGBTQIA2S+ youth (Bill 8), and Irwin's dedication to protecting and valuing healthcare workers during the pandemic.
Galloway shared how involved Irwin is in her community, down to the day-to-day connections she makes with people she meets on the street.
"I think she is a spectacular local representative," said Galloway.
"She's everywhere in the community all the time. She knows everyone and remembers them. I always find it so impressive. We'll be out canvassing and she's like, 'oh, so and so lives here, their kid goes to that school,' and she just knows so much about the community. She's everywhere all the time."
Desjarlais explained what Irwin has meant to him during his early political career, and also personally.
"When I started getting into politics, she was the only open 'MLGay' in the entire legislature," he said. "It's a scary place to be in the public, when you're a two-spirit person or a member of the LGBT community. You feel like you might be alone; like your whole life, you're kind of in the closet, kind of nervous and hypersensitive, I guess you can say."
He said Irwin has been a role model and filled a type of "big sister" role for him in the time that they've known each other.
"There's real strength in being authentic to yourself, and she's given me, I think, that kind of courage and strength to really be 100 per cent (myself) in a public space."
"So I think she's really cool," he laughed.
Finally, Irwin gave a message to those who gathered for her nomination: "We don't resign ourselves to fear. We face the fears head-on. And we fight back with love and hope and optimism, and a lot of hard work too."