On Remembrance Day, Green Violin, a non-profit community development company, is honouring veterans with a mural on its new seacan (shipping container) project. The mural and seacan project are but a few of the many projects undertaken by the McCauley-based company, whose mission is to build vibrant spaces to connect communities and foster a better quality of life.
"The seacan cabin project is a demonstration prototype of tiny homes made from shipping containers for formerly homeless veterans to live in," says Yasushi Ohki, executive director of Green Violin. The demonstration unit in Parkdale was built out of donations from Stuart Olson Construction and the sub-trades they organized under their employees Pat Williams, Je Hanz Daza, and Bryan Kondo.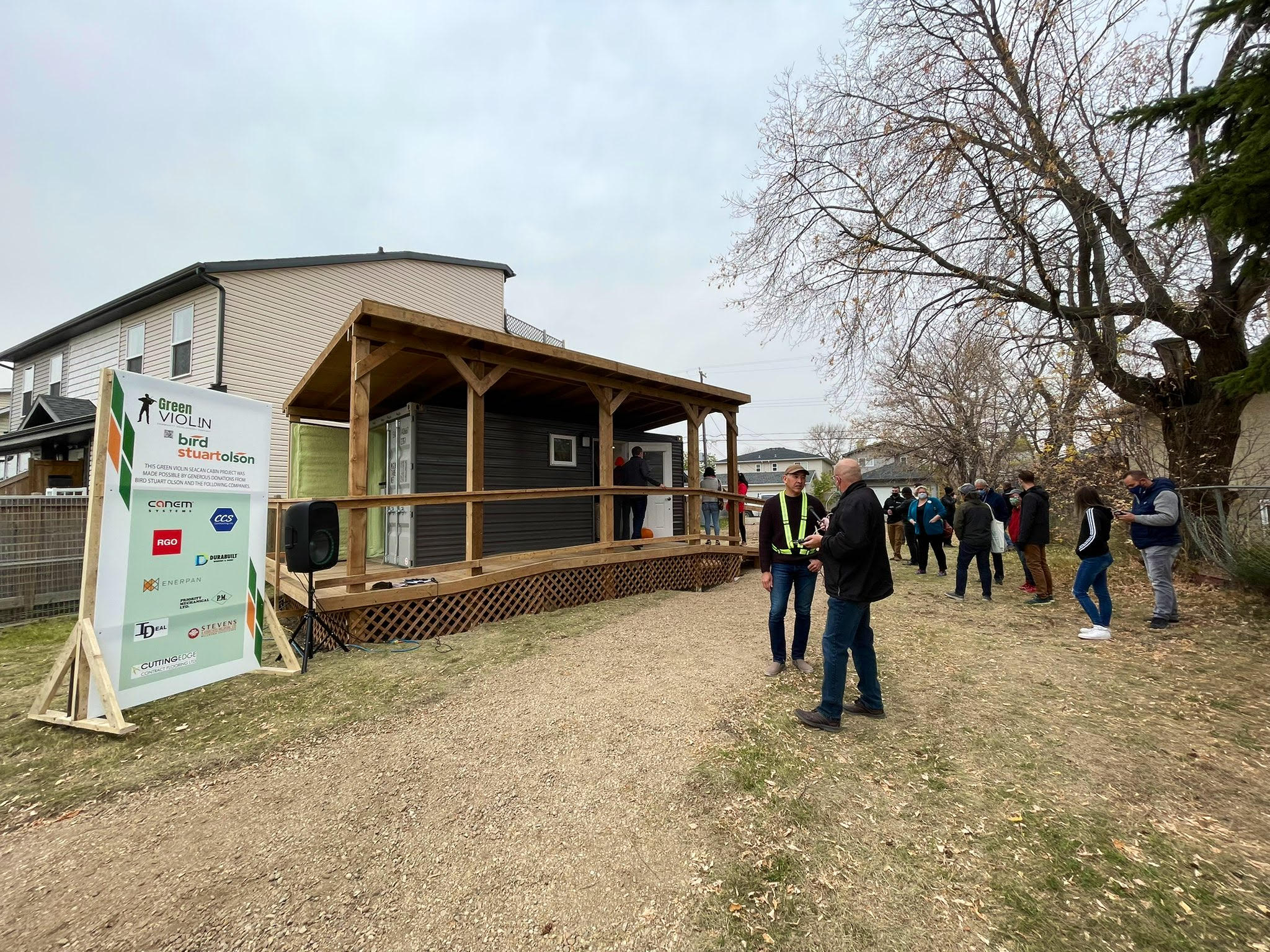 Eight seacans from the demonstration units will be used to create a tiny home community on an infill lot in McCauley/Boyle Street which is still under negotiation.
The concept is to allow displaced veterans to use their support payments to secure micro-mortgages for small dwellings and build independent equity. Some veterans suffer from post-traumatic stress disorder (PTSD) and find it difficult to transition from their military life to normal civilian life.
Maia Skode, an artist living in Parkdale, will paint the mural. It will be a commemorative design for veterans and will be displayed on the street side of the seacan project, visible from 80 Street and 116 Avenue in Parkdale.
"The intention of the mural is to bring the neighbourhood together and foster community relationships while beautifying the formerly vacant and derelict lot," states Ohki. "It will also bring colour and art to the block."
The mural will be unveiled on Thursday, Nov. 11 at 2 p.m. at 11640 80 Street. Ohki says he hopes MLA Janis Irwin and MP Blake Desjarlais attend the outdoor event. "We understand they have busy schedules. Nevertheless, we have reserved a spot for them and hope they join as their schedule allows," he adds. Everyone is welcome to attend.
Statistics in the 2018 Everyone Counts report from Employment and Social Development Canada show that veterans from the Canadian Armed Forces accounted for approximately 4.4 per cent of homeless individuals in communities across Canada. This is a 0.3 per cent decrease from 2016. "This is a positive sign," says Ohki. "Veterans have fought for our country. They risked their lives to ensure we have a better life. We should not forget them. As community developers, we play an important role in society. By providing veterans a stable environment and an opportunity to reintegrate into society, we want to play a role in honouring these brave people who live amongst us."
For more information, visit greenviolin.ca.