You walk by it, drive by it, but have you ever darkened the doorway? I'm talking about the Norwood Legion on the corner of 112 Avenue and 82 Street. That was me: always walking by, but never going in until last year. I walked in, asked for a tour, and bought a $55 one-year membership. This works out to about 15 cents a day.
Last fall, a new banner appeared above the entrance to the Norwood Legion. It announces: Everyone Welcome, All the Time. The legion is open to all who want to join or simply attend its many events. Free membership is offered to serving members of the Canadian Armed Forces, RCMP, and retired members of the military, RCMP, and their families.
Greg Laskey, legion president, smiles when he says, "We really don't want to be a best-kept secret. Norwood wants to be a community hub."
When I walked into the Norwood Legion and asked for a tour, I recalled my dad taking me to a legion on Vancouver Island. We drank beer, played a game of pool, and chatted with others. It was a pleasant experience, and it stuck with me.
Behind the unimposing facade, the legion offers a drop-in neighbourhood lounge, dance floor, and gathering place. Once you are buzzed in, you find a clean, safe, and interesting place to meet and mingle, with flat-screen televisions for sports fans and free Wi-Fi for all. A comfortable outdoor space is handy for the smokers in the crowd.
The Norwood Legion does have a military history, but these days it's more than its history. It's home to a bridge club, a poker group, and pool tables.
Toastmasters members meet every Thursday night. Alberta wrestlers have a monthly tournament. Fiddler's Roost presents a live band on a regular basis. Craft and farmers markets, pancake breakfasts, and the famous meat draws on Fridays and Saturdays are all offered here. The main floor hosts banquets, celebrations of life, weddings, graduations, and company training sessions. Upstairs, there is a spacious dance floor and a comfortable lounge.
Board meetings, weddings, and family gatherings all find a place. "If you want space for 200 people, no problem," says executive member Bill Huziek. "When would you like us to set up the tables and chairs?"
A well-managed kitchen produces quality meals for both casual diners and banquet-goers. Norwood's new chef, Oleh Derkatch, recently arrived from Ukraine with his young family.
Like many legions today, Norwood must run a tight financial ship. COVID-19 had a negative effect, but the legion is working its way back to better financial health, says Huziek.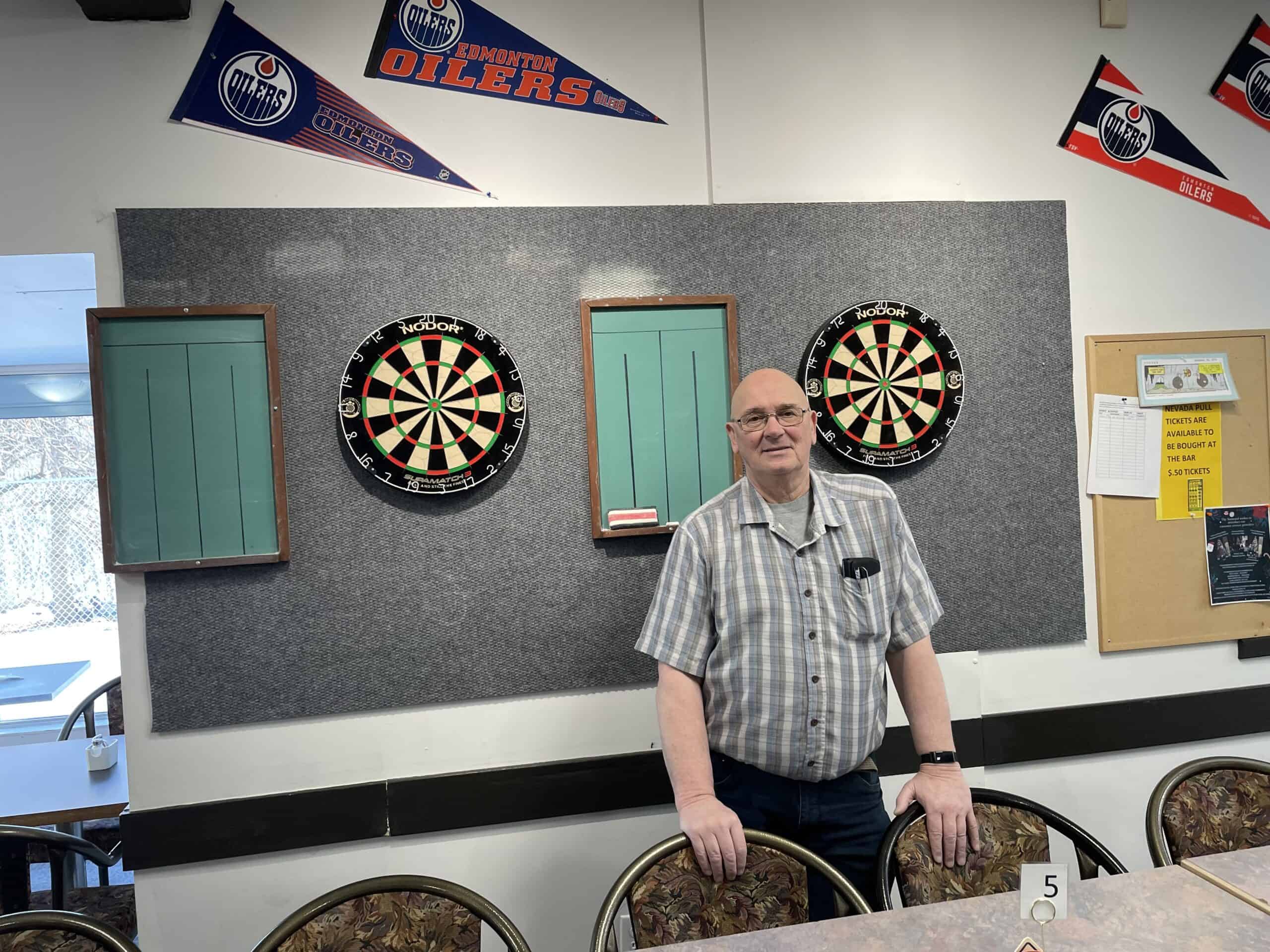 One advantage is the 144-space parking lot open during events such as Edmonton Elks games. This summer, Heritage Days moves to Borden Park, potentially bringing in more much-needed parking revenue. There is a donation of $30 for event parking. Legion volunteers collect the parking fees.
Norwood Legion recognizes its military connections by providing a military service officer to any veteran needing assistance with the maze of paperwork required by Veterans Affairs Canada. Among others, veterans and peacekeepers avail themselves of the service as needed.
As I discovered, Norwood Legion is a vibrant part of our neighbourhood. I'm glad I joined, and not just for the social opportunities. I volunteer to set up tables for events. I get a good workout as well as a tasty burger for my efforts. Volunteers are needed and welcomed.
I also learned to remove my hat in the Canteen to show respect for soldiers who made the ultimate sacrifice for our freedoms. They gave their lives, and I can honour that.