I have a lot of blessings to smile about when I think about being nehiyaw, a Cree person.
Smiling is an act of gratitude and connection, and there are so many blessings I am grateful for as a nehiyawiskwew (Cree woman). The act of introduction in nehiyawewin (Cree language) is a reminder of the physical, emotional, mental, and spiritual response that evokes a smile (pahpiwânâkosiwin).
When I say "Lana Whiskeyjack nitsiyihkâson", the prosaic translation is "my name is…", but the phrase is more than just a name. It is a sacred and relational connection. The root word for nitsiyihkâson is nitisiy: my belly button. When I introduce myself in my beautiful nehiyawewin, I share with you the deep maternal bond of my belly button.
My belly button is connected to my mother's belly, and her mother's belly, my late nohkom Caroline Whiskeyjack. My nohkom was the first generation of my family to attend Blue Quills residential school, built in 1931 and now a university. Although she rarely spoke of her experience there, I know the assimilation story well.
Children were herded into wagons like cattle while their parents protested. They were brought to a massive three story brick building, marched into the basement and were forced to remove any reminders of home. Separated from their siblings, these children were then deloused and had their hair cut. Their given names were changed to numbers, to which they had to answer. The assimilation was a dehumanizing process.
I share these facts to remind myself and others of where we come from in order to learn where we must go and how we should get there.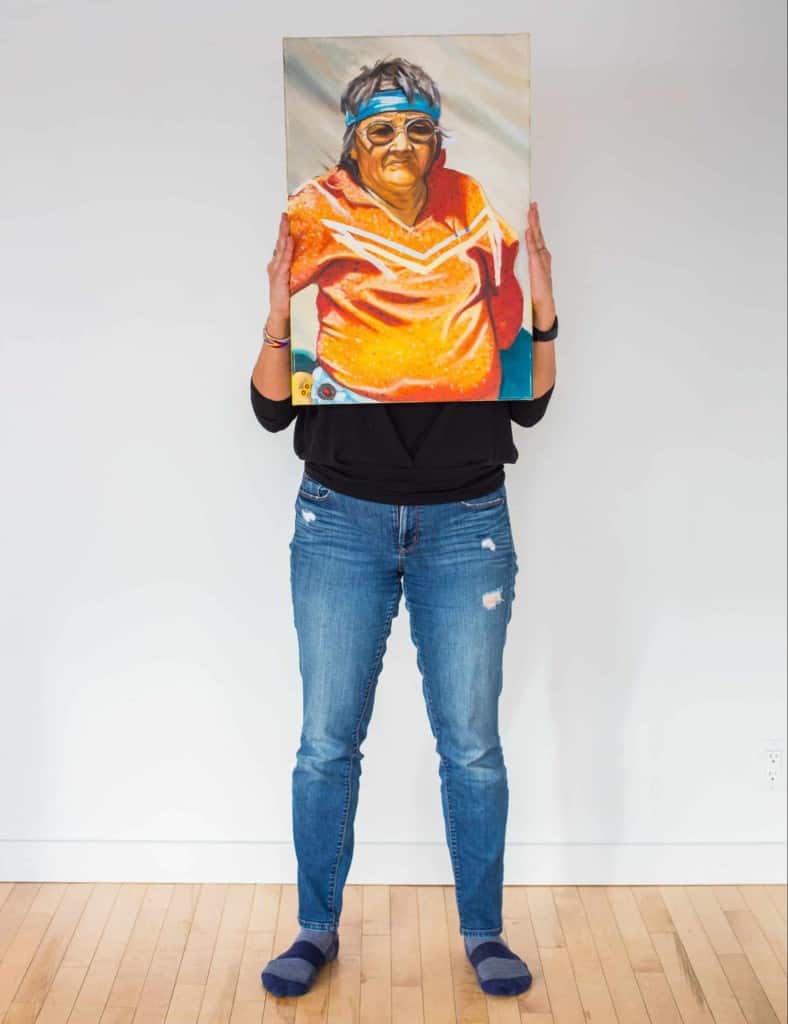 Remembering your past is important traditional teaching, one I discovered when I was about to move 500 kilometres to attend college. My grandmother, who was a quilt maker, gave me a quilt, along with a braid of sweetgrass tied with four colours of ribbons. As she handed me the cultural gift, she said, "nitanis (my daughter), don't forget where you come from."
I smile every time I think about that moment. In fact, the memory of her gift has been my guiding philosophy ever since. The importance of remembering this dark history is not to lay blame or assign guilt. It is necessary to understand the present and make wiser decisions for the future. My history reminds me to be empathetic to my family, to my communities, and to our nation of Canada and First Nations.
Relearning and revitalizing my language is part of my commitment to reconciliation. Due to the many impacts of Indian residential schools, I wasn't blessed to learn my mother's tongue when I was little because I didn't live in homes where nehiyawewin was spoken. When I returned home 10 years ago, I made my offerings and commitment to learn nehiyawewin. There is something physically transformative when I speak it.
Perhaps it is that inherit connection of belonging and purpose to the many women and the land I come from. As my smile reflects, speaking Cree is an act of personal sovereignty and happiness, a profound sacred connection and reminder of who I am and where I come from, and my relationship to you. I am grateful, thankful and blessed (ninanaskomitanawaw).
National Aboriginal Day is June 21, learn more at 

edmonton.ca/aboriginal

Header Image: Lana holds a painting she made of her grandmother (nohkom). Credit: Rebecca Lippiatt