Salon series brings together multiple artistic mediums
On June 15, Catherine Owen hosted the Summer Solstice Edition of the 94th Street Trobairitz at her 104-year-old-home in Alberta Ave. The evening was an intimate event showcasing artists of multiple disciplines from around Alberta.
The evening began with conversation and refreshments on the patio, allowing the 12 guests and artists to mingle. After getting cozy in the living room, Owen, an accomplished poet and author originally from Vancouver, began the evening's presentations by reading her poem, "Moving To Delilah." It describes her move to her current home, affectionately named "Delilah."
"I don't want to be bored," Owen says about why she has continued to host events like this. She has hosted many events over the years, including 44th Ave Troubadours in Edmonton and the Bed Series, where artists performed from the comfort of her bed in Vancouver. "I'm never bored when you combine mediums."
Tom Roschkov, an Alberta-based musician and multimedia artist, and his musical partner, Tex, serenaded the group with classic country music stylings of Johnny Cash and Marty Robbins. The pair have a wonderful chemistry, which makes their two guitar pairing an even greater joy to witness.
"I always play this song wherever I go," says Roschkov of the song "Devil Woman" by Marty Robbins.
As Owen's cat Stevie lounged on the floor, soaking up pets from the attendees, poet Claire Kelly read two poems. "Her Pillow Smells of the Special" appears in her current book, One Thing Then Another. Kelly has published two books of poetry and was longlisted for the CBC Poetry Prize in 2017.
Leslie Greentree was up next to read her short story, "Room of Pickled Things." It is about a boy attending his grandfather's funeral. The story won the Little Bird Fiction Competition in 2013. Greentree has many published works and awards to her name, including the Howard O'Hagan prize for short fiction for her story "A Minor Planet for You."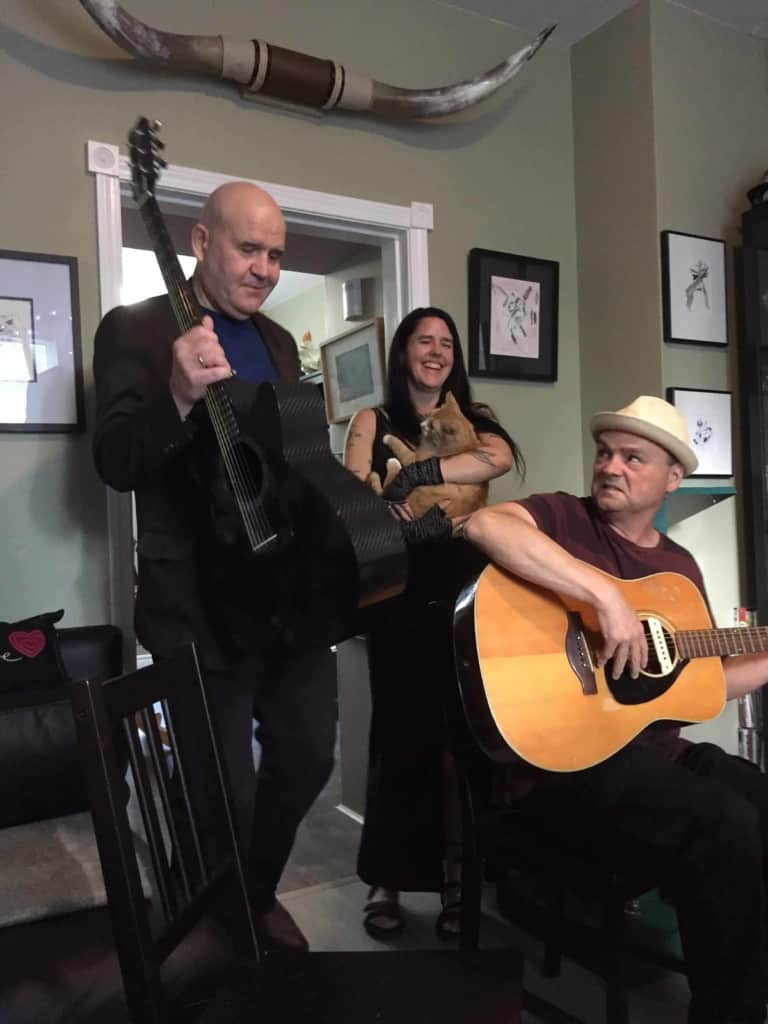 "I love this! I just love house salons," says Greentree.
Rounding out the evening was Laurie MacFayden, an Edmontonian since 1984 who has had a distinguished career in journalism and the arts. MacFayden spent 30 years as a journalist and continues to be a writer and visual artist. MacFayden talked about the art of collage, explaining a bit of the history of it, and how it can be an incredibly raw and impactful art form.
Kerri Strobl attended the event with Greentree. Strobl and Greentree are part of the buddy program through the Writers' Guild of Alberta. Strobl, having recently moved back to Edmonton, really enjoys events like these because they allow for a more authentic experience.
"People are more free to express themselves and the way they are, rather than be influenced by the context of the space they're in," says Strobl.
The evening concluded with conversation and music on the patio. The next edition of the 94th Street Trobairitz will be in the fall and will be Halloween-themed.
---
JUNE 15 SALON ARTISTS
Catherine Owen
Tom Roschkov
Claire Kelly
Leslie Greentree
Laurie MacFayden
---
Featured Image: Artists performed at Catherine Owen's Summer Solstice Edition of the 94th Street Trobairitz. | Victoria Stevens