Babylon Restaurant is new to 118 Avenue since the end of December. Located inside the Coliseum Inn, the restaurant delivers authentic Middle Eastern and Iraqi cuisine.
The restaurant blends contemporary and traditional flavours of the Middle East and offers a comprehensive menu selection. On the weekends, a buffet is available with different food each week for $25 per adult and $10 for kids.
Eager to expand our list of dining hotspots in Edmonton, my dinner companion and I went out to eat at Babylon Restaurant. We felt instantly transported to the Middle East upon entering the restaurant with the vibrant brown, red, gold, and white decor, and the pleasant smells wafting from the kitchen.
When we arrived, our waitress greeted us, offering us menus, complimentary bowls of soup, and a plate of soft, fresh Iraqi flatbread. She then disappeared with no trace of our drink order; she delivered it 15 minutes later. Be prepared to do some tableside Googling or talk to your server if you're unfamiliar with the cuisine, as there aren't any meal descriptions in the menu.
For dinner, we ordered the Shawarma plate ($18), made up of spit-roasted and spiced beef wrapped in a pita and served with french fries, and the Lebanese Kufta plate ($17.50) consisting of grilled lamb kebabs wrapped in a pita and served with yellow rice topped with almonds.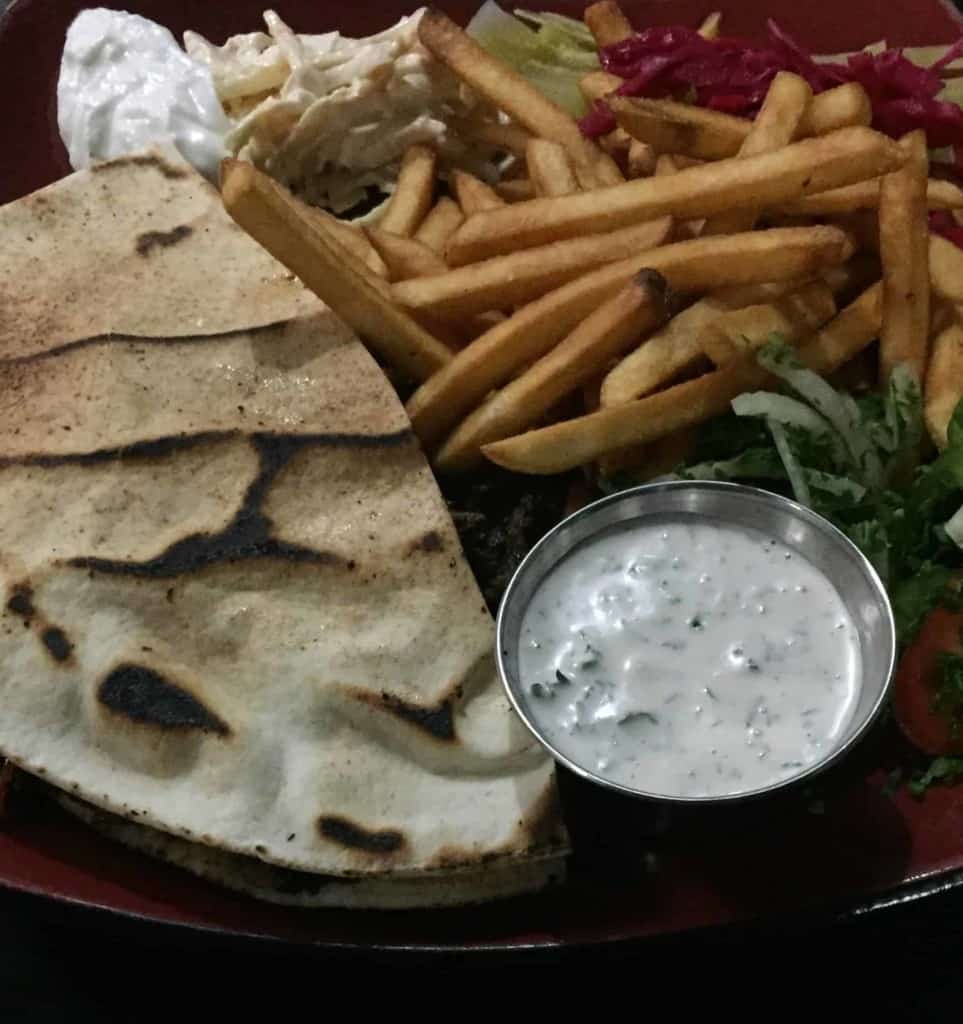 Included with each dish is a side of rice or french fries, hummus, garlic sauce, Iraqi flatbread, and pickled vegetables. A word from my dinner partner: if you don't like parsley, tell your server skip it, as you get a generous portion on top of your food.  
Our food was fresh and plentiful. Their servings were large enough that we each brought home leftovers for lunch the next day.
Despite the meat in the Shawarma having a powdery texture I didn't care for, the flatbread was soft and chewy, the rice was well seasoned, the roasted vegetables that accompanied the Kufta were warm from the grill, and the mango smoothie was worth the wait.
Other entrees on the menu include assorted kebabs, barbecued fish, and sandwiches, which can be paired with side dishes such as Sambusa (fried pastry dish with savoury filling), Kubba (beef croquettes), or Tabouleh (salad usually made of bulgur wheat, parsley, tomatoes, cucumbers, mint, and lemon juice).
The owner still needs to work some kinks out, including increased lighting, signage, and more music selection (at a lower volume); however, I was impressed by the details already put into place since their grand opening at the end of December.
Overall, Babylon Restaurant certainly has the potential to become a popular destination in Edmonton by offering their patrons a rewarding visit. I recommend trying it and supporting new and local businesses while taking advantage of their contemporary spin on traditional Middle Eastern dishes.
---
BABYLON RESTAURANT
11845 Wayne Gretzky Drive
Inside the Coliseum Inn
Mon-Sun: noon-10 pm
3.5 out of 5 forks
---
Featured Image: Babylon's complimentary soup. | Breann Gurney