Grocery shopping no longer takes place strictly inside a store. In the RCP area, there are three alternatives to round out your groceries: The Güd Box, Lodgepole Market and Bakery, and WECAN Food Basket.
The Güd Box is a for-profit organization, but contributes to savings in a fundraising model.
Cindy Sherrard, business development specialist, says, "It's a box that we built to increase food security and a fundraiser." Organizations who use The Güd Box as a fundraiser keep $5 or 17 per cent of proceeds from the orders. "It's 35 per cent cheaper than the grocery store," says Sherrard. The produce is seasonal, fresh, and a little over 30 per cent organic and local.
The Güd Box started up in June of 2021. Customers pick up their $30 box of produce at a depot within a time range. The Güd Box sells produce twice a month, with no obligation to commit to subscription. However, they're working on a subscription model for those interested.
Locally, The Güd Box is at Delton School, Spruce Avenue Community League, and Westwood Community League.
Spruce Avenue Community League is offering The Güd Box to those wanting to support fundraising for its community garden.
Ashley Ayume, vice president of the league, says, "Our community is in a bit of a food desert; this is a way to help bridge that gap for us and offer healthy food to our (and our neighbouring) residents at a reasonable cost."
Merryn Edwards, a Sprucewood resident, signed on to buy produce from The Güd Box.
"I wanted to support the league's community garden initiative," says Edwards. "You get a good selection for $30. My husband estimates it would be about $45 at the grocery store (organic prices), so about $15 savings. Plus knowing $5 goes to fundraising for our community garden."
Edwards says The Güd Box supplements grocery shopping. "Good initiative, good produce, good fundraising."
Lodgepole Market and Bakery is a non-profit organization based out of St. Faith's Anglican Church, and is another grocery shopping supplement.
Steve Smith, the PrayerWorks coordinator, says, "We've been running since the beginning of September. Safeway had just shut down and there was a bit of a drought for produce. We partnered with Fatima's Market for wholesale produce. It's low in cost but still good quality."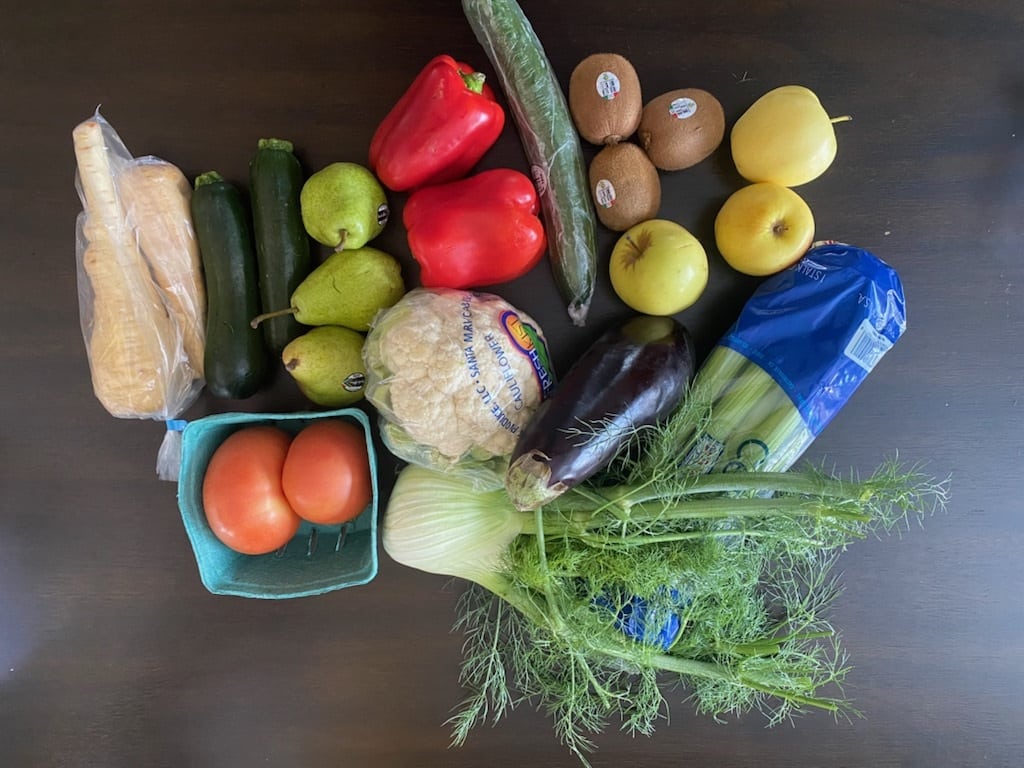 They offer fresh fruit and vegetables from Fatima's, along with sourdough, bannock, and chapati (flatbread) baked fresh on Wednesday. Smith says the bread has been very popular.
"We want to offer lower prices than Freshco to help out the community." Due to fluctuating grocery prices, there's not a specific price decrease in comparison to Freshco.
They're open from 12:30 to 6 p.m. on Wednesdays at St. Faith's hall.
Constance Brissenden recently visited Lodgepole Market and Bakery. She shares, "I was given a plastic bin and it filled up quickly. Cauliflower, green pepper, bananas, oranges, apples, ginger, limes, avocados came home with me. There were plenty more choices for next time. I was welcomed with enthusiastic smiles that made my day."
The WECAN Food Basket Society is another alternative. The charity began in 1993, and was created to help people access healthy, affordable food near the end of the month when money might be tight. WECAN has more than 20 depots in Edmonton and serves more than 500 families.
While WECAN serves many people living in poverty, "anyone and any family can become a WECAN member," says the WECAN communication committee.
Membership is $5 per year, and members can choose a produce order with three fruits and vegetables for $15, and/or a meat order with two or three cuts of meat for $20. "Due to the pandemic, we have seen a decrease in member purchases due to depot closures and an increase in our prices to keep pace with rising food costs," says the communication committee. "We do expect these to bounce back as our members adjust to the new pricing and, hopefully, the reopening of depots closed during the pandemic with the lifting of restrictions."
The communication committee adds, "Given the community locations of our depots, members are able to pick up their groceries from WECAN."
Brissdenden is also a WECAN member. She says, "I'm all for supporting the community, which drew me to WECAN. My curiosity kicked in. When I picked up my first order, veggies and meat, the produce was fresh and really went a long way. Buyers get feedback on what it would have cost and I saved at least 15 or 20 dollars. I like that. Plus it's convenient to pick everything up at Alberta Avenue Community League. Just bring a nice big box. You get a lot of food and will need one."
WECAN has depots at Alberta Avenue Community League, Bethel Gospel Chapel, and McCauley Apartments. For more information, visit wecanfood.com and select the general location from the location menu or call 780.413.4525.
---
SHOPPING ALTERNATIVES
thegudbox.ca
lodgepolemarket.org
wecanfood.com