Calling all language learners! Sarah DeLano has started teaching free weekly Spanish classes at Parkdale-Cromdale Community League.
The classes run on Thursdays from about 7 to 8 pm, and there is a $15 meal available at 6 pm before the class.
At the first class, participants ate potato tacos served with beans and salad and drank Jarritos, a Mexican fruit-flavoured pop.
DeLano completed some of her university education in Mexico, lived in Spain for a while, and currently teaches Spanish at MacEwan University and the University of Alberta.
Since community members had expressed interest in taking a Spanish class, and DeLano's daughter is starting to learn Spanish in school, it was the perfect opportunity to start a Spanish class at the league and teach the community as well as her daughter.
The first class started with the basics. Participants learned how to introduce themselves in Spanish, how to spell their names and pronounce Spanish letters, and how to say different greetings and farewells in Spanish.
There were also plenty of games and interactive elements. Participants got to play Spanish Bananagrams and piece together phrases in the right order to form a conversation. And there were even prizes!
"Because it's a community class, we're going to try to have fun with it," says DeLano.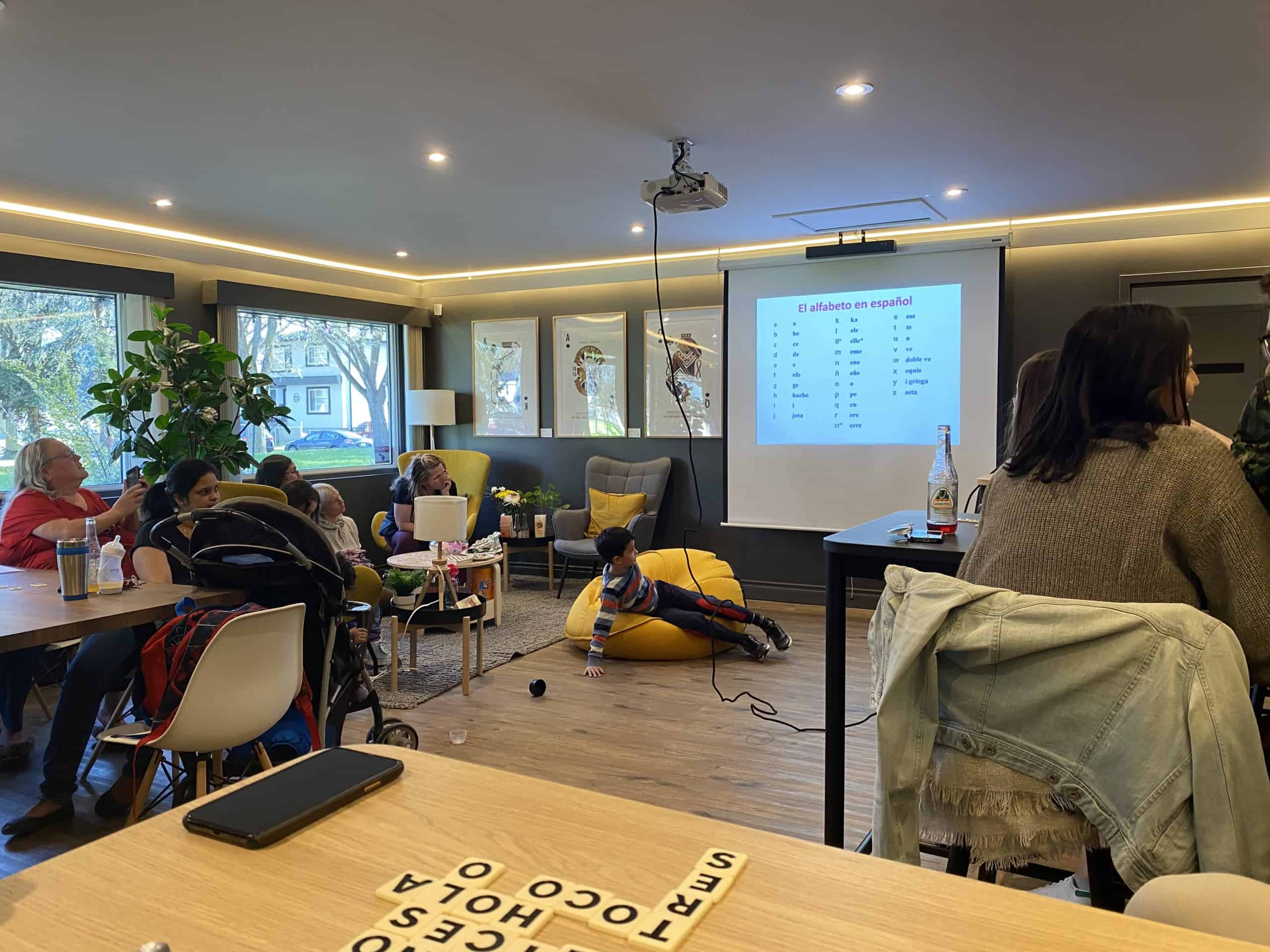 A small group participated in the first class, which DeLano says is ideal. "It's kind of a luxury to have a small group when you're teaching language classes," says DeLano. It made it easy to have an interactive and stress-free class that participants enjoyed.
"[The class] was unbelievable, fantastic," says Constance Roshko. "It exceeded my expectations." Roshko continues, "I love to travel and I've been to South America, but I need practise [my Spanish].This [class] has been great. It's very relaxed."
"I loved that it was the food and the whole community," says Kiley Fithen.
"I'm actually coming here to just keep my brain in that mode of new words, things I don't know," adds Fithen. Fithen's work has asked her to learn French, and DeLano's class is the perfect way to keep her mind sharp for language learning.
"I loved it, I really did," adds Carrie Ganie, a Delton resident. "[DeLano] is really engaging. Good energy from her, and the food was good too and not expensive."
"I loved the fact that they offered a language," continues Ganie. "Not very many of the community leagues do that. So, I had to jump when I saw it!"
Kevin Wong, league president, adds, "I think it's so much fun. You don't feel pressure. It's a very friendly environment, nobody's afraid to make mistakes [and] I think that's key."
Next week, DeLano plans on teaching the class numbers and basic conversational phrases.
Participants are asked to purchase a Parkdale-Cromdale League membership if they don't already have one.
Visit parkdalecromdale.org/ for more information.
Hasta luego!