Travel to Fogo Island and you'll never forget the experience
Have you ever stood on one of the four corners of the Earth? I have, on Fogo Island, which is an island off the coast of Newfoundland and Labrador.
There are actually several "corners of the Earth." They are points on the planet where our gravitational force joins with the tidal pull of lunar gravity, a meeting point of the magnetosphere, a gathering point for cosmic rays, and a jump point for solar flares and where the solar winds all join in a cosmic flow of energy. Energy that can be felt, felt on the hairs on the back of your neck, energy that presses on your chest. Energy that you can feel in your heart, in your being. It is real.
There is an energy to the place. Joe Batt's Arm, the largest town on the island, is a charming coastal village. The village has charm, little shops, a harbor, and the art typical of coastal Newfoundland. The town pub is an instant home.
There is a gourmet little local restaurant, Nicole's Tea House, where I enjoyed a fantastic meal.
For the deep pocket folks, there is the triple five star Fogo Island Inn. Now here is a place to say you have been, even if it was just to the restaurant for a coffee. The hotel looks like a fish shack on stilts out over the rocks and sea. What a view!
Fogo Island is such a place, maybe the only place in Canada where you feel all these forces in play at the same place and time.
Then there's Brimstone Head, the trailhead of Brimstone Head Park. On rough coastal headlands, this is a rugged place that is home to cosmic forces. You can feel the energy just as soon as you arrive. I take off my motorcycle helmet, hang it on my bike, and take a few steps towards the trail. I feel a chill on the back of my neck. My hair stands up and life has a new twinge. But your body feels more alive and more at risk at the same time. You know something is amiss in this place.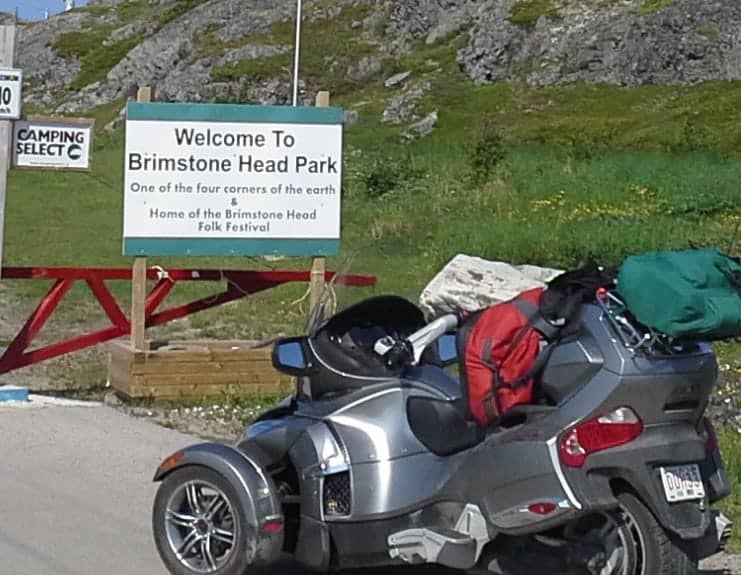 The coastal trail draws you to a shoreside cliff. You stand there overlooking an angry cold Atlantic shore and you feel the pull of ancient forces. There is a pulse here, a force of nature that you can feel. It is only after you stumble across a trail side plaque that explains not where you are but how you are: namely that you are standing on a vortex of cosmic fields, a focal point of interstellar energy that takes you to a new place in space and time.
Fogo Island is a hard place to reach, a tough place to visit, and not an easy trip. Oh you can leave the island just fine, but once there Fogo Island will never leave you. Be careful. This island will capture your soul and never let go. Trust me on that one.
---
Featured Image: Derek Quittenton on his Spyder RTS. | Supplied