Biking is a great, sustainable way to get around Edmonton. Bike Edmonton, a non-profit organization created The Spoke program to pass mechanical skills and urban cycling skills on to Edmonton youth between the ages of 12 to 17, and give them the confidence to ride safely throughout the city.
By the end of the program, youth will have built their own bike. They also receive safety equipment, including a bell, light, lock, and helmet.
"They also [gain] a ton of skills in the process, whether it be teamwork, communication, also the mechanical skills of building and maintaining bicycles, which is something that can be really valuable to kids. It gives them a lot of confidence that they can do this," says Andi Eng, the acting president of Bike Edmonton. "It also can act as that catalyst into other things… whether it be mechanical engineering or mechanics in general."
The program fills in the knowledge void that exists about fixing and building bikes. "Let's be honest, how many of us become adults and actually have those skills?" asks Eng. "How many of us ride bikes and know how to fix them?" It also teaches kids how to cycle safely through a city that has gaps in its cycling infrastructure, ride on the road, cycle through gravel, and navigate through construction sites.
The Spoke runs out of Bike Edmonton's downtown location, just behind MacEwan University. Volunteers primarily run it, but there are also several professional bike mechanics and shop staff who oversee the program.
Bike Edmonton is committed to keeping bikes out of landfills and upcycling old bikes. When participants build their bikes in The Spoke, some parts will be upcycled from old bikes.
"Obviously we're not going to send them out with a recycled chain. So the chain will be new," says Eng. "[But] if the part can be refurbished, it will be refurbished and reused on the bike. If it's something that needs to be new, whether it be cables [or] bearings — those things that wear out will always be new."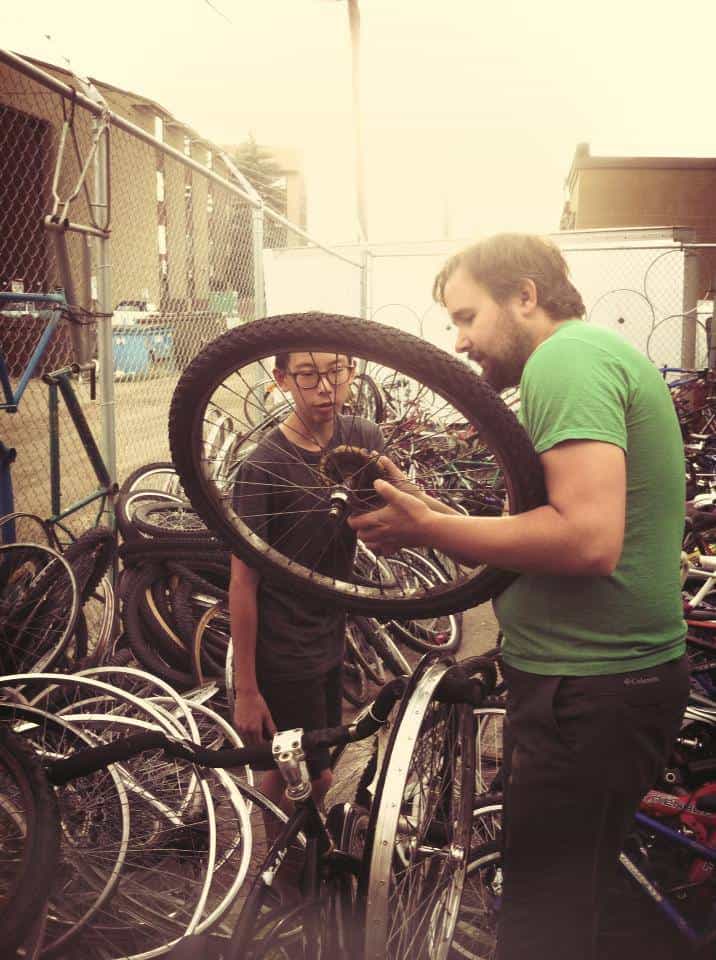 The program uses a fee structure and an application process to determine whether or not interested youth have to pay a fee to access the program.
"We do really want to focus on kids that don't necessarily have the resources to participate in something like this. So [the program] is prioritized for youth who are economically challenged. And we also prioritize youth who don't have… the same privileges as some other youth," says Eng.
Eng adds that many families can't afford after school programming for their children, and she wants to ensure that kids can access The Spoke and learn, regardless of their economic situation.
"We definitely want to make sure that we're prioritizing kids who can benefit on multiple levels from something like this," says Eng.
Today, Bike Edmonton has several dedicated volunteers who discovered their love of bikes and mechanics through The Spoke and now frequently volunteer for the organization.
"They see Bike Edmonton as that safe space for them to be themselves and to have that output of being able to work with [their] hands," says Eng.
While Eng isn't certain The Spoke will be back in September, the program will definitely be up and running again in 2023.
For more information about the program, visit bikeedmonton.ca/the-spoke.