Now in its ninth year, SkirtsAfire, running from March 4 to 14, continues to feature women with joyous enthusiasm. But artistic director Annette Loiselle admits it wasn't easy to finalize a working event.
One of the hardest choices was made last spring to leave Alberta Avenue and book the Westbury Theatre on 84 Avenue as the one and only SkirtsAfire venue. The large theatre in the ATB Financial Arts Barns seemed ideal for physical distancing. A year was spent meticulously preparing to make the most of the space. Then, on Jan. 29 of this year, it was announced that theatres would continue to be on the COVID closure list.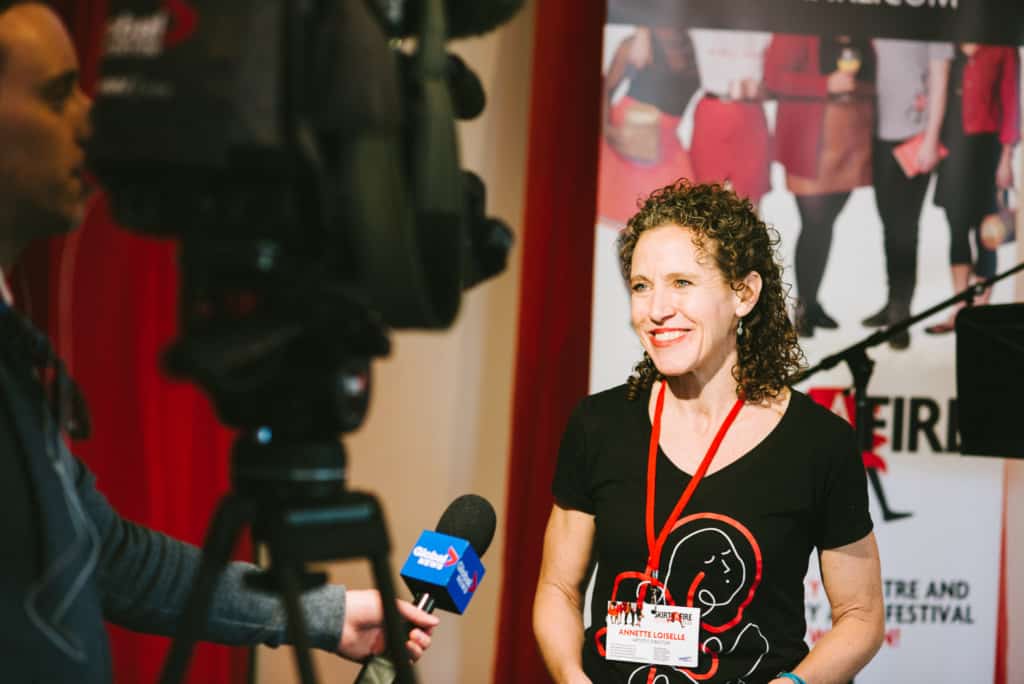 "We scrambled," says Loiselle. "Where would this year's feature show, Makings of a Voice, be filmed so that we could at least offer it digitally? What other plans would have to change?"
Makings of a Voice, a world premiere written and performed by Dana Wylie, found a home in the former Army & Navy department store on Whyte Avenue. "The store is designated as a market, and as such is open during the COVID shutdown," says Loiselle.
A theatrical song cycle with the universal theme of discovering our individual identity, Makings of a Voice deals with motherhood and daughterhood. Wylie presents her personal journey with honesty and sensitivity through music and monologue. Tickets are available online for viewing March 8-14 at $27 per household (plus applicable fees).
"It is a real gift to be able to use the Army & Navy store space. Without a theatre, it became the ideal venue to film Makings of a Voice," says Loiselle.
SkirtsAfire's annual visual art installation has its gallery in the Army & Navy storefront windows. The windows will also host The Key of Me, singer-songwriters performing individually inside, their voices broadcast to the street. Six other storefronts in Old Strathcona will host skirt design installations. People are encouraged to follow a map to check them out, then vote for their favorite skirt made from upcycled materials.
Another show, Body of Words, was originally slated to be live in the Westbury Theatre. Instead, it is now being artfully filmed and presented digitally from March 7 to 14. The theme is unusual but inspiring: how to have an unhealthy body yet still contribute positively to life. The words of Edmonton's poet laureate, Nisha Patel, and poet and spoken word artist, Medgine Mathurin, combine with choreography by Karissa Barry and dance from Ballet Edmonton. Tickets for the digital show are by donation.
Covid Collections, another SkirtsAfire offering, was always meant to be digital. The 12-minute film asks, "What has COVID been like for you?" One participant memorably shares what it's like to be a "long hauler," with ongoing negative symptoms. Says Loiselle, with a sense of satisfaction, "I'm so glad we did this film. We captured a variety of stories from diverse communities and experiences."
This year's planning has been heartbreaking at times. "We always knew there might be many scenarios. We held onto hope that our original vision for a COVID-safe live festival would be a reality. Then everything changed again," says Loiselle. Ultimately, SkirtsAfire came up with satisfying solutions. "When all is said and done, there is something freeing in letting go. We can still bring joy to people, even against so many odds. There is real resilience in Edmonton's arts festival community."
For more information on SkirtsAfire's 2021 Reimagined multi-disciplinary events, to buy a ticket to Makings of a Voice, and for access to Body of Words and Covid Collections, visit: www.skirtsafire.com
---
SKIRTSAFIRE
March 4-14, 2021
www.skirtsafire.com