Edmonton in the middle of winter may seem to be a strange place to eat cooking inspired from the northern tip of Latin America, but the owners of El Fogón Latino wouldn't have it any other way.
"[Owning a restaurant] was always a dream of mine, and I started cooking at a young age," says Sarahi De Goncalves, main chef and one half of the couple who owns and operates the business on 80 Street and 118 Avenue. "Initially my plan was to move to and open a restaurant in Panama, but when my husband and I got together in 2008, we decided to move here instead."
After arriving in Edmonton from Venezuela in 2010, Sarahi and her husband, Kevin, waited until 2017 to open the restaurant. "I did all kinds of work when I arrived, and my husband still has a full-time job as a pipefitter, but we never lost sight of our ultimate goal," she adds. "It's such a full-time commitment that you feel like you never have much time for yourself. You have to be here no matter what, but the customers make it all worthwhile."
The unassuming restaurant has all the makings of a coveted hole-in-the-wall gem; it's the kind of place that makes local eating so appealing. It has six tables and four spots at the bar, and you'd be forgiven for thinking the music playing was about to end with a full-on party. Sahari prepares the food and delivers it quickly, which makes it perfect for take-out or dining in. "We make homemade food, and homemade food is never pretentious," says Sarahi.
The menu has developed over the years and now offers not only Venezuelan food but also foods from Colombia, El Salvador, and Argentina. The learning curve in perfecting these foods has come with its challenges, but Sarahi asserts these are not unwelcome. "I love learning, and many customers from these countries have provided tips and suggestions to make sure I get the flavours done right," she adds. "It's always great when people come in and tell me they like the food because it reminds them of being back home."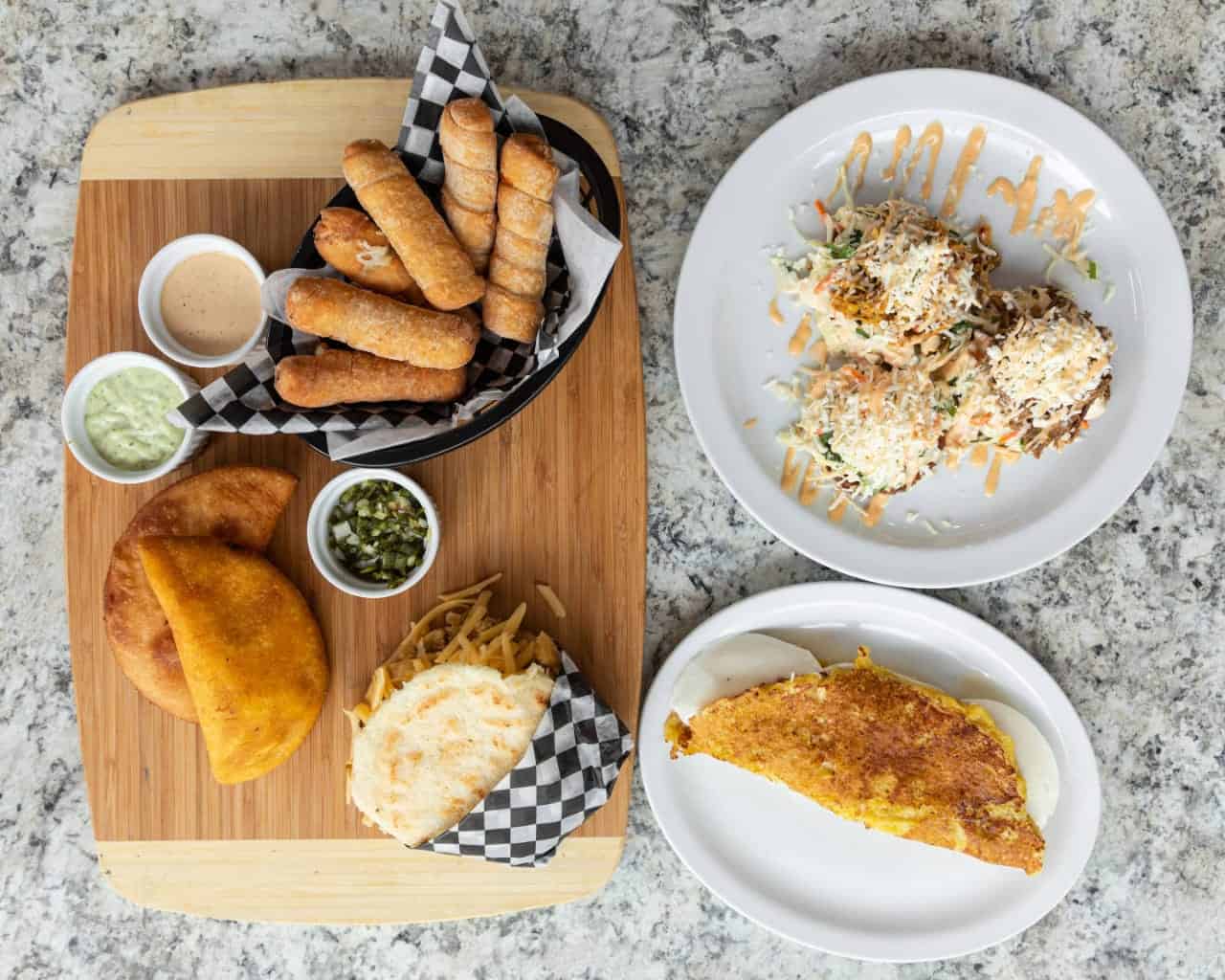 Initially envisioning opening a location on Jasper Avenue or Whyte Avenue, the couple ultimately decided to open the restaurant at 8026 118 Ave out of economic feasibility; the rent is roughly half of what the other areas charge for the same amount of space. Despite being new to the neighbourhood, the couple were able to rely at first on members of Edmonton's Venezuelan community to establish a foundation. With time, they attracted more of a local customer base that has kept them in good standing.
"Most Venezuelans live on the south side of the city, and it can be difficult to commute from there," says Sarahi, "but we have regulars from all sorts of communities. One individual came in every day for three months straight, and another every day for a year. Sat in the same spot and ordered the same meal."
Being family owned and operated, El Fogón Latino strives to preserve a piece of Latin American history and culture and offer this to our city. It's an excellent gift and an even better way to escape to the heat for a bit before heading back out into the snow.
---
EL FOGÓN LATINO
8026 118 Ave
MON-SAT, 11 a.m. – 8 p.m.
SUN, 11 a.m. – 6 p.m.
Instagram: @elfogonlatino
780.756.8388