On June 24, Westwood Community League hosted its Sidewalk Sale & Barbecue, bringing music, adorable dogs, and of course, tasty hotdogs to the community.
"It's really nice seeing people again without masks on," says Roisin Hawkswell, league president. "I love these events — it's the different crowds. It's just seeing the little kids out, people walking their dogs, just seeing the different people coming out."
"We're [a] tiny [community], but as you can see, people come out!" adds Hawkswell.
The Westwood spray park was bubbling merrily, and although it was a little too chilly for playing in, kids ran back and forth with sidewalk sale finds. Rob Hauck, a long-time volunteer and current league secretary, flipped hot dogs for hungry community members.
Sheena Butt had a table set up for the sidewalk sale with children's items, household goods, and party decorations for sale. "After COVID it's just good to see faces, it's nice to be part of the community and be out and have a good time," says Butt. She attended the Sidewalk Sale & Barbecue prior to the pandemic and was happy to be back out in the community.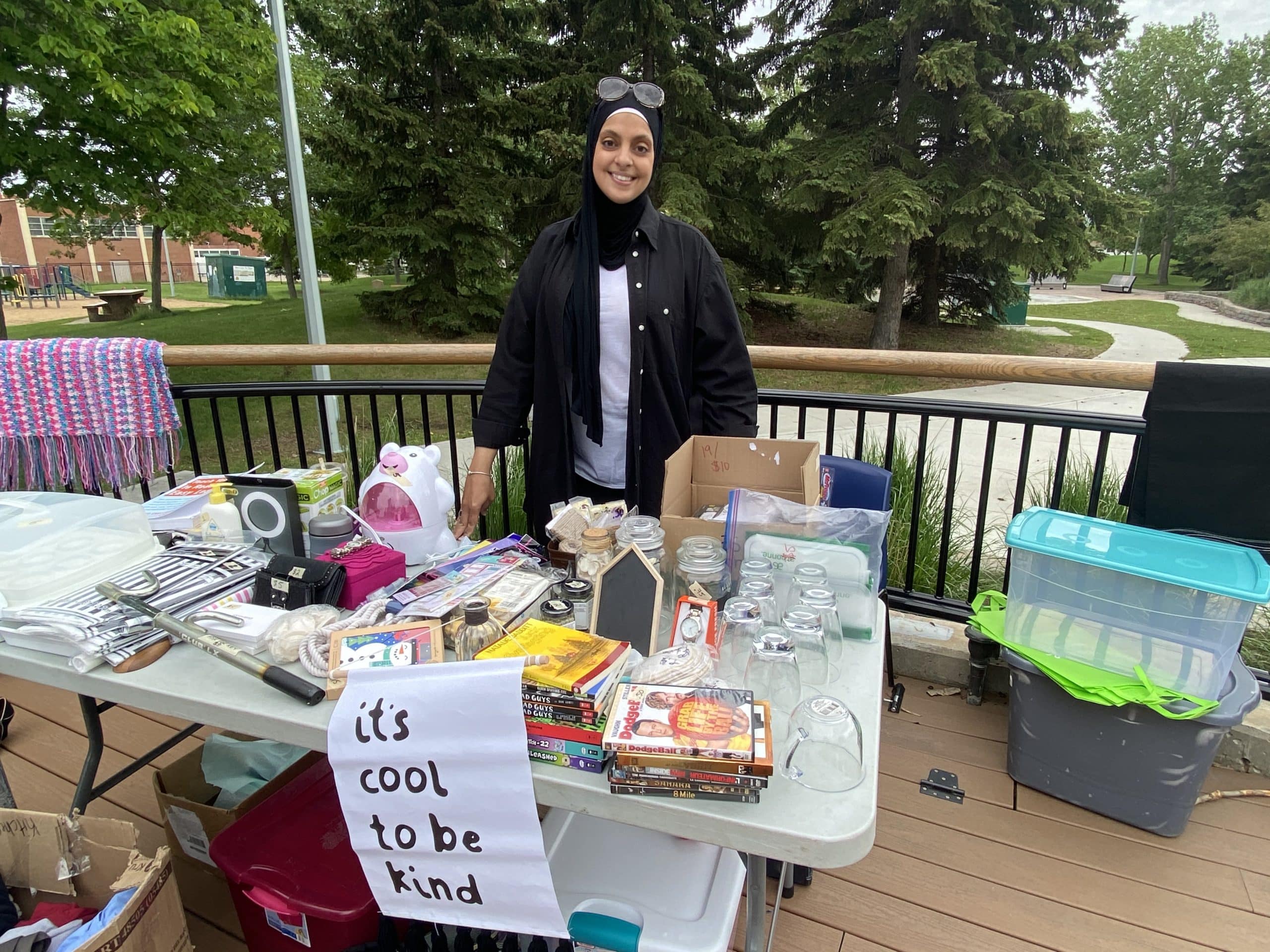 Aicha Mhaddar attended the event for the first time on Friday, and she had a table set up with shoes, pencil cases, children's toys, and hand-crocheted keepsake baby blankets. "It's nice to see faces and people that you haven't seen for awhile," says Mhaddar. You can check out some of her crochet designs on Instagram @hippyshakeboutique.
For June Mangaard, who designs and sells floral wreaths, Westwood's Sidewalk Sale and Barbecue was only her second sale out in the community. "I'm still kinda new to the whole market thing," says Mangaard. Her wreaths are made from upcycled materials, and she says, "I like taking something old and ugly and turning it into something nice and more modern."
Ricardo Rodriguez attended the event with his wife and thoroughly enjoyed the experience. "I love it," says Rodriguez. "I've been to some other events [at Westwood], but not the garage sale. It's lovely we can see people now, see faces, especially without the mask."
Hawkswell says that the league tries to organize an event every month to keep community members engaged and to keep meeting new neighbours. In July, Westwood will be hosting their annual Westwood Fest. Keep an eye out for more details on their Facebook page.