As winter approaches, the 24/7 Crisis Diversion Team prepares itself for its busiest season as the needs of vulnerable Edmontonians increase with the combined effects of cold weather and the ongoing pandemic.
Many factors will impact the health and well-being of Edmontonians this winter. Resources and services are at critical levels as the pandemic continues to strain our at-capacity healthcare systems, vital to some of Edmonton's most vulnerable communities. The pandemic has also impacted the socio-economic fabric of Edmonton as deteriorating mental health and financial downturn has led to increasing rates of social disorder and unstable housing situations. Compounding this is the ongoing opioid crisis where deaths due to overdoses and poisonings continue to impact communities.
As the pandemic creates these new pressures at all levels of society, Edmonton's 24/7 Crisis Diversion teams see the effects on our most vulnerable community members everyday.
"Each winter tensions grow, and desperation to stay warm can sometimes push houseless Edmontonians into spaces that are not ideal, like vestibules, apartment foyers, convenience stores, and bus shelters," says Hayley Irving, 24/7 Crisis Diversion's connector.
"Being safe and warm is the ultimate goal, [but] oftentimes people are asked to leave these locations, which can lead to exposure injury, death, or worsened pre-existing health conditions. There is no time more serious and deadly than winter in our city for people on the edges of our society."
It is important, especially as colder weather approaches, that Edmontonians show compassion to one another. If you see someone in distress, call 211 + press 3 to connect them to the 24/7 Crisis Diversion Team. By doing so, you not only connect those in crisis with the help they need but you also reduce inappropriate use of already strained and fragile emergency and police services.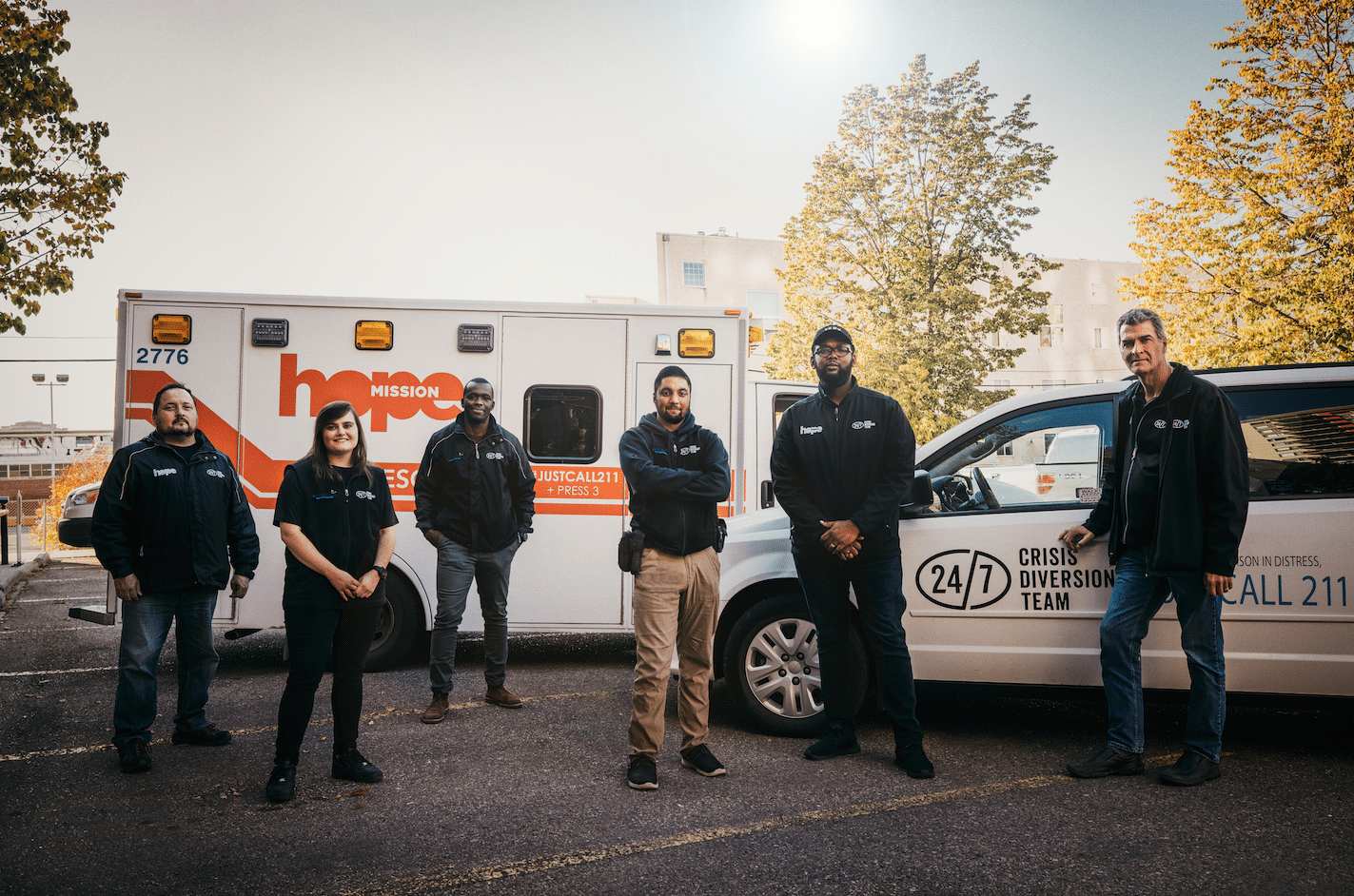 The teams support those in crisis by first offering immediate services like transportation to a safe space and basic needs like clothing, blankets, food, and water. Once the immediate crisis has been dealt with, teams assess what the well-being needs are to properly connect folks to a safe space whether it be a shelter, hospital, private residence, and other social services and supports.
As we enter into another COVID-19 winter, we all face potentially more vulnerability in various parts of our lives whether it is our relationships, jobs, physical, or mental health. Know that the 24/7 Crisis Diversion program is there to offer compassion and safety for all Edmontonians.
"24/7 Crisis Diversion staff use love and compassion to build connections that help keep people safe," says Claire Macdonald, 24/7 Crisis Diversion program coordinator. "They take the time to get to know each person they meet to discover what is needed to keep them well. Empathy, in combination with being trauma-informed and person-centred, helps in this process."
To learn more about the program, a new website has been launched at crisisdiversionedmonton.ca. There you can find out more about the program's impact, stories from our frontline teams, and other valuable resources to help those in distress.