Everyone seems to know Wayne Coffin. They may also have known his dad, Bud Coffin. The Coffins have operated Veteran Appliance Service, a neighbourhood business, since the 1960s.
The first Veteran Appliance Service store was on 82 Street and 118 Avenue, owned by Roy Schumacher. The original partners moved from this location to 95 Street and 107A Avenue. Bud Coffin was a neighbour and he soon became a family friend and Schumacher's business partner.
In the early 1960s, Schumacher decided to make a career change; this was when Bud decided to build the new store on 95 Street and 110 Avenue.
Edmonton was immersed in the post-Second World War years when Bud Coffin built and opened Veteran Appliance Service at 95 Street and 110 Avenue. Veterans were entering a prosperous era, and needed televisions, fridges, and stoves. Bud Coffin was there to sell them.
By chance, I met Molly Strandquist at Parkdale-Cromdale Community League. When I mention that I am writing about Veteran Appliance Service, her face lights up. The 85-year-old recalls the early days of her marriage to Dale, living in a basement apartment near Bud Coffin's store.
"We asked him if we could buy a television and pay a bit every month," Strandquist remembers back to when she was in her 20s. "He said yes, no hesitation. We were so happy to have our first television. He was so good to us. He was a nice person, a great man." The Strandquists would sometimes get off the bus after work to visit the friendly proprietor.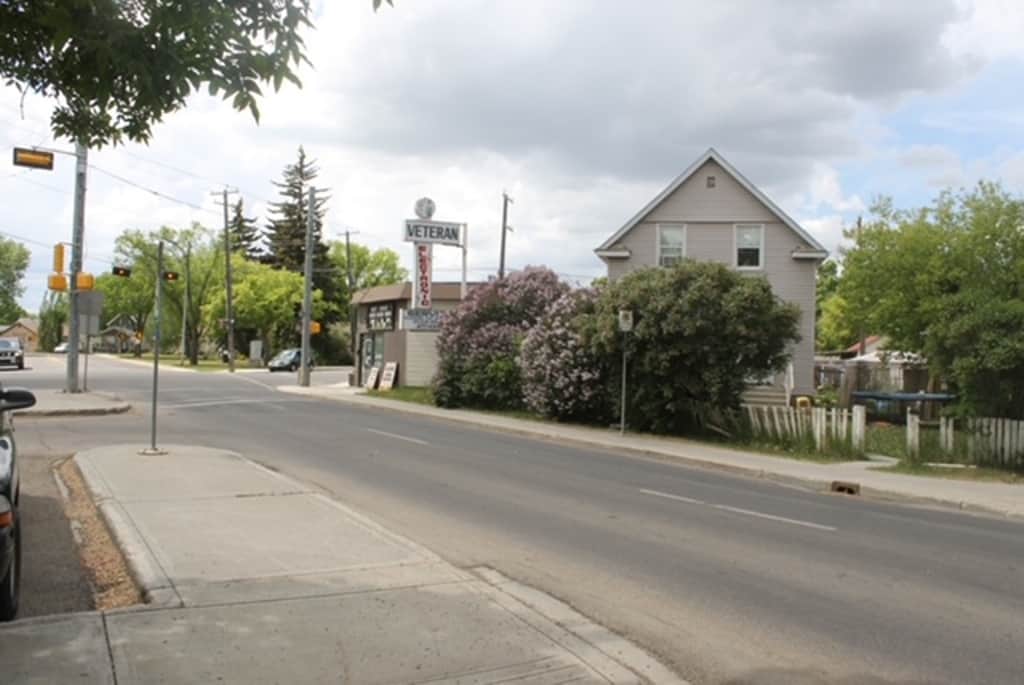 Bud Coffin ran his store until 1975 when he retired. By 1986, son Wayne Coffin purchased a property at the corner of 85 Street and 115 Avenue. The property had been a former gas station. Wayne opened a new Veteran Appliance Service, carrying on the family tradition.
In December, Wayne Coffin slipped on ice outside his home. He is now recovering. In the meantime, sales go on at Veteran Appliance Service. Wayne's family is managing the shop with the help of many friends and extended family members.
"Wayne has a thing for history," wife Carrie Coffin shares. "He really treasures old stuff."
Looking around the combined repair shop and store, it's obvious that Wayne appreciates the past. Crowding each other are old license plates, televisions, coffee pots, lawn mowers, snow blowers, weed whackers, vacuum cleaners, sewing machines, lamps, a key cutter and keys, and a tangle of so much more. Wayne can fix them all.
Charles (Chuck) Plaquin, a photographer, is a longtime customer and friend. "I've lived around here my whole life," he says. "I enjoy talking to Wayne about the history of the area." Memories of Northlands Exposition (Klondike Days in the 1960s) and Royal American Shows (which ran the midway rides and attractions) are favourite topics.
As we chat, Rob King arrives at Veteran Appliance Service. "It's the first time I've been in here," he says, "after driving by for 30 years." King ended up buying two lawn mowers.
Even after more than 60 years, the little shop on the corner is still attracting customers.