In the summer of 2019, work began on Stadium Yards, a 720-unit residential development off 106A Avenue at 84 Street. Stadium LRT is two blocks away; downtown office buildings are visible on the horizon.
This area made it the perfect location for community planner Brookfield Residential, working with Rohit Group of Companies on vertical development. The target renter is a city worker who appreciates the six-minute ride into downtown. Downsizing seniors also enjoy the location.
With two buildings now complete and renting, it seems like Stadium Yards sprung up overnight.
Serena Archambault, Stadium Yard community ambassador, knows our area well. The University of Alberta sociology graduate was employed on summer contracts for both Alberta Avenue Community League and Rat Creek Press.
Over coffee in Felice Cafe, Archambault observes that Rohit Group of Companies wants to create a unique vibe. "The two buildings now open are really the start of an urban village," she says.
Archambault is the first point of contact for new residents, creating a stronger sense of connection to the community at large. Her role was recommended to the Rohit Group by Abundant Community Edmonton, an initiative that is currently working with community leagues to foster engagement and leadership.
Archambault adds, "I help to facilitate communication between residents and property management. I give voice to resident concerns or issues. Community ambassador involves advocacy for residents and their needs, while balancing this out with being good neighbours."
Live at Stadium Yards and you can attend breakfast clubs, paint nights, dog walking groups, a virtual fitness class, and other fun activities organized by Archambault.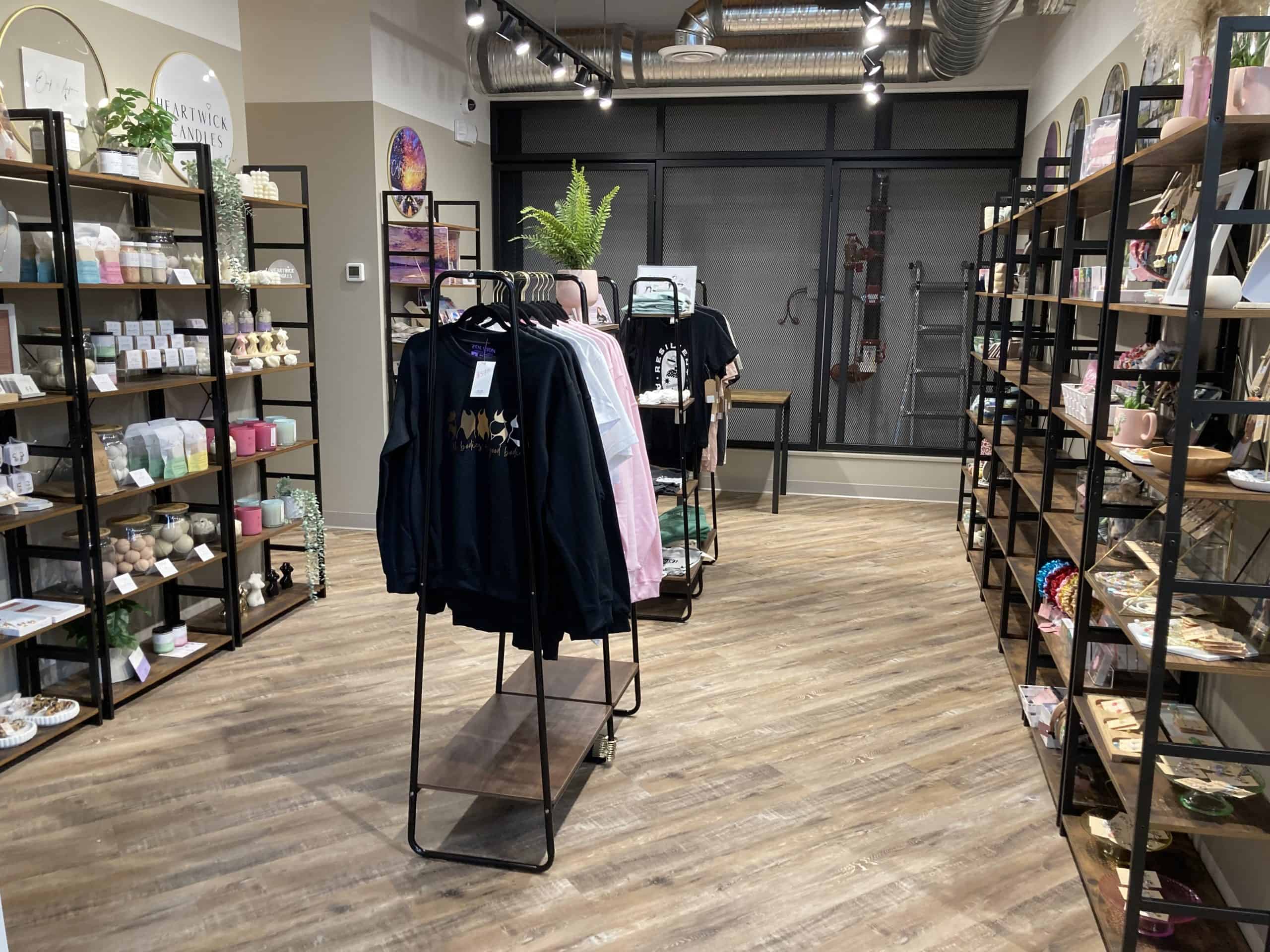 Stadium Yards is a much-needed development that adds shine to our area. A studio starts around $1,200 a month; a two-bedroom is $1,625 to $1,735. A parking spot in the underground lot is extra. Heat and water are included, and every apartment comes with air conditioning.
Dauk Commons West, now 96 per cent occupied, has a sixth-floor gym with a spectacular view, plus a barbecue area overlooking Commonwealth Stadium. A Garth Brooks concert viewpoint, perhaps?
Dauk Commons East, with an occupancy rate of around 70 per cent, has a social lounge on the sixth floor plus a barbecue patio overlooking the river valley.
Free coffee and tea welcome you in the main floor lobbies (complete with television). Televisions are also located in the patios on the sixth floor and in the five meeting rooms. A soundproof music room is available to residents.
Security is extensive, with cameras on all floors facing the elevators. The building's entrance doors lock at 7 pm; visitors must telephone the resident for entry. This is becoming common in the neighbourhood as a security feature.
Two special amenities must be mentioned. If you buy online, your package can be delivered to a secure package locker. Do you have an electric vehicle? Stadium Yards offers charging stations in the secure underground parking area at no extra cost.
Rohit promised a coffee shop and a restaurant in the complex. COVID-19 killed plans for a high-end hamburger restaurant, at least for the time being.
As for the coffee shop, Felice Cafe opened on April 25, serving tasty strong coffee and snacks. Felice Cafe also sells local, handmade gift items including jewelry, pottery, and paintings.
The word felice, explains co-owner Tim Brouwer, is a musical term meaning "happy." He and owner Michelle Brouwer love music and travel around Canada catching their favourite performers.
Rohit has fulfilled many of its promises made back in 2019. With another two buildings in the pre-building stage, the urban village will be completed by 2025.