Welcome to the Rat Creek Press Home & Garden Tours column. Here we highlight the beautiful spaces we have in north central Edmonton, and talk about the different ways we find value in and around this area, from the perspective of our living spaces.
We aim to showcase different types of spaces, including single-family homes, townhouses, apartments, garden suites, and small space and balcony gardens. We also would like to create a diverse picture of our residents and their families, including families with and without kids, couples and singles, all kinds of cultural backgrounds, 2SLGBTQIA+, young people, seniors, and more.
This is a year-round column. If you're interested in sharing your home, or if you have or know of a garden with fall/winter features, please contact us. All submissions are welcome and encouraged! Submission email: [email protected]
Robin Light
Robin Light is a self-taught artist living and working in Alberta Avenue, and she draws a great deal of inspiration from her neighbourhood. Light usually shows her work at The Carrot Coffeehouse and at our city's outdoor art walks. Learn more about her artwork at robinlight.com, follow her on Instagram @robinlight, and support her by buying her paintings on Etsy at etsy.com/ca/shop/RobinLightPaints.
Name: Robin Light
Neighbourhood: Alberta Avenue
Age of home: 1917
How long have you lived and gardened in your home? 4.5 years
Three words: colourful, original charm
A perfect day in your home: Reading in front of the fireplace after spending the day painting in the studio.
Favourite time of year in your home and garden: Each season has its perks. During summer, I can paint on the back deck. Winter is going to be cozy with a new fireplace. Fall makes the colours gorgeous, and during spring I get to start playing in the garden.
What are you loving about your home right now? That it is cozy in my studio and living room.
What is a challenge you're experiencing? It's a 105-year-old house—maintenance is always a challenge. Luckily it's in great condition, and my brother-in-law is able to help with any repairs I do need. I'd like to replace some plumbing this winter—not to modernize it in looks, but in function.
How does your home inspire you? As an artist, I love to surround myself with all kinds of artwork—some of it is mine, a lot of it is from friends of mine, and two pieces are my grandmother's work. Everyday I can see something different in it.
Where do you see your garden in five years? Hopefully, I've finished painting all the interior walls. I also need to patch and paint the exterior stucco. I'd like to be lawn free in the front yard as well, but that's likely a 10-year plan.
What's the best thing you've learned about homekeeping while living in this area? That it's a great area to try something bold. Be it bold exterior colours (which is a five-year plan) or bold in decorating. Embrace colour.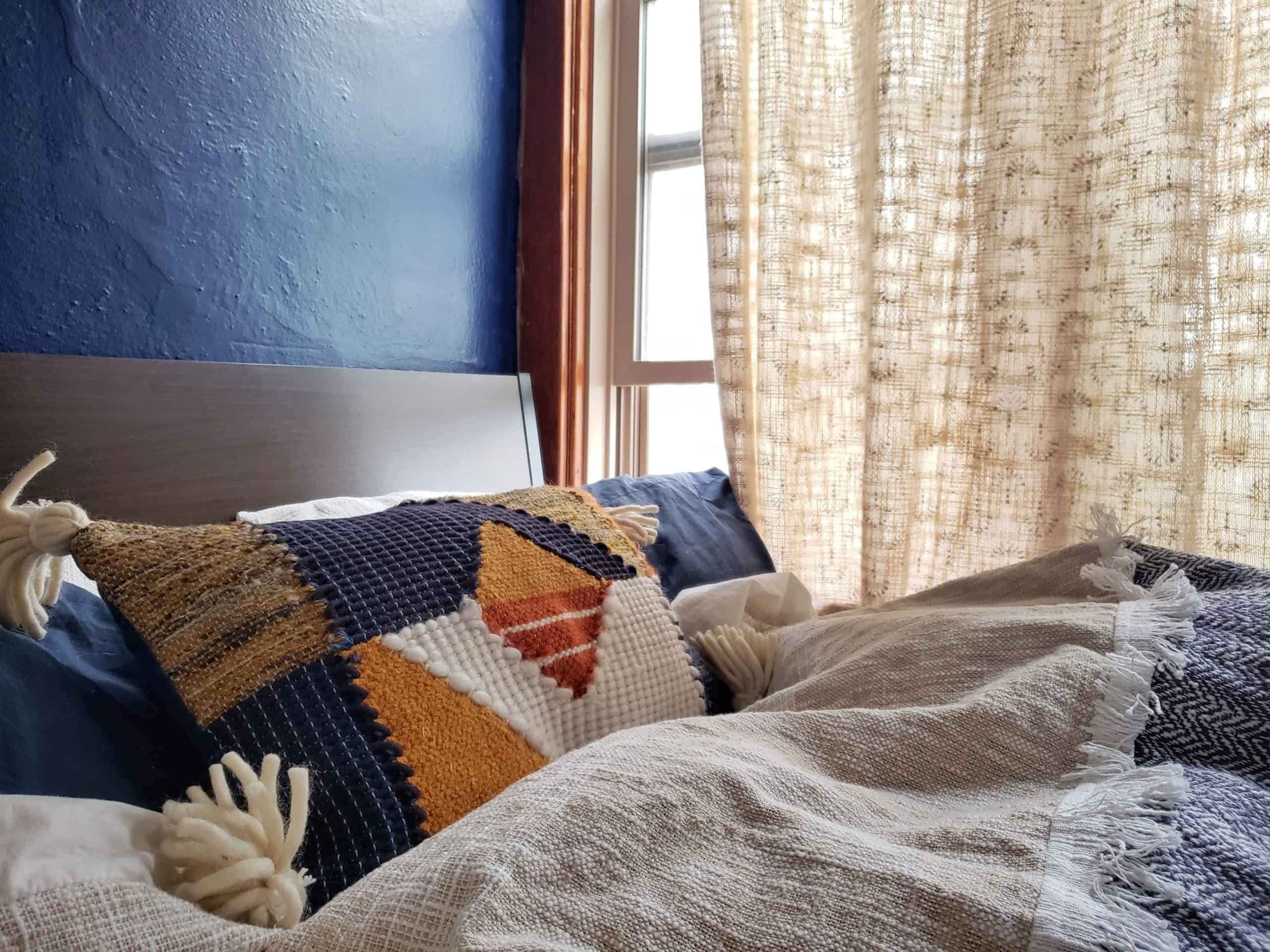 What's the best homekeeping advice you've ever received? Respect the integrity and original character, and not demolish it to "modernize" for the sake of trends.
Best compliment? I've hosted a couple open houses for art events—another one will be happening on Dec. 3rd—and I think the best is the look on people's faces when they come in and see that it has the original woodwork and feel as it would have had in 1917.
What would you like to see or experience more of in this area? Basic maintenance classes for old houses in the area. It would be nice to be able to do some of the upkeep myself.
What is your favourite resource for ideas? Google and Pinterest have been invaluable.
A few words of advice? Embrace art and colour.
Did you work with a contractor or local business for your home? So far, the only one I have worked with is Fireplaces by Weiss-Johnson (wjfireplaces.com/). They were wonderful in finding a gas insert that matches the feel of the home.