You're walking down the street and you see something that needs fixing, like a pothole or a fallen tree branch from a storm. Normally, you would call the city at 311 to let them know, then hope they'll send someone to deal with it.
There's an easier way to do this. Since 2014, the City of Edmonton has offered a free 311 app for your smartphone. It lets you report issues to the city faster, more accurately, and on the go.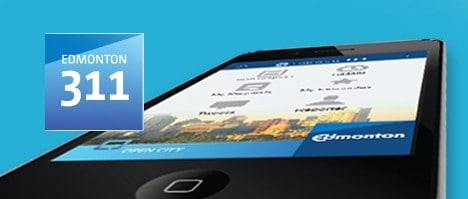 Maria Schrijvers, the city's director of 311, said the rationale for developing the app was to support the Open City initiative that would help citizens connect to city services more easily. It has been a success.
"Since the launch, there have been over 36,000 requests, and it's being used by the public to engage with the city to submit service requests," Schrijvers said. "It's all about convenience. You can call, email, or use the app. People who are on the go, members of the community are our eyes and ears."
People use the app to report many different problems, but it's usually used for road maintenance, parking enforcement, abandoned vehicles, illegally parked cars, or graffiti and vandalism.
Stanley Marcinkowski lives in our area and uses the app regularly, and he prefers it to other means of reporting.
"The forms are really good. They take all the information in the app, and it allows you to track the request, and you can see other people's requests and whether future work is planned. It's a way of letting the city know there's an issue and see how long it takes to get around to it."
There are currently 31 different services to choose from. In the app, you select the service, upload a photo, provide details about the situation, and your contact information. The app either uses your smartphone's GPS to establish location, or you can manually provide an address. Hit submit, then it's forwarded to the appropriate department for action.
Marcinkowski finds it much more convenient than calling because certain information is submitted automatically and requests don't get duplicated.
"You can see things being taken care of, same as calling it in, but you don't have to answer questions and know the address. It's a lot quicker, and it's automatically done for you. You send a picture so you don't have to describe it."
Schrijvers hopes that more people will use it, and is happy to see more people become involved in civic improvement.
"We believed it will result in a greater engagement of the community, and it has opened up channels. It's about maintaining a great city."
Find more information about the app and how to use it at edmonton.ca/311.
Featured Image: Use 311 for reporting things like downed, large branches from storms. | Talea Medynski