Welcome to the Rat Creek Press Home & Garden Tours column. Here we highlight the beautiful spaces we are creating in north central Edmonton, and talk about the different ways we find value in and around this area, from the perspective of our living spaces.
We aim to showcase different types of spaces, including single family homes, townhouses, apartments, garden suites, and small space and balcony gardens. We also would like to create a diverse picture of our residents and their families, including families with and without kids, couples and singles, all kinds of cultural backgrounds, 2SLGBTQIA+, young people, seniors, and more.
This is a year-round column. If you're interested in sharing your home, or if you have or know of a garden with fall/winter features, please contact us. All submissions are welcome and encouraged! Submission email: [email protected]
Arinna Grittani
Arinna Grittani is the owner of Earth Legacy Inc., a sustainable landscape design and landscaping company that provides residential services based on permaculture principles. A passionate advocate for sustainability, Grittani is transforming her lawn into an urban food forest. She has it riotously planted with a wide variety of native and pollinator-friendly plants and flowers, fruit trees, medicinals, and edibles. When blight struck her pear tree earlier this year, Grittani ensured she'd still have a harvest by prioritizing biodiversity. Find Grittani at earthlegacy.net.
Name: Arinna Grittani
Neighbourhood: Eastwood
Age of home: 1950s, with a '70s addition.
How long have you lived in your home? Seven years, and gardening for five to six years.
Three words: food forest, native, ecological.
A perfect day in your garden: Relaxing in the flowers with the bees buzzing and a few nibbles of fruits and berries.
Favourite time of year in the garden: Summer and fall. The plants are all in full bloom and constantly changing.
What are you loving about your garden right now? The salvia covered in bees, my native flowers proliferating, and the bellflower finally getting choked out by the rhubarb.
What is a challenge you're experiencing? Quackgrass, bellflower.
How does your garden inspire you? Flowers always bring me joy.
Where do you see your garden in five years? Even better. Pears, plums and apricots producing, and full flower beds.
What's the best gardening advice you've ever received? Sheet mulch.
Best compliment? There's so many people who walk by and interact with my garden. When they see me they often compliment me on my garden or ask questions. The kids play in it all the time.
What would you like to see more of here? Perennial sharing, tours, fruit sharing.
What is your favourite local resource? Apache Seeds, Edmonton Native Plant Society.
A few words of advice? Start now, take on what you can manage and grow from there. Use hardy, drought tolerant species. Incorporate natives and edibles!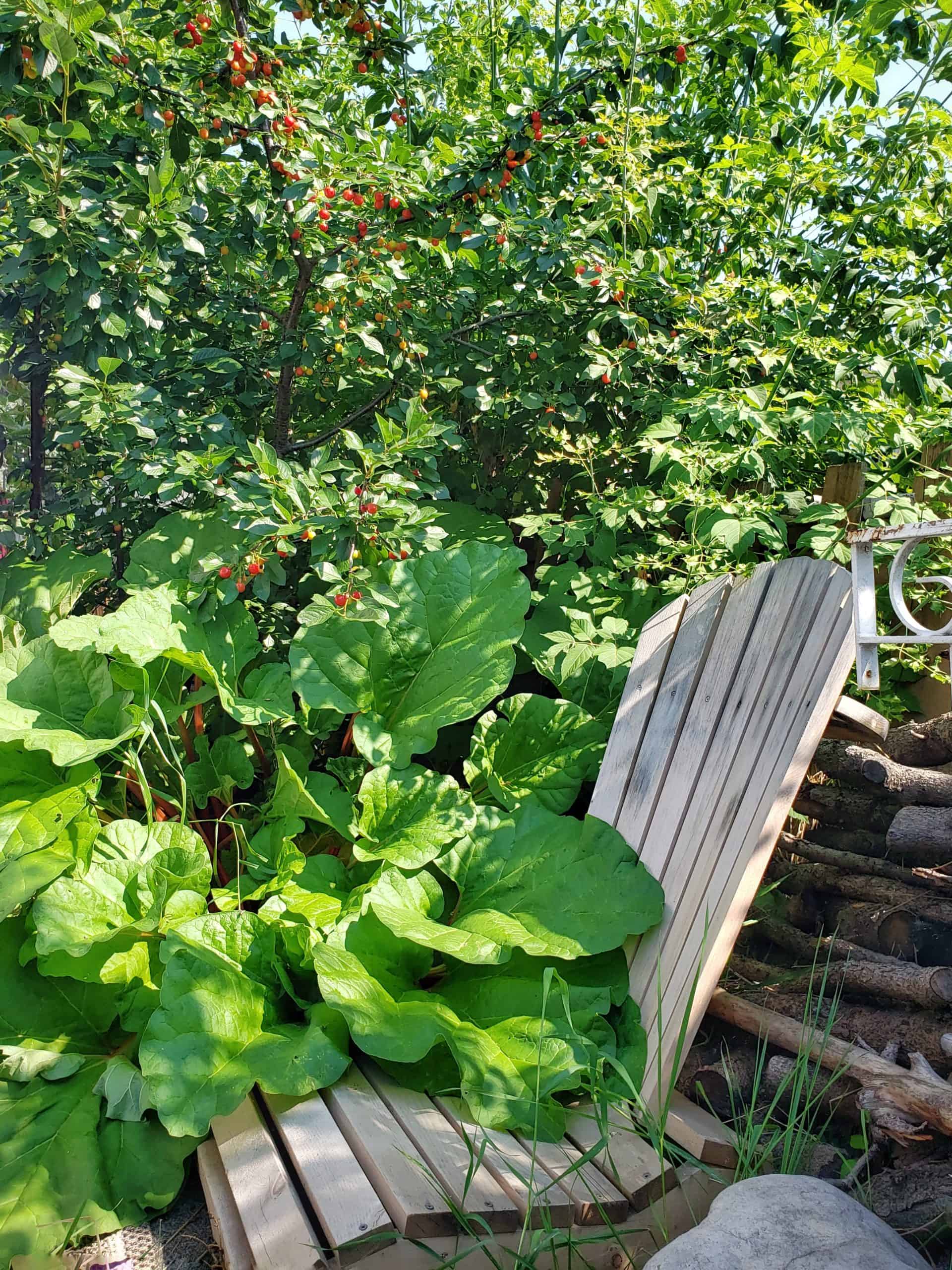 River Sky
River Sky's vibrant garden is informed by her photographer's eye, with plants and paths leading the eye upwards to her colourful home and further into the rear garden. She revived her formerly all-grey home's facade by painting it coral-orange, picking out the stonework with a historically-inspired red, yellow, and green colour scheme, which she uncovered during the restoration process.
Masses of flowers, plants, and fruit bushes grow at varying heights, accented by art and decorative elements, showcasing her talent with colour and composition. Her garden features weather-proof art by artist Lorraine Shulba and wood sculpture by Larry's Unique Birdhouses.
River restores, rents, and chauffeurs vintage cars for weddings, photo shoots, and special occasions. Find her on instagram @valgalmotors.
Name: River Sky
Neighbourhood: Alberta Avenue
Age of home: 1942 (80 years).
How long have you lived in your home? Two and a half years (tending the garden for one year).
Three words: Ginger bread house.
A perfect day in your garden: Relaxing in the backyard watching the birds and bees enjoy my green space.
Favourite time of year in your garden: Early fall. I love the fall colours. I'm hoping to have a wall covered with Virginia creeper so I can have the beautiful fall colours for much longer.
What are you loving about your garden right now? How it's all coming together. The colours and different art projects that give the eye plenty to behold.
What are some challenges you're experiencing? Experimenting with different plants to see what will grow in the full sunlight or partial shade.
How does your garden inspire you? It's full of history. A renovation prior to me buying the place stripped all the character out of the home. I've made it my mission to restore that character and history to the home. We often think of the '40s and '50s in black and white terms, but in fact they absolutely exploded with colour and life.
Where do you see your garden in five years? Becoming more of an English garden with well established flowers and artwork hidden throughout.
Best thing you've learned while living here? The willingness of neighbours to share growing tips and the sense of community that I have not found anywhere else in the city.
What's the best gardening advice you've ever received? Keep it simple and don't stress if things aren't perfect. It takes time to create beauty and trial and error to achieve perfection.
Best compliment? That my home is very warm and welcoming.
What would you like to see or experience more of in this area related to gardening? A group sharing plants, neighbourhood garden tours, and some classes.
Favourite local resource? I use local Facebook groups for tips a lot. I would love to attend or host classes in gardening.
A few words of advice? Don't be afraid to stray from accepted norms. Embrace colour, and incorporate vintage art into your home and garden as it adds so much to the character of the home. Break free from the soulless cookie cutter, architectural standard of grey and white.
Did you work with a contractor or local business to design your garden? My interior decorator is Shantam Interiors (shantaminteriors.com). Stan Renovations (780.951.7110) painted my house, reroofed my garage, and installed new eavestrough, soffit, and fascia. I also hired an interior decorator to help ensure my colour choices worked together.
Anything else to share? I plan on beautifying my back alley with a coloured stamped concrete driveway and mural on my garage door. I will also plant flowers back there to brighten things up. 
Was anything found during renovations or gardening? I found old handmade marbles and a key that were once some child's pride and joy while I was digging my flowerbeds.