Experience Edmonton's rich history in an entirely new way at the YEG Old Houses Exhibition running from Aug. 7 to Sept. 25 at McLuhan House Artist Studio. The event features paintings from local Hong Kong-Canadian artist Aeris Osborne. Each painting shines a spotlight on an old house from around the city, including an Alberta Avenue craftsman style house and McCauley's Queen Anne house.
Osborne, who moved to Canada in 2007, started painting while waiting for her permanent residence status. The self-taught artist fell in love with Edmonton's old homes during walks around the city, and jumped at the chance to feature them during her time as the artist-in-residence at McLuhan House.
"Coming from all the high rise apartments and skyscrapers [in Hong Kong], I loved walking in the older neighbourhoods. The old neighbourhoods give you a taste of Edmonton as a city and show you what the city was built on," Osborne says. "You know, new houses, they're easy to build. But the heritage and generations attached to each house, that's really something to cherish."
Osborne uses her bright impressionist style to enhance characteristics of each house. Her bold brush strokes pair seamlessly with vibrant summer colours and explosive garden scenes to pull you into an Edmonton that feels warm and familiar. "The house speaks to me, which allows me to speak with the canvas and paint it," Osborne says.
"Alberta Avenue has a lot of interesting houses, and I love the neighbourhood. When I was walking and taking photos, this one just spoke to me. It's an old house that has been kept in very good shape. The colours, the navy blue by the gable contrasted with the white siding, it drew my attention. This is the only house [in the series] that was a semi-bungalow and when I saw it, I just loved it."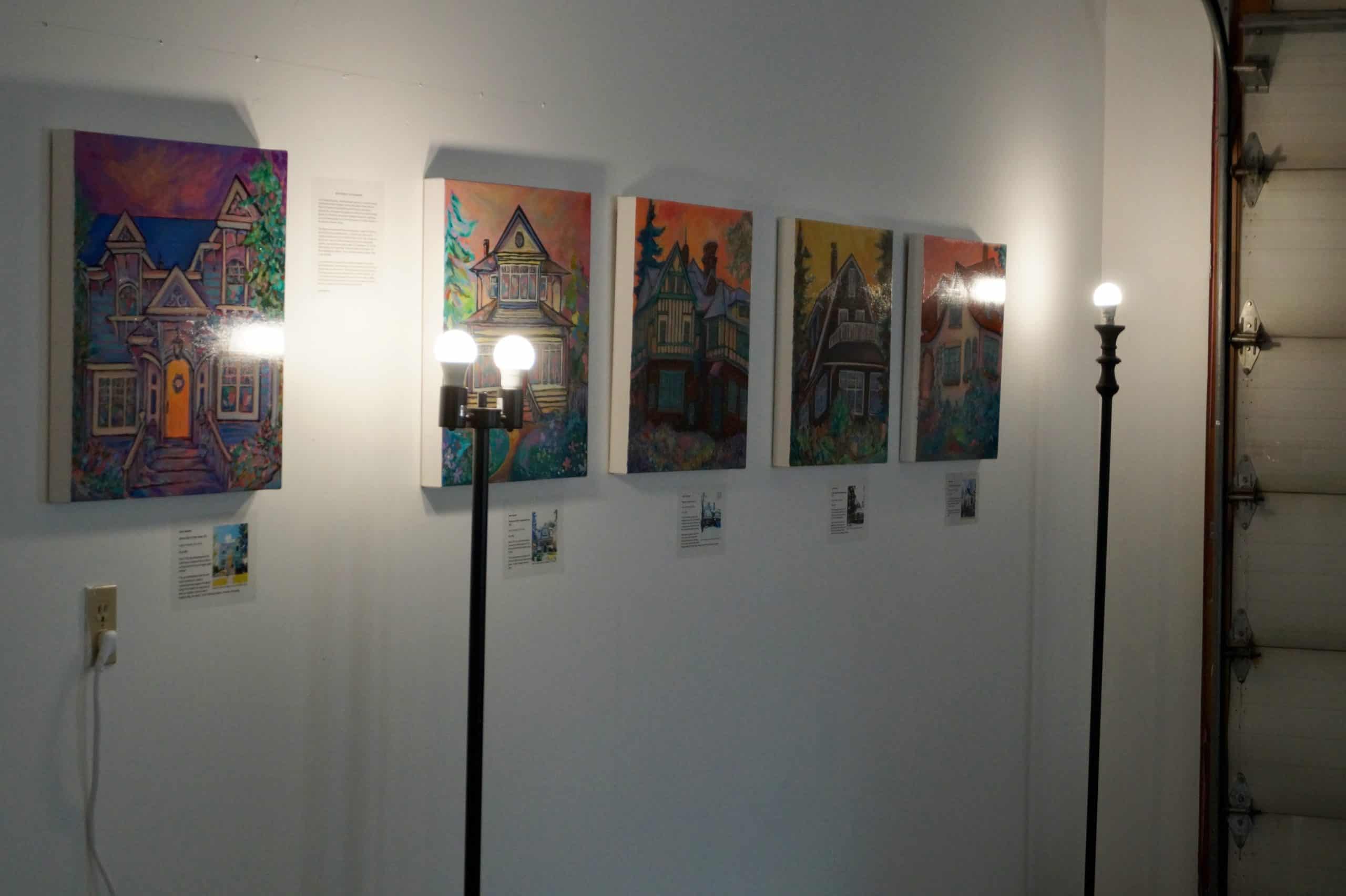 Osborne says she hopes that by emphasizing architecture in her pieces, she can give insight to the significance of the heritage that comes with each distinctive building style.
"The [Alberta Avenue] house is closer to the craftsman style. It's more of a cozy, neat, kind of smaller house. It's less about the size and more about the craftsmanship," Osborne says.
"It's a large category, if you research these [craftsman style] houses, there's a wide range of how they can look. It's really different from Dutch colonial or Spanish houses, the ones that you can recognize on sight. Craftsman is really more American. They used more timber and built something more practical."
From the cozy and practical Alberta Avenue house to the very much large-and-in-charge Magrath Mansion, Osborne has captured each home in a warm and verdant snapshot of summer that is sure to leave you craving a stroll around Edmonton's historic neighbourhoods.
Look at photos of each home @yegoldhouses on Instagram and follow Osborne to stay up to date on new pieces @art_by_aeris on Instagram and @artbyaeris on Facebook.  Visit https://aerisosborne.com/shops/yeg-old-houses-painting/ to view or buy the paintings, even after the exhibition ends.
---
YEG OLD HOUSES
Aug. 7 – Sept. 25
1 – 4 p.m., Thursday through Saturday
McLuhan House garage
11342 64 St
No admission fee