For some cyclists, winter is simply another season on the road.
With Edmonton's network of bike routes, shared use/multi-use pathways, and separated bike lanes, cycling is picking up, especially with the opening of the downtown bike grid this past June.
According to the city website, the new downtown bike network "offers over 7.8 km of protected bike lanes, shared roadways, and paths."
In the communities covered by the Rat Creek Press, there are no segregated bike lanes, but bike routes do connect with the bike grid through the shared use path that follows the LRT line to downtown and Clareview. One access point is at 119 Avenue.
Alita Rickards, a local cyclist, commutes year round and shares her experience.
"With the bike lanes this year, they are mostly ploughed but there can be some mushy oatmeal snow piled along the edges, so you really have to stay in the centre. It takes it down to one lane, but that's what the cars go through too so it's understandable," Rickards said.  
Mark Henderson, artistic director of Theatre Prospero and an avid cyclist, agrees bike lanes are generally good in the winter.
"In a big snow you can lose where they are, just like with anything painted onto the road," he said. "They are really good at keeping the ones that are totally removed from the roads clear, like the one by the LRT and the ones in the river valley."
Rickards said snow and ice can make cycling challenging.
"The worst is that drivers are focused on their own rough conditions and seem to become less aware of cyclists, and if someone cuts you off you also have a harder time braking. I just wish everyone would slow down, and maybe that the bike lanes had extra lighting."
Henderson said winter cycling is a skill that improves with experience. He used to fall two or three times per winter, but it wasn't until he used a road bike with no knobby tires that he learned not to fall and that it's about slope and bumps.
"If I rode so I was never traversing a mild ice slope, I would not slip. Ruts? Ride in the bottom of them. A mild slope to the left? Don't go straight, go left lightly. Ride up the fall line of it. Arc up it gently."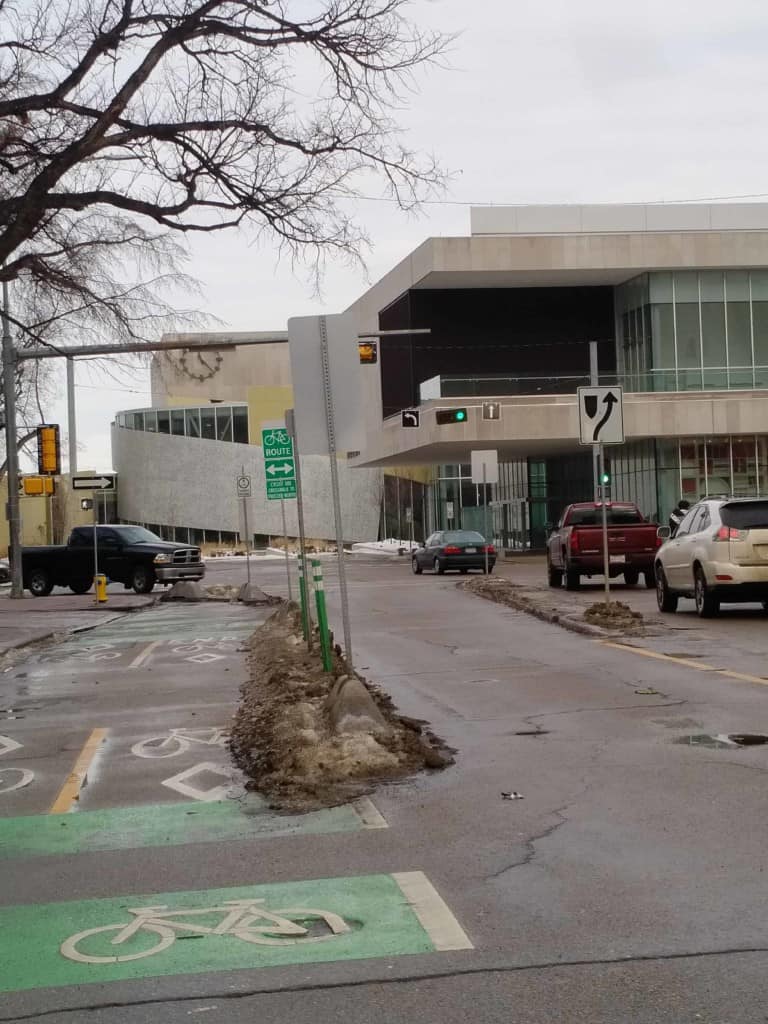 Both Rickards and Henderson have used the bike grid.
Rickards explained the bike grid makes it much safer for her and has drastically decreased the street harassment she gets from pedestrians and drivers. "You're not wanted on the sidewalks and you're in danger and can be a nuisance on the roads if you're as slow as me, so bike lanes are really essential in this winter city."
Henderson has also used the bike grid.
"It's fabulous. I used to be a hardcore bike commuter who never drove, who was against bike lanes, because they were prone to accidents from right-turning cars, and because drivers and cyclists did not understand how they worked with the rules of the road. With these, it's clear. Don't jump the curb. Cars wait for their green lights, bikes for theirs."
A map with the bike routes, shared use paths, and the downtown bike grid is available from BikeWorks North and the City of Edmonton: edmontonbikes.ca and edmonton.ca/cycling.
Featured Image:  Mark Henderson is an avid cyclist who cycles throughout the year. | Rob Bernshaw