Sarah DeLano is challenging the way we think about and interact with urban green spaces through a new cookbook, Rat Routes and Reasons to Gather: Culturally Diverse Culinary Journeys in Edmonton's Wild and Natural Spaces.
The cookbook contributors are students in a class DeLano teaches, English for Community Integration, that meets in Parkdale Cromdale Community League. DeLano teaches English to immigrants, especially immigrant women with young children, and she also teaches students "a little bit more about Edmonton and especially our community here."
One class activity is berry picking in Kinnaird Ravine, "and a lot of students became interested in sharing their recipes that they like to make at home or recipes that are special to them," says DeLano.
When DeLano went back to school to complete her MA in community engagement, she realized that a cookbook would be the perfect thesis project, so she created Rat Routes and Reasons to Gather.
The cookbook is a community-based participatory research project, and it explores "diversity in green spaces," explains DeLano, "so how different people access and feel belonging within the urban green spaces here in Edmonton." DeLano focused on what that meant for immigrants or Métis individuals, as she is a Métis woman herself. 
The participants took part in urban agriculture initiatives like foraging in Kinnaird Ravine and volunteering at Prairie Urban Farm. "We did some reflection sessions," says DeLano, "and talked about how we feel within those spaces and why they are important to us… and then we used all of the produce we harvested… to create recipes that represented some of those key values and also each of our cultural backgrounds in the recipe book."
The cookbook is organized by type of food: garden vegetables, garden greens, garden fruit, forest fruit, and herbs and flowers. "It's a mixture of wild and cultivated foods that we can gather here in the city," says DeLano. Locally grown ingredients in the cookbook include potatoes, onions, carrots, greens, and herbs, and some foraged foods featured are highbush cranberries, red elderberries, saskatoons, and caragana blossoms.
"We didn't really want to just compile recipes," says DeLano. Her aim was "to look at how [the recipes] created belonging to local space [and expand] our idea of community." Another goal was to "raise awareness about how different people experience and understand green space, and the different things that we do with foods we can harvest here in the city."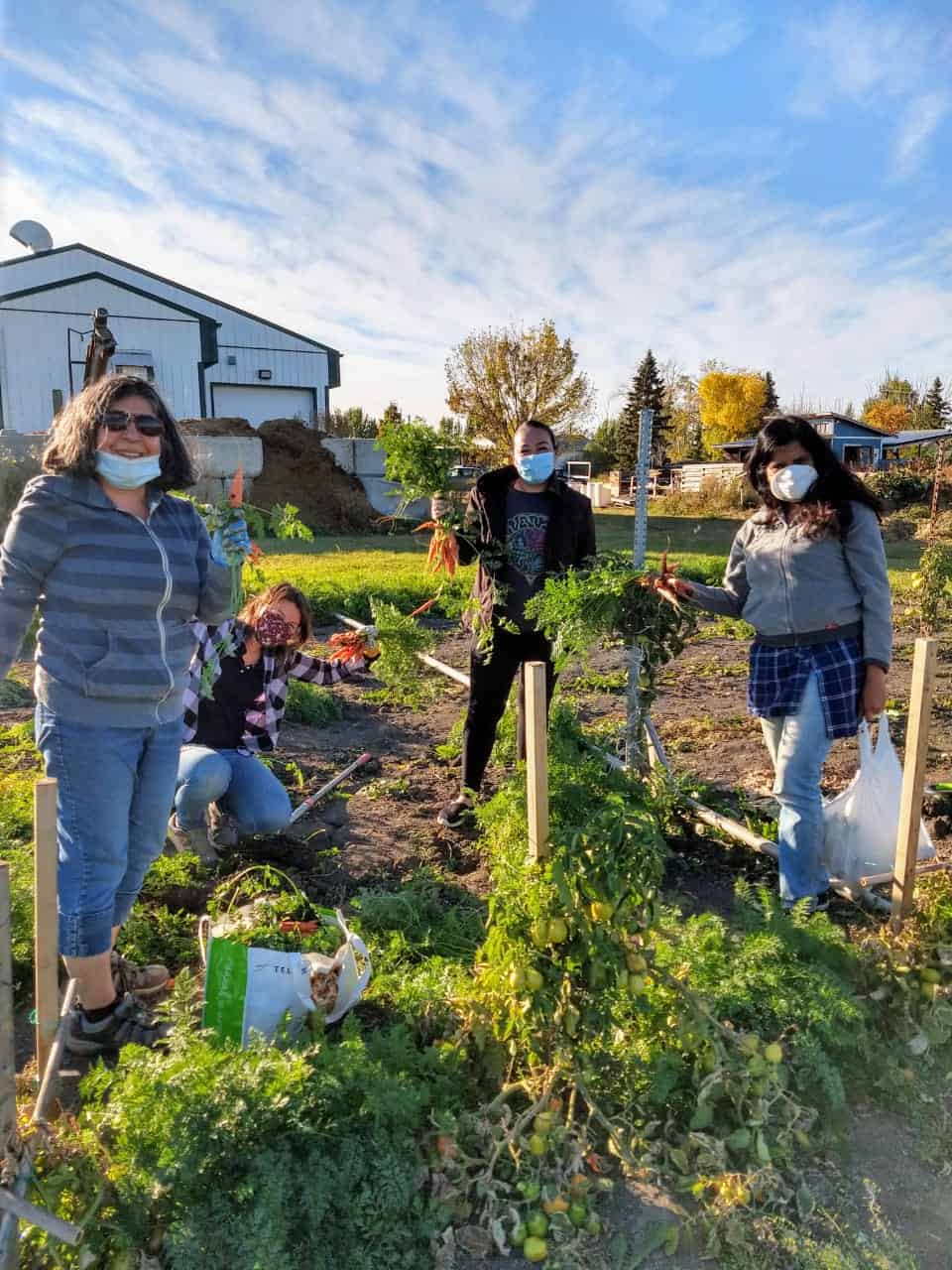 Some of DeLano's favourite recipes in the book include a Venezuelan breakfast soup, a mint chutney, and her own recipe: a beet loaf with a highbush cranberry glaze inspired by her great grandmother. "Most of the recipes in the book have that sort of nostalgia for the individual people who wrote the recipes," says DeLano.
The cookbook will be available at the Parkdale Cromdale Harvest Fest on Sept. 18, either for pre-order or in a physical copy, and all proceeds will go toward the Multicultural Family Resource Society.
This year, Harvest Fest will take place at two locations: the Northlands Urban Farm and the Parkdale Cromdale Community League. Participants will be able to walk between the two locations, sample dishes from the cookbook, tour the gardens, and listen to live music.
The Northlands Urban Farm and the community league also contributed recipes to the book: saskatoon pie and garlic gai lan. Other agricultural and multicultural organizations such as the Métis Nation of Alberta, Lady Flower Gardens, and Prairie Urban Farm also contributed recipes.